First They Teased Me, Now They Congratulate Me: Odisha's Transgender Cab Driver
Bhubaneswar: Boosted by the Supreme Court judgement granting them the status of third gender, transgenders in the country are trying to assert their identity and reverse the apathy and maltreatment meted out by mainstream society.
And Rani Kinnar from Bhubaneswar is one such shining example. She had brought glory to Odisha by becoming the first transgender to drive an app cab. Now, she has become India's first five-star-rated transgender cab driver for Uber.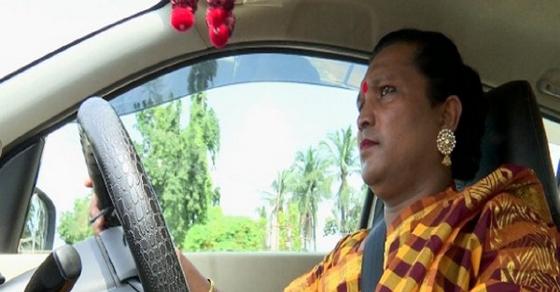 "Actually my name is Bimal Kumar Nayak. Now people know me as Rani Maa," said 39-year-old Rani, who has been driving an Uber cab for the past two years.
Originally hailing from Khuntabandha village in Riamala block in Deogarh district, Rani had come to Bhubaneswar in 1999 in search of work. "I did menial jobs to sustain myself. Then, I joined the transgender community 10 years ago," she said.
In 2016, Rani and another transgender, Menaka Kinnar, drove an auto-rickshaw at Nayapalli here. "The Nayapalli Durga Puja Committee had given us that auto. But at that time, everyone avoided sitting in our auto because as we are transgengers," she added.
"In 2017, I also provided some free services. I took the ambulance of Nayapalli Durga Puja Committee to Bada Danda in Puri during Rath Yatra and helped pilgrims there," said Rani.
Sharing her experience of how she took up driving an app cab, Rani said, "Uber gave me free training and also helped me to get the license. A former Uber employee had visited my place. He also belonged to the LGBTQ community. He gave me Rs 1.8 lakh in donation to buy a cab. Prior to that, I was driving a rented cab."
"He wanted me to join the mainstream. That is why he donated the money. I had visited many banks for a loan, but they all refused to help me. Then I collected some money and bought a car seven months ago," she added.
"I got this five-star rating for my cordial behaviour and respect to my customers. Especially, women feel very safe riding with me. They love me a lot," said Rani.
"I have a father, mother and brother. Initially, my family refused to accept me as a third gender. Later, they accepted me and also started loving me. Once people of my village used to tease me and call me 'chhaka'. But after my success, they now call to congratulate me," she shared.
Now, Uber has also given Rani an offer to visit USA.