Odisha's Swarnalata Swears By Street Theatre As A Medium Of Social Reform
Bhubaneswar: Street plays, once the most effective medium of entertainment, communication and social awareness is now almost an extinct art, more so, with the COIVD restrictions on large gatherings.
However, Swarnalata Jena, 51 has been trying to keep this art form alive for the last 30 years.
Though her native place is Brahmania village under Brahmagiri block in Puri district, she is staying at Sisupalgarh in Bhubaneswar.
Devoid of any trappings like makeup and props, she plays different roles on various socially relevant topics.
"I was a theatre artist but I started doing street plays in 1994. Huge crowds used to gather to see a performance at that time," said Swarnalata.
After her studies, Swarnalata got many job offers but she chose to join an NGO because she was interested in doing social service.
"I was in NSS in my college days. Once, I had gone to a camp and received the best volunteer certificate from the Governor. That certificate encouraged me and created an interest in social work in me. My family was not in favour but I still went ahead with my choice," said Swarnalata.
This is where she started doing street plays on socially relevant issues and also trained a couple of young boys and girls.
"I don't have any professional training in acting. I learnt on the job during my theatre day," said Swarnalata.
Later, she founded her own organisation 'Chetabani'.
"We have performed over 5,000 shows to date on over 700 scripts. I write all the scripts and direct the plays too. I don't act now," she added.
Through the street plays, she tries to create social awareness on child marriage, atrocities on women, child rights, and HIV Aids etc. She has also organised many campaigns.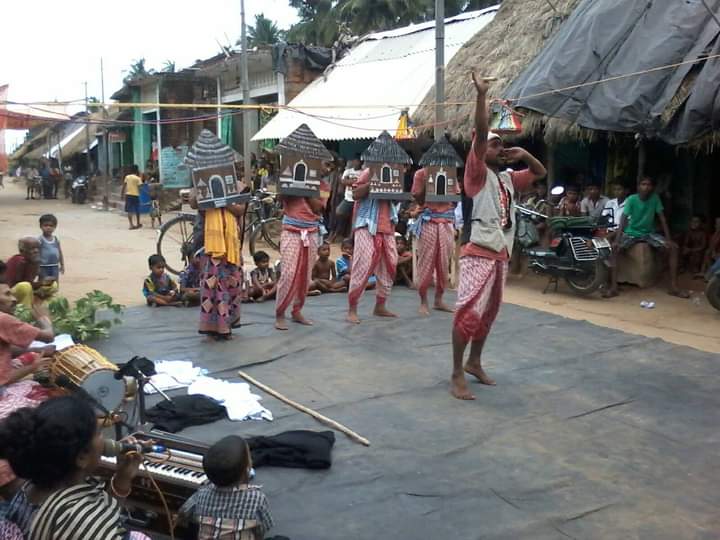 She has taken her street plays to Mumbai, Kolkata, Delhi, Chhattisgarh and Madhya Pradesh too, besides performing plays for different private and government organisations.
"I visit different villages and areas and find out their problems. Then I weave a story around it and present a street play in that area or village," said Swarnalata.
She has also helped women in getting an education and encouraged them to come forward in this field. Swarnalata has trained over 100 boys and girls in doing street plays free of cost.
She has organised street plays on child rights, child education, child protection, sanitisation and for a Green Bhubaneswar in many slums of the state capital.
Swarnalata's Cyco Theatre
She is now creating awareness in the remote areas of Odisha through her initiative, Cyco Theatre, in which artists cycle to the villages.
"We have organised many Cyco theatres. Once we had gone to Chandbali from Puri on a cycle with the group 'Natyachetana', she said.
"All we need for a street play is open space. Theatre is the mirror of society. For doing social work, street theatre is the strongest medium for communication. Street plays stay with people for a long time and have a positive impact on them," said Swarnalata.
"My aim is to set up an art village, where all the artists can stay at one place and give training to their future generation," she added.