Padampur Bypoll In Odisha: Sweet Revenge For BJD, Congress Loses Deposit; Check Final Results
Bhubaneswar: A month after Dhamnagar debacle, the Biju Janata Dal (BJD) won big in the 'prestige battle' of Padampur in Odisha's Bargarh district, where bypoll was held on December 5.
BJD candidate Barsha Singh Bariha trounced former MLA Pradip Purohit of BJP by a margin of 42,679 votes, the Election Commission of India declared on Thursday.
By the end of 23 rounds of counting of votes, Barsha secured 1,20,672 votes, which is more than 50% of the total 2,09,309 votes cast in Padampur while Purohit got 78,034. Veteran Congres leader and three-time MLA from the seat Satya Bhusan Sahu lost his deposit having secured 3,594 votes.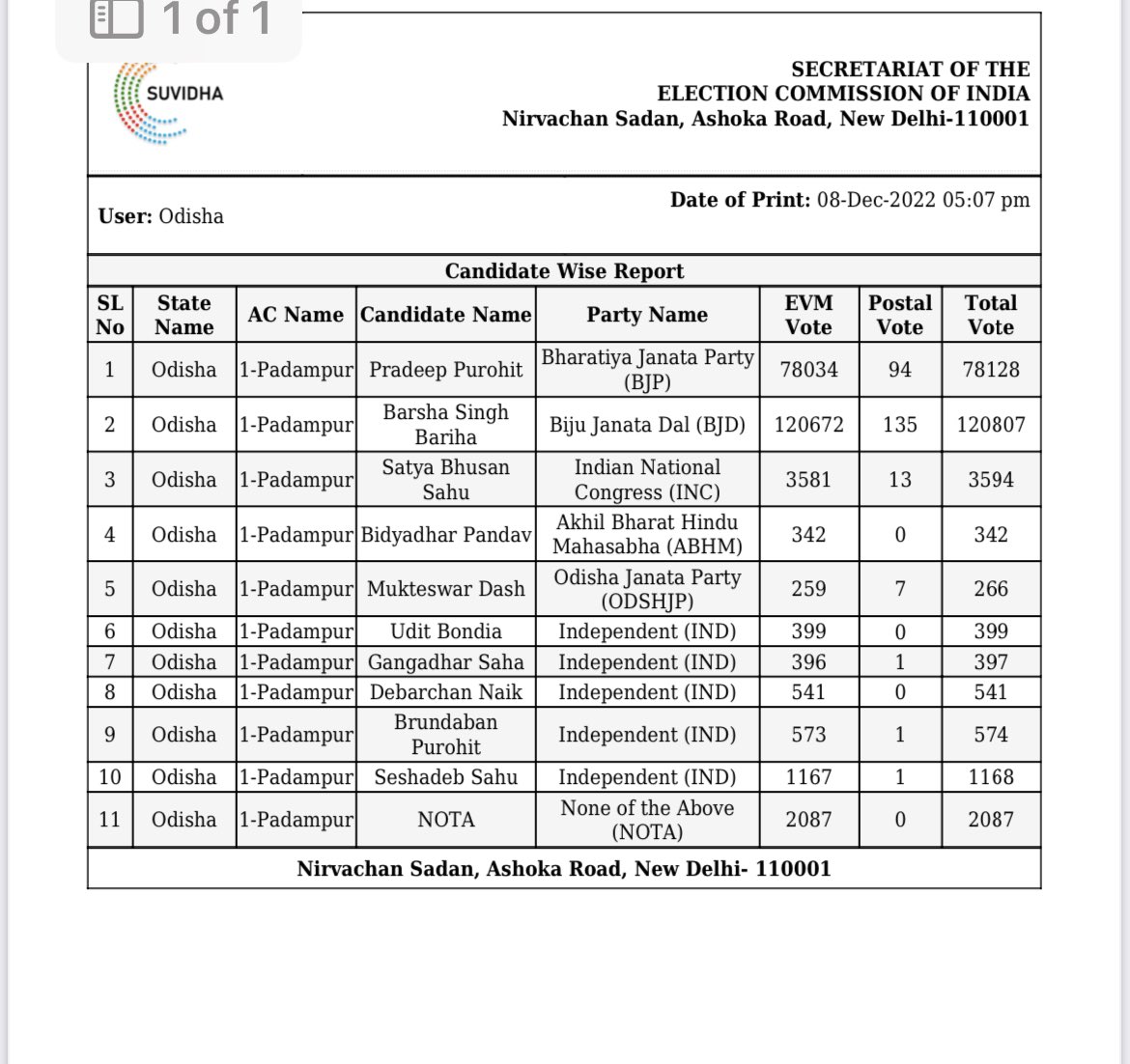 Although the Congress had finished third in the seat in both the 2014 and the 2019 polls, the party had still secured 31,179 and 32,787 votes respectively. BJP, however, managed to retain its 2019 vote share. This clearly indicates a shift in Congress votes to the ruling party.
Vote Share
BJD- 58%
BJP- 37.51%
Congress: 1.73%
Padampur was expected to witness a close battle between the BJD and the BJP as was the case in the last two elections where the victory margin was around 5000 votes. "The results and trends were beyond our expectation as we had hoped to win the bypoll by a margin of 5,000 votes. We will certainly review booth-wise data and other issues," said Purohit.
The BJD which went for a course correction after the Dhamnagar debacle succeeded in taking a sweet revenge with its landslide victory in Padampur. "Our strategy for Dhamnagar, be it a selection of candidate or others, was wrong and we were also overconfident. In Padampur, we focused on resolving the issues of people. Chief Minister Naveen Naveen also assured a lot of welfare schemes and within a few years all the demands will be fulfilled."
Even before the poll dates were announced, the CM declared a Rs 488 crore package for the constituency.  Later came Rs 200 crore input subsidy for farmers, a special package for kendu leaf pluckers, a hike in the limit for interest-free loans for women self-help group members, from Rs 3 to Rs 5 lakh and land in Puri and Bhubaneswar for Kulta and Meher communities having sizeable numbers in Padampur. Naveen also promised formation of a separate Padmapur district by December 23, 2023.
With stakes high, he physically campaigned for party nominee Barsha, marking his first trail appearance for any by-election since 2019.  This apart, more than a dozen ministers and over 40 MLAs were in the constituency for over two weeks to ensure its nominee's victory.
The triumph has not only strengthened BJD's position in western Odisha, where it earlier won two bypolls (Bijepur and Brajrajnagar) but also provided the much-needed boost to the party apparatus in the run-up to the Lok Sabha and Assembly elections due in April-May 2024.