Pure dance, instrumental jugalbandi set stage for 5-day fest
Bhubaneswar: The 21st OMC Guru Kelucharan Mohapatra Award Festival that began here on Tuesday saw art connoisseurs thronging Rabindra Mandap, where the stage was set for a cultural extravaganza.
The event was inaugurated by chief minister Naveen Patnaik, who paid rich tribute to Guru Kelucharan Mohapatra and described him as an invaluable gem of Indian cultural arena. He also felicitated the artistes participating in the five-day festival being organised by Srajan.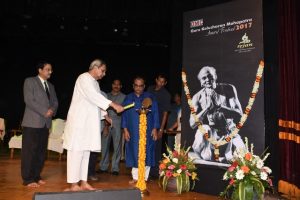 The inaugural presentation Ekatatwa performed in three classical dance styles – Odissi, Kathak and Bharatnatyam – by Daksha Mashruwala, Uma Dogra and Vaibhav Arekar set the tone for the evening. The artistes enthralled the audience with fluid grace, immaculate body movements with amazing precision and charming gestures and postures.
It was followed by an instrumental Jugalbandi of flute by Annada Prasanna Pattanaik and Veena by Puspa Kashinath. They were accompanied on tabla by Udayaraj Karpur.
Tourism minister Ashok Chandra Panda, Principal Secretary, Industries, Sanjeev Chopra and Srjan director Guru Ratikanta Mohapatra were present.