Puri: Shankaracharya of Gobardhan Peeth, Swami Nischalananda Saraswati, will travel to Nepal on a 10-day visit beginning May 13.
The trip was planned after the Puri seer accepted the invitation of Nepal prime minister Sher Bahadur Deuba, Pashupati Area Development Trust, Kathmandu, and other prominent institutes and organizations.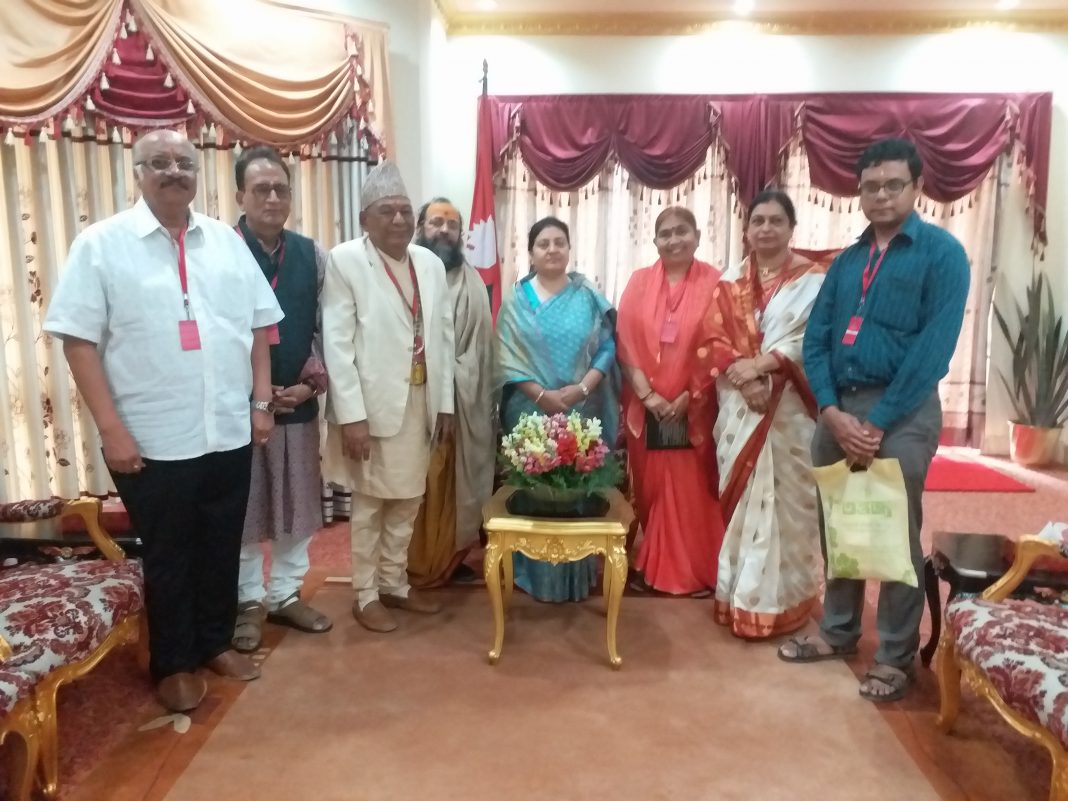 This was informed by Pandit Jhamman Shastri, Rashtriya Upadhyaksh, Peeth Parishad; Dr Indira Jha, Rashtriya Adhyaksha, Aanandvahini and Dr Siddhartha Sahu, Secretary for VIP and International Relations, Adityavahini, at a press briefing here on Thursday.
As per the schedule, the Shankaracharya will arrive at Tribhuvan International Airport at Kathmandu in an Air India Flight at 2 pm on May 13. From the airport, he will leave for Agrawal Bhawan in Kamal Pokhari area in a procession. He will have a night halt at Agrawal Bhawan.
It may be noted that it is for the first time that Shankaracharya will be flying.
On the next day, he will visit Pashupatinath temple for the darshan of Lord Siva at 11 am. After performing the rituals of the Lord, he will give discourse on religion and spiritualism at Hansa Mandap on the temple premises at 11:30 pm. This will be the first visit of the Shankaracharya to the Pashupatinath temple.
A seminar on various religious issues is also being organized at Agrawal Bhawan on May 14 and 15.
The Puri seer will be given a grand public reception at Tundi Khel ground around 11:30 am on May 15. The following day, he will deliver religious discourse at an education institute. A review meeting has also been organized on this date at Agrawal Bhawan in the evening.
On May 17, the Shankaracharya will leave for Bharatpur Chitwan at 1 PM in a special flight. He will have a night halt at Mankamna Tole. A seminar on various religious issues is being organized on May 18 at 11:30 am where he will be given public reception at 4 PM.
The seer will leave for Hetouda at 3 pm on May 19 where a programme of darshan has been organized in the evening.
On May 20, the Shankaracharya will leave for Birganj at 4 pm and reside at Laxminarayan Mandir. A programme of darshan and diksha has been organized at 11:30 am on May 21.
He will leave for Raxaul at 8 am on May 22. From Raxaul, he will leave for Kolkata by Mithila Express at 10 am on May 22.
A six-member delegation of Puri Shankaracharya was on a five-day visit to Kathmandu from April 4 to 8 to finalize his visit to Nepal.
The delegation had met officials of Pashupatinath Mandir Trust to discuss about the various issues related to visit of the Shankaracharya. Besides, it had a meeting with the officials of some prominent institutes/organizations.
The delegation met the Culture minister of Nepal and officials of the Indian Embassy. Later it had a meeting with President of Nepal Bidhya Devi Bhandari and apprised her of the proposed visit of the Shankaracharya and requested her to accept their invitation of the proposed programme.