Bhubaneswar: Odisha's popular festival 'Raja' has brought the much-needed relief after city dwellers grappled with Fani, the ensuing civic problems and then the scorching heat.
So, 'Raja' is a huge stress buster and how are women doing it? But of course, by shopping. Indeed, the three-day festival, beginning on Saturday, has brought a lot of cheer.
Outlets of major brands and malls are choc-a-bloc with customers in the evening when it is relatively cooler. A number of designers from the city have come up with their special collection for the festival.
Woven from the traditional fabric from Odisha, designer Jyoshna Das has come up with a collection that promises comfort coupled with elegance and style under her label Bivabari.
Her collection involves bright colours, intricate stitches and contemporary designs that have been subtly incorporated in the attires to impart a classy look. To beat the city's heat, she has come up with a special collection of attires made from lightweight and breezy fabrics like cotton, organza and linen. The collection incorporates traditional Sambalpuri prints and contemporary designs.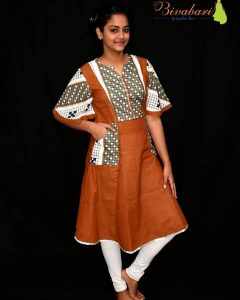 "There is a wide collection in colours like black, dark green and red if you want to stand out in a summer evening party," said Jyoshna.
"This summer, what's old is new. Just in time for the warm weather, retro boho trends are getting revamped and being introduced afresh with a modern twist through free-flowing silhouettes with attention to detail," she added.
The stretch from Vani Vihar to Rajmahal Square has outlets of major brands lined up one after another. Some stores are offering gifts with every purchase while others are giving scratch-and-win coupons or have organised lucky draws.
Maxi dresses with slits and palazzos with long kurtas are hot picks. "First of all, you need to upgrade your wardrobe with some party essentials that are high-on-the-trend meter this season. Flaunt your feminine side by wearing one of those jaw-dropping yet comfortable lehengas, suits with koti jackets or ghaghras, this season," says fashion designer Sujit Meher.
Designer Jyoti Bothra adds, "We can spruce up the Raja look with a range of fruity chalky tones, where pops of yellow and soft pinks are the perfect antidote for the hot weather. Taking inspiration from the exotic Cuban flora, a burst of whimsical flowers and ancient indigo dyes and techniques, women's wear has a little of everything for everybody this season."
Street shopping has also caught the fancy of shoppers. The shops at Market Building are offering stylish garments keeping in mind the changing fashion trends. Jewellery and footwear at affordable rates are ruling the marketplace. A number of exhibitions are currently on in the city, giving the shoppers more variety to choose from.
"For me, the most attractive part of Raja is getting dressed traditionally in catchy colours, heavy costumes and appealing jewellery. Combining the right accessories with your outfit is sure to bring one under the spotlight. So, shopping in the right way is very important," said Sargam Chhotray, a 27-year old travel enthusiast.