City Organisations All Geared Up For Raja: Here Are The Places You Can Visit
Bhubaneswar: Raja festival, a celebration of menstruation and womanhood, is based on the belief that Mother Earth menstruates for the three days and is given a ceremonial bath on the fourth day.
For these three days, the girls are not expected to do any household chores. Women and unmarried girls try to don their best look, wear new clothes and decorate themselves. They are seen spending time on the swings, playing indoor and outdoor games.
Varieties of cakes (Pitha) are prepared in the houses.
No agricultural activity like ploughing or sowing takes place as Mother Earth is expected to be going through rejuvenation during these three days.
Many organisations are also celebrating Raja festival in the city.
Sambhabana's 'Raja Mauja'
On the first day of Raja i.e. on Pahili Raja, Odiani Samiti of Sambhabana will organise a programme called 'Raja Mauja' at Jayadev Bhaban.
The programme will be replete with the culture, tradition, songs and dances of Odisha.
Poetry recitation, song and dance competitions will also be held, in which, the Odianis (Odia women) will participate.
The dances based on Raja songs. Besides, a dance drama, based on the festival will also be held.
"Our Odianis will sing Palli Geeta, Raja Geeta and perform on Raja based songs. They will bring Peetha and Raja Paan on the occasion. We will have a get-together and celebrate Raja," said city-based trust Sambhabana' s secretary Deba Prasad Parija.
Raja celebration in Patrapada
In keeping with tradition, 70 swings have been put up at Patrapada in the Odisha capital. In last year's Raja festival, there were 151 swings.
The Raja celebration started here on Thursday and will continue for five days, informed Prangya Priyadarshini Sahoo, host of the cultural events.
Mehendi, Puchi, Jhoti and Muruja competitions will also be held during these days.
The Maharaja Cricket Association has been organising this festival here from 2011.
People from Patrapada, Sijua, Dumduma, Khordha, Bhubaneswar and Cuttack also come here to celebrate the occasion.
"We have Hula Huli, conch blowing and balloon blowing competition and also'Poda Pitha' preparation. For the boys, we have been organising chess and card contests," she added.
She also said, "Thirty three girls of Dibyajyoti Girls' Ashram, an orphanage, will come to celebrate Raja with us. They will perform a ramp show on a patriotic song."
The Maharaja Cricket Association jointly with the Chandi Foundation has taken this initiative.
"We will motivate the students for education. We will also provide a packet of Raja Sajabaja including cosmetics to the girls," she added.
"We observed Bhoomi Puja today. Basumati Snana will be held on Monday," said Pragyan.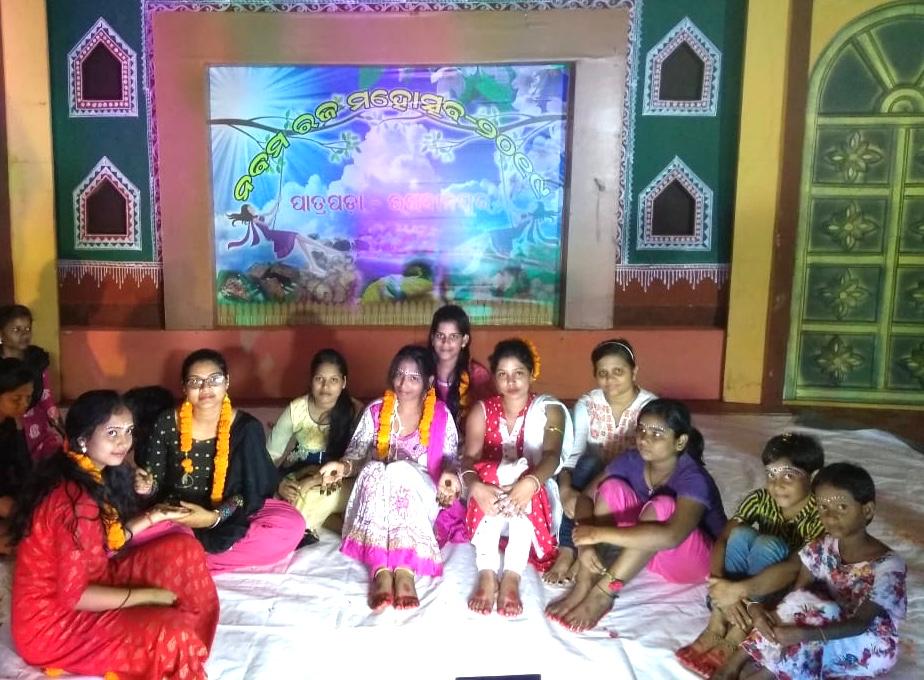 Raja Celebration At Pantha Nibas
The Odisha Tourism Development Corporation (OTDC) will organise Raja celebration at Pantha Nibas in eight places this year.
Every year, the OTDC celebrates Raja at Pantha Nibas in 10 places.
This year, the OTDC has decided not to celebrate Raja fest at Puri and Konark Pantha Nibas due to Cyclone Fanu.
Four swings will be put up at Bhubaneswar Pantha Nibas. Besides, different types of Pitha (pancakes) like Manda, Arisha, Kakara, Chakuli, Chandrakala will be available in Bhubaneswar Pantha Nibas.
Jai Odisha's Raja Celebration
City-based NGO Jai Odisha is celebrating Raja in a unique manner by spreading joy and happiness among the underprivileged, said its founder Rudra Narayan Samantaray.
"We will distribute clothes in 12 slum areas in the city. We will donate the clothes, each day in four slum areas for three days. We will also organise a singing and dancing competition and Puchi khela among the slum area girls. Among them, we will select a Raja queen," he added.