Bhubaneswar: Mahasaptami on Wednesday saw devotees thronging several Durga Puja pandals in the state capital to offer prayers to Goddess Durga.
"The rituals began early in the morning with 'Surya Puja' and 'Arghyadana' around 7 am. The face of the idol was unveiled following 'Chakhyu Dana' performed at 10:30 am amid the blowing of conchs and chanting of shlokas," said a priest at a puja mandap in BJB Nagar.
As many as 173 puja pandals on different themes have been erected in different parts of the city.
The Buddha Temple of Thailand has come alive at Saheed Nagar puja mandap. A 70-ft high and 120-ft wide pandal has been erected by the committee members here. "The committee has spent around Rs 30 lakh on the entire arrangement this year. Apart from that, cultural programmes including bhajan samaroha will be organized every evening from Mahasaptami to Dashami. For security reasons, as many as 20 CCTV cameras have been installed near the pandal," said committee president Sachidananda Rath.
On the other hand, the Nayapalli Durga Puja Samiti has shaped their 85-ft high and 120-ft wide pandal on the famous Laxmi Vilas Palace of Gujarat. Meena Bazaar, Ramdoli, temporary shops and food stalls have been set up near the pandal to lure visitors.
Similarly, the Nepal palace has come alive at Bomikhal puja mandap. The organizers have made special arrangements to provide wheel chairs to senior citizens and differently-abled visiting the pandal. While Sarbajanina Puja Samiti at VSS Nagar has shaped its welcome arch on the ancient Dhauli temple, the towering Red Fort of New Delhi greets visitors at Tankapani Road.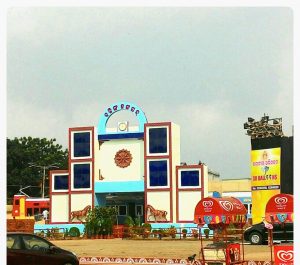 Besides platoons of forces, the Commissionerate Police has deployed adequate police personnel in plain clothes to keep strict vigil on trouble makers at puja mandaps and other crowded areas of the city.