Schedule For Elections In 5 States Announced; Check Details
Nee Delhi: Uttar Pradesh will go to poll in 7 phases from February 10 to March 7 while Punjab, Uttarakhand, and Goa will vote on February 14 and Manipur on February 27 and March 3, the Election Commission of India informed on Saturday.
"Elections to 690 assembly seats in all five states will be completed in total seven phases," Chief Election Commissioner (CEC) Sushil Chandra said.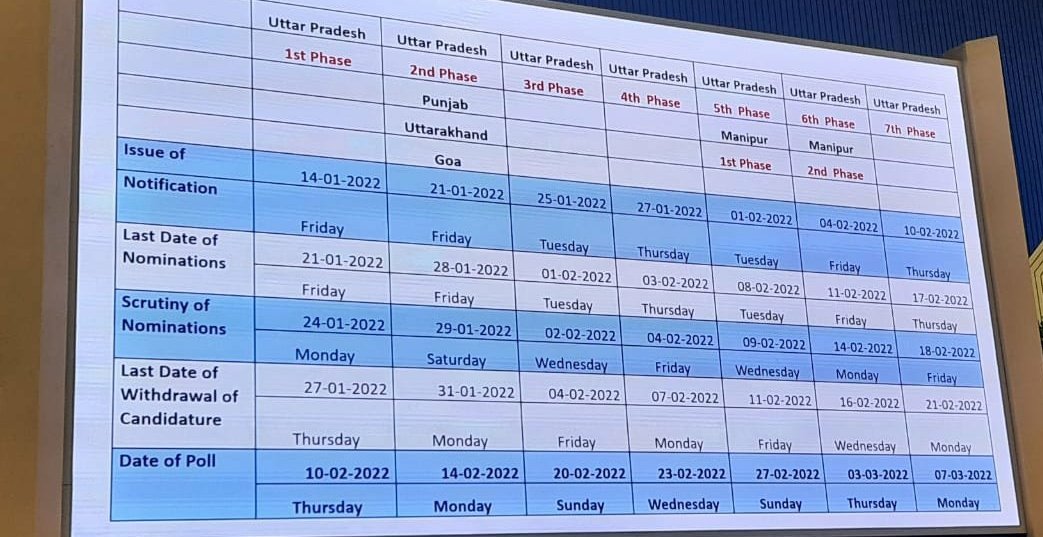 The counting of votes will be done on March 10, he said.
The model code of conduct came into effect immediately from the announcement of the schedules. "Election Commission has made elaborate arrangements for ensuring the effective implementation of the guidelines. Any violation of these guidelines will be strictly dealt with," he said.
The CEC further said that no roadshows, padayatras, cycle or bike rallies and processions will be allowed till January 15. The situation will be reviewed and fresh instructions to be issued later, he added.
Additionally, there will be a "campaign curfew" imposed between 8 am and 8 pm throughout the election process. There will also not be any 'victory rallies' after the results are announced.
"All election officials and employees will be considered as frontline workers and all eligible officers will be vaccinated with 'precautionary dose'," he said during the media briefing here.
The Election Commission has already made arrangements to ensure an adequate number of EVMs and VVPATs for the smooth conduct of elections, the CEC said, adding that the polling time will once again be extended by an hour in view of the pandemic.
Senior citizens above 80 years of age, persons with disabilities and COVID-19 patients can vote by postal ballot, he added.