Serving The Poor At SCB Hospital Is Life's Calling For These Cuttack Men
Bhubaneswar: The sight of two men tending to poor patients in SCB Medical College and Hospital is a common sight. They seem to be omnipresent in the area for they can be seen serving people day and night.
Abhijit Dash and Prahallad Moharana from Cuttack have virtually made the hospital campus their home. There is so much to do, so many people to help, that there is little time for anything else.
Abhijit Das, a resident of Shankarpur area in Cuttack completed B.Tech in 2017. Although he got a job through campus placement, he did not join it as he had keen interest in social work.
"I am helping the poor and destitute patients here. We are trying to give some financial help to the poor people. We give the account number or phone number of the people in need to those who are interesting in giving donation. The donors deposit the money in their account directly. We also motivate people to donate blood to destitute patients and give them clothes," said Abhijit.
"Poverty is so stark inside the hospital campus," he added.
"The helplessness of the poor and destitute people has always bothered me. Once, I saw an accident on my way back home from college. We brought the victim to the hospital. I donated blood to him. Doctors said that he could be given timely treatment and could survive because he was rushed to the hospital. His family members were very happy. The very fact that I could save someone's life motivated me to do social work," said Abhijit.
"Initially, my family supported me by giving me money but I am facing some problem now. So, now I will have to do a part time job for survival," said Abhijit, who has been serving destitute patients for five years now.
He with Prahallad also helped a lot of the victims of the bus accident on Mahanadi Bridge.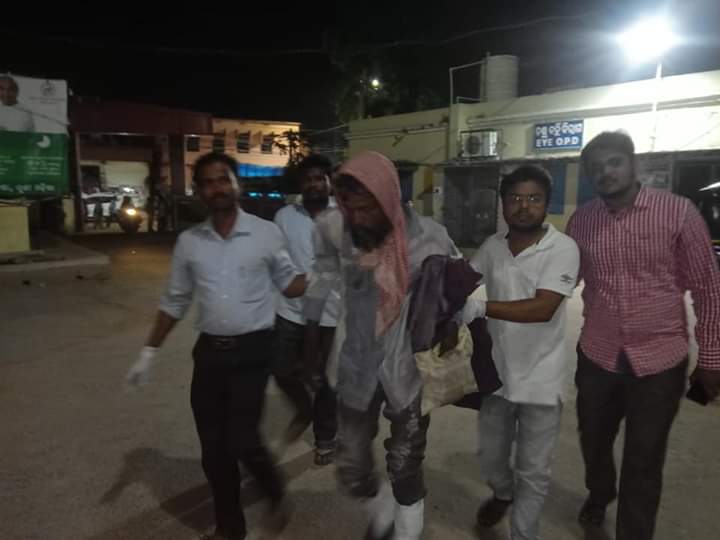 Prahallad belongs to Talabasta village of Banki in Cuttack district.
He has been doing similar work since the last six years. His wife, Damayanti Moharana died in SCB Hospital in 2012. Initially, he started serving patients to drown his sorrow and as a tribute to his wife but now, it is his mission.
"I had seen the plight of the poor and destitute patients, when my wife was undergoing treatment. After my wife's death, I decided to help these patients," said Prahallad.
"I am alone after my wife's death. I have dedicated my life to poor patients and am living with their love and blessings," he added.
Prahallad and Abhijit also work like an informal helpline service. On being informed by the locals about destitute people in need of medical attention, they immediately reach the spot and bring them to the hospital.