Visakhapatnam: Assam's Shiva Thapa underlined his class in the Second Elite Men's National Boxing Championship, defeating Tripura's Naveen Kumar 5-0 here on Wednesday.
Former World Youth Champion Devendro Singh (Manipur) also eked out a 5-0 victory against Arunachal's Kumar Beyong to advance into the next round.
In the 60 kg bout, the onus was on World Championship medalist Shiva to show the way. He began in his typically aggressive way, attacking from the word go in Round 1.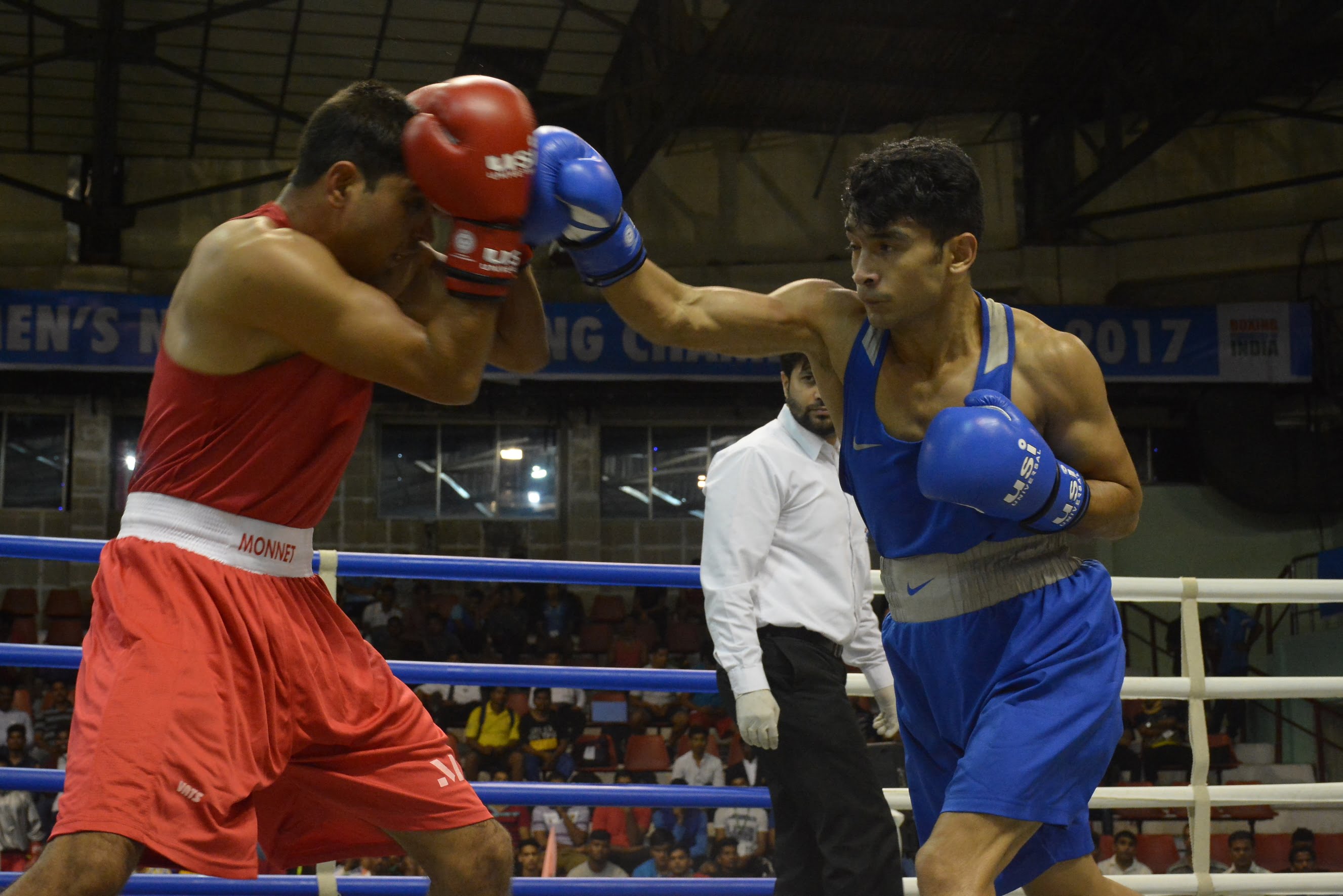 The next round saw Naveen land a few punches of his own but Shiva remained steady and counter-attached with his speed and agility. That put the brakes on Naveen but the bout still went into the third round. By then, however, Naveen had started feeling the heat. Shiva, though, didn't slow his pace down and as the bout eased towards the bell, he even showboated a little. Shiva eventually won the fight unanimously 5-0.
In another encounter, Devendro Singh edged past Kumar Beyong even though the referee had to stop the contest in the second round after he got injured through an accidental cut over his right eye.
In a hard-fought clash, Devendro landed significant jabs from the first round itself. One of them even saw Kumar bite the dust. But he shrugged off the fall and got on with the game. In the latter stages of the second round, an attempted hook by Kumar left a deep cut on the former 2012 Summer Olympics quarterfinalist's right eye and brought an end to the contest. But by then Devendro had sealed his win. He was awarded the bout 5-0.
"On a given day anyone can win, but I dominated from the start of the bout against this young boxer," said the injured Devendro after his win.
The biggest domestic tournament in boxing has a formidable field of 309 pugilists and will surely see a few come up the ranks as they rub shoulders with the country's top placed boxers.
Coach of the senior national team and chief performance director, Santiago Nieva, agreed: "All boxers I have seen till now have been great but it is too early to say who will earn a call up to the national team. However, a local boy called K Kranthi has caught my eye."
Results (at the time of writing the report)
49 kgs – Phurba Sherpa (SKM) bt Nikhil Raj (KER) 4-1; Neeraj Swami (DEL) bt Parveen Kumar (UP) 5-0; Pardeep Sharma (J&K) bt Deepak (SSCB) KO; Faijan Ansari (GUJ) bt Deepak Kumar (KAR) 4;1; NT Lalbiakkima (MIZ) bt Godak Ram (ARU) 5-0; S Chalapathi (TN) bt Pankaj Saini (AIP) WO; Karan Rupini (TRI) bt Ram Majhi (ORI) WO; Harish (HAR) bt Ninesing Kharlor (MEG) 5-0; B Deepak (TEL) bt Rishi Kumar (RAJ) 5-0; Vipin Kumar (CHD) bt Vinod Kumar (CHT) 5-0; Ramesh Kumar (BIH) bt Thoiba (NAG) 4-1; K Shyam Kumar (RSPB) bt HP Kumar (MAN) 5-0; Himanshu Sharma (PUN) bt Anup Prasad (GOA) RSC 3rd; K Karthik (AP) bt Shivaji More (MAH) 3-2;
52 kg – bt Laldinwaima (MIZ) bt Umesh Chavan (GOA) (4-0); Gaurav Solanki (SSCB) bt Chetan Singh (RAJ) 5-0; Salman Sheikh (RSPB) bt Anil Rokka (MP) 5-0; Vijay Arora (JHA) bt P Appala Raju (AP) 5-0; L. Devendra Singh (MAN) bt Kumar Beyong (ARU) 5-0; Vinod Tanwar (HAR) bt Arvind Kumar (UTK) 5-0; Athul raj (KER) bt Kalai Selvan (POND) 4-1; Deepak (CHD) bt Manjit Kr. Shaw (WB) 4-0; Raja Sinha (KAR) bt Aditya Kumar (BIH) WO;
56 kg – Joyce (KAR) bt Tahir Shaikh (GUJ); Sukraj Rai (SKM) bt Atul Davas (3-2)