Sudarshan's Konark Wheel Enthrals Japan
Bhubaneswar: Sudarshan Patnaik's sand sculpture of the Konark wheel caught popular imagination at an international sand art exhibition at a sand museum in Japan on Wednesday.
A total of 21 countries participated in the exhibition where Sudarshan is representing India. The theme of the exhibition was "South Asia Sculptors".
The sculpture is 20ft long and 6ft tall. Tourists can see it throughout year.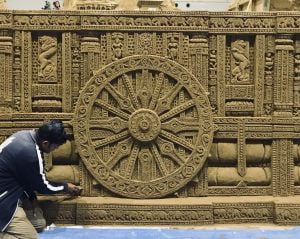 Sudarshan shared the picture of the sculpture on Twitter and also shared a video on this.
He tweeted: "My sand sculpture of #Konark wheel at International #SandArt Exhibition in a sand museum in Japan. 21 artists from around the world are participating in this exhibition."