Bhubaneswar: Ahead of Raksha Bandhan on August 22, artists and designers in Bhubaneswar and Cuttack are using their creativity to come up with unique rachis.
Eco-Friendly Rakhi
Bhubaneswar-based fashion designer Choudhury Jyoshna Das has come up with the concept of eco-friendly rakhis this year.
"We are making rachis by using jute fabric and papaya seeds. Besides, I have also used seashells. All the items used in my rakhis are eco-friendly," said Jyoshna.
"We take around 20 to 25 minutes to craft one rakhi. We are also providing a gift hamper with our rakhis. The hamper comprises handmade chocolates, diya, rice and Roli Tika," she added.
The designer is completely against using plastic. "I am using butter paper to wrap the chocolates. People will use lakhs of rakhis on the occasion of Raksha Bandhan. Therefore, the use of plastic to make rachis will be an environmental hazard," Jyoshna explained.
She has also created women's rachis, which can be hanged from bangles.
"People are appreciating my eco-friendly rakhis. They are buying through social media," she added.
Passion For Crafts
For Tapaswini Dash of Cuttack, making rachis is an extension of her passion for crafts. "I have been designing and making things since my schooldays. I also have a passion for paintings and crafts. During the lockdown in the first wave of the pandemic last year, I got more time to work on my creativity and started making rakhis," Tapaswini said.
She is crafting rakhis by using stones, chains, ball chains, artificial flowers, threads and peacock feather among other items.
Tapaswini revealed that her photo rakhis as well as the Mayura Chandrika variety are the most in demand. "As per demand, I insert photos in the rakhis. In the last two weeks, I have sold 60 rakhis. The price of my handmade rakhis are between Rs 5 and Rs 500," she added.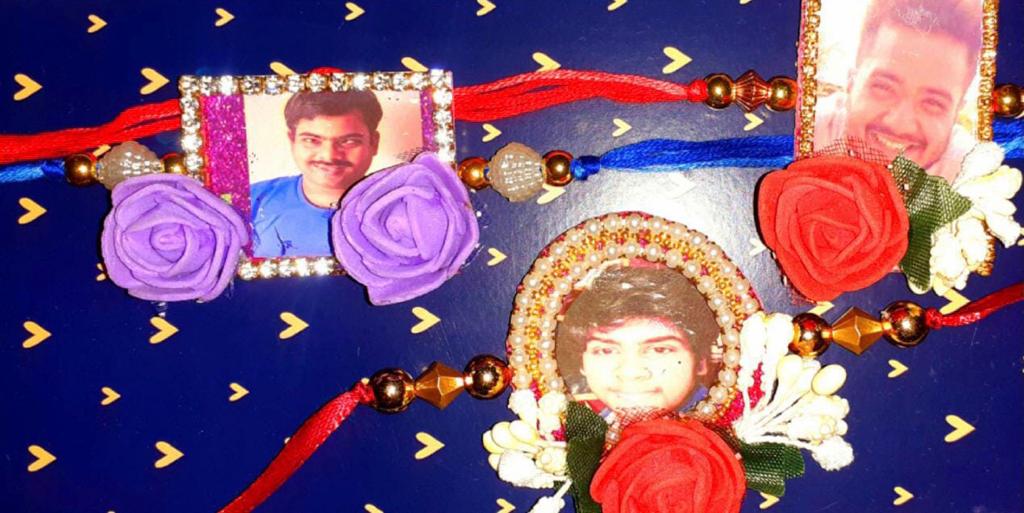 Catering To Demand
Ashannita Rout is a lecturer at Indira Gandhi Women's College in Cuttack. Besides academics, she is also passionate about making jewelleries at home.
"I have been selling my homemade jewellery pieces for the past 10 years. I have also started selling them online for three years now. I noticed that many of my customers demanded my jewellery pieces to be put in the centre of rakhis. That is when I decided to make rachis as well," Ashannita said.
"People like my stone and crochet rakhis the most. They are priced between Rs 30 and Rs 70," she added.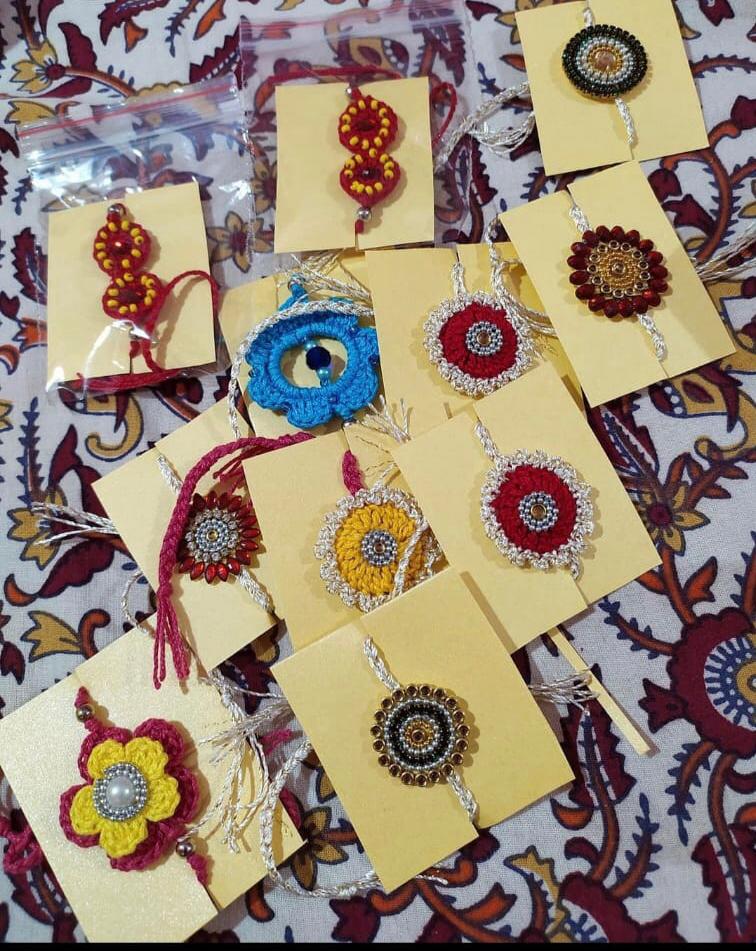 Pattachitra Rakhis
Ashish Das, a Bhubaneswar-based artist, has invested his creativity in making unique Pattachitra rakhis.
"I have been making Pattachitra rakhis since last year. Initially, I had made one Pattachitra Jagannath rakhi and posted the picture on social media. It was hugely appreciated and subsequently bought by one person. This encouraged me and I started making more rakhis,"  Ashish said.
The artist revealed that he makes Pattachitra rakhi by using paper, glue and colours only. In most of the rakhis, he has depicted Lord Jagannath and Radha and Krishna in the background petals.
"I also make Pattachitra rakhis with motifs of animals and birds. I sell my rakhis on social media platforms, My rachis are priced between Rs 100 and Rs 500," he said.