Temp Drops Below 10 Deg C At 3 Places In Odisha; Night Gets Colder In Bhubaneswar & Cuttack
Bhubaneswar: The night temperature dropped below 10 degree Celsius at three places in Odisha during the last 24 hours, the Bhubaneswar Meteorological Centre informed on Wednesday.
Daringbadi was the coldest at 8.5 degree Celsius followed by Keonjhar and Kirei at 9 degree Celsius. The mercury dropped to 10.8 degree Celsius at G Uadayagiri and Titlagarh while Sundargarh and Baripada registered a minimum temperature of 11 degree Celsius.
The twin cities of Cuttack and Bhubaneswar saw the temperature drop to 13 degree Celsius, 2 and 3 degrees below normal. Puri at 15.8 degree Celsius was 2.5 degree below normal.
Over 10 stations recorded below normal temperature as cold wave gripped the state again.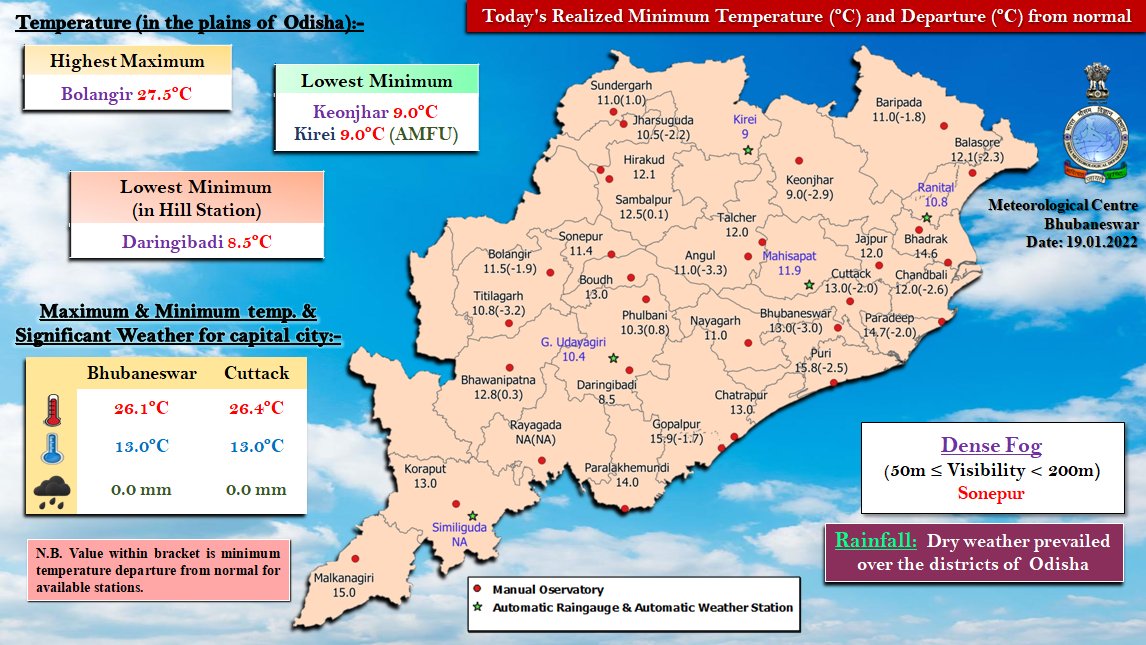 The MeT office has also forecast dense fog at one or two places in Malkangiri, Koraput, Rayagada, Gajapati, Kalahandi and Kandhamal during the next 24 hours.
Shallow to moderate fog is very likely to occur at one or two places in coastal Odisha, Malkangiri, Koraput, Rayagada, Nabarangpur, Kalahandi, Kandhamal, Boudh, Angul, Dhenkanal, Keonjhar and Mayurbhanj.
The state may witness rainfall activity again from January 21, it added.