The Year Bhubaneswar Shone Brightly On The Horizon
Bhubaneswar: The year gone by can be described as coming of age for Odisha. Bhubaneswar made national and international news for the many events and milestones achieved. The latter half  of the year especially, was very eventful. The Odisha capital showed its modern side to the world and truly emerged  as a Smart City with all its developmental projects and events that were in sync with cosmopolitan branding. Here's what  made headlines in 2018.
Hockey World Cup – The 14th edition of Hockey Men's World Cup kicked off in style at Kalinga Stadium in Bhubaneswar. Spectators in the jam-packed  stadium enjoyed the grand celebrations with a scintillating performance by Bollywood diva Madhuri Dixit, Oscar and Grammy award winner A. R. Rahman and above all, the address by Shah Rukh Khan. The grand and spectacular inaugural ceremony of Odisha Hockey Men's World Cup Bhubaneswar 2018 at Kalinga Stadium here hogged the headlines for its star-studded affair and was broadcast in as many as 194 countries! Sixteen countries participated in the grand affair and several stars, sportspersons graced the event from time to time. Belgium won the World Cup but Odisha won everyone's hearts with its neat streets and lanes, bright and colourful walls. Several other things, FEST., BhuFeSto and BAT, took place parallely.
The state government went on a mission to develop world class sports infrastructure across disciplines from tracks and field, hockey, badminton to swimming. The renovated hockey complex at Kalinga Stadium is among the top three in the world.
Pride Parade – More than a 100 youngsters from Bhubaneswar, with painted faces and rainbow coloured clothes held their placards high to create awareness about the queer community and sensitise the public at the Pride Parade in September. Less than a week later, the Supreme Court scrapped the law. Queer people from around 29 states participated in the parade.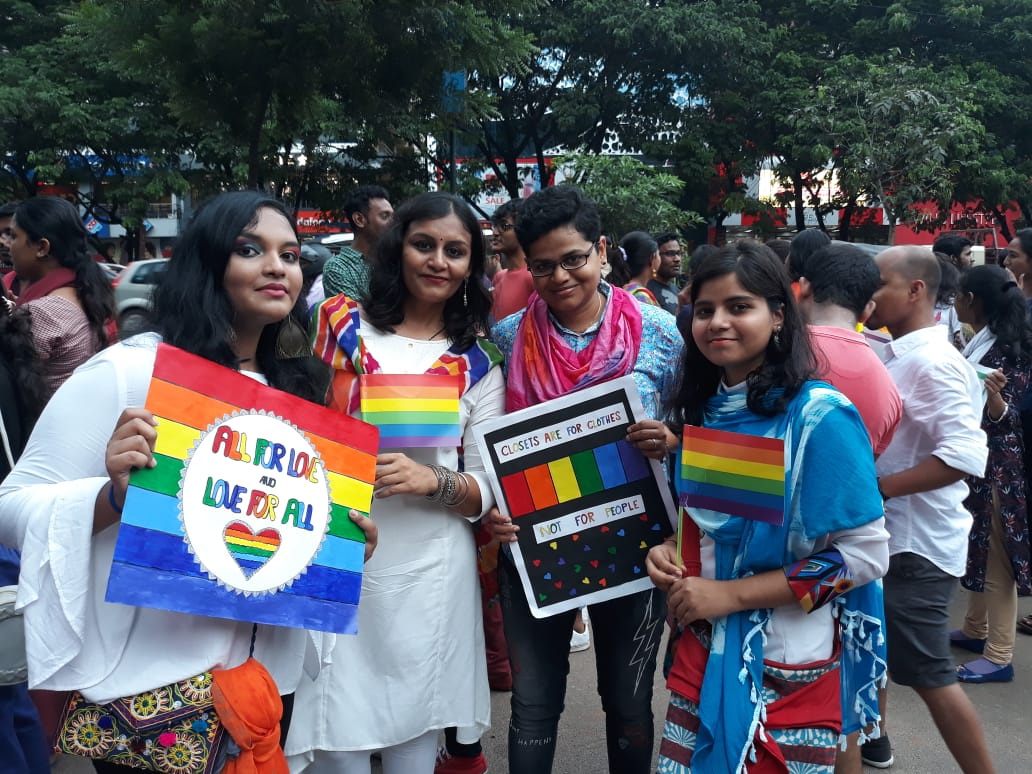 Bhubaneswar Pride was co-organized by The Parichay Collective (LGBQ Community of Odisha), Meera Parida's NGO, Sakha (an indigenous trans- community, being supported by the state government for the past few years) and the NGO, SAATHI (working for the cause of HIV-AIDS for over a decade in the state).
Hello Arsi – City girl Prakruti Mishra's brilliant performance in Odia film 'Hello Arsi', which won three awards at the 65th National Film Awards this year, had chairman of the central panel Sekhar Kapur shower her with praises. "What sets the film apart is its storytelling technique. There were other great movies too. After a lot of argument, we decided to give it to 'Hello Arsi', specially for the performance of the female lead," he said.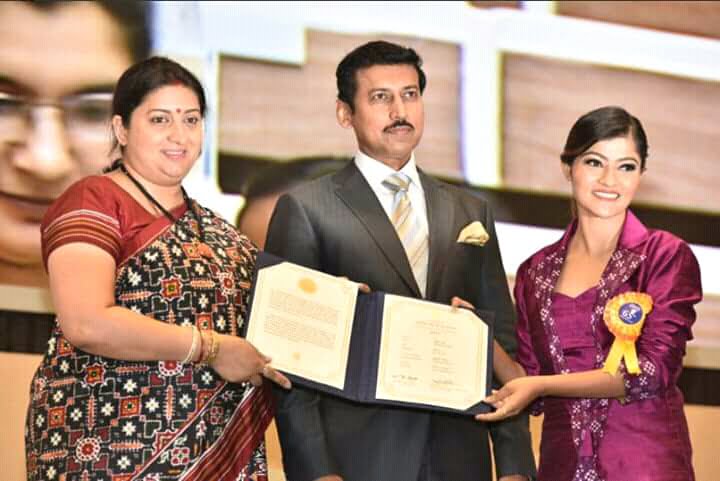 The film got the honours for Best Odia Film, Best Dialogue and also a Special Mention.  Partha Sarathi Ray and Prakrut played the lead pair in the film jointly produced by Sambit Mohanty and Ajay Routray. Unfortunately, the director of the film, Sambit Mohanty, is
no more.
Waste-To-Art Museum – India's first of its kind, Bhubaneswar Open Air Museum
of Waste-to-Art in K7 opened at Kalinga Vihar. Twenty-two artists from
16 nations created 24 wonderful sculptures from waste.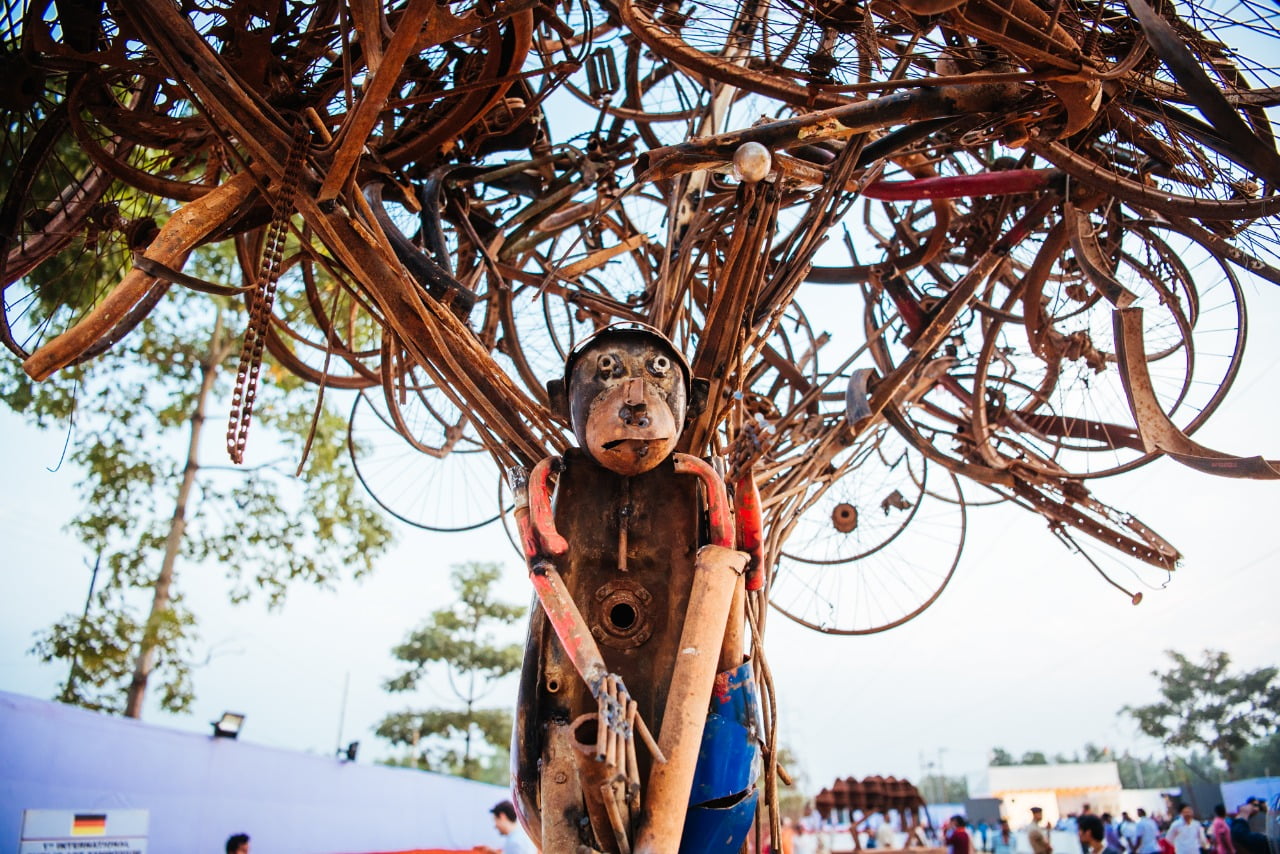 The venue is open for public from 10 am to 4 pm every day. The artists started their
work from November 1 with nearly 50 tonnes of waste, mainly metal and plastic
collected from different parts of the Twin Cities of Cuttack and Bhubaneswar
including industrial estates.
Kala Bhoomi Odisha Crafts Museum was also thrown open to public in March this year. Spread over 12.68 acres, the museum exhibits 1941 artefacts, including Terracotta, Pattachitra and silver filigree.
Esplanade – The largest mall in the Odisha capital, Esplanade, was inaugurated at Rasulgarh this year. It is also India's sixth largest mall. Spread over a whopping 4.5 lakh square feet, it makes a statement with 100 top international and national shopping brands. A huge food court with a seating capacity of 750 is the other attraction here. While Chilli's already has a counter, international fast-food restaurant chain Burger King will soon be opening shop.
The mall is an addition to the likes of Forum Mart, Pal Heights and BMC Bhawani Mall in the city. A few more, including Symphony Mall on Bhubaneswar-Cuttack NH, Bhubaneswar One near Sainik School and Utkal Kanika Galleria nea Kalpana Square, will soon emerge on the skyline.