Bhubaneswar: Entering a man's domain is no easy task for women, especially in our country, where they immediately become victims of judgement, prying eyes, sneers, insults, contempt, tongue-lashing and in the worst case scenario – physical abuse. Not that this has deterred them. Whether it is women in politics, business, corporates, defence services, media or fire-fighters, train and cab drivers, police and traffic personnel, they have all fought a hard battle and have succeeded despite all odds.
On International Women's Day, let us celebrate these women who dared to break the glass ceiling in Odisha.
Pilot Anupriya Lakra
If one has the determination and grit, then sky is the limit. Anupriya Lakra from Odisha's Malkangiri district has proved the adage true by becoming the first tribal girl from the district to become a pilot. After six years of rigorous training, Anupriya was inducted in a private airline in September last year. The daughter of Mariniyas Lakra, a Havildar in Odisha Police and Jamaj Yashmin Lakra, a homemaker,  Anupriya always dreamt of becoming a pilot.
She completed her matriculation from a convent in Malkangiri and higher secondary from a school in Semiliguda. To pursue her dream, she left her engineering midway and joined an aviation academy here in 2012.
Jubilant over Anupriya's success, her mother had said, "I am very happy. It is a matter of pride for the people of Malkangiri. Her success will inspire other girls." Anupriya was always encouraged to make efforts to translate her dreams into reality, her mother said.
Newspaper Hawker Subharani Das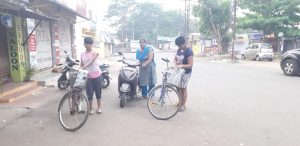 People no longer raise eyebrows at the sight of Subharani Das, the woman hawker, when she goes about distributing newspapers from door-to-door early in the morning in Bhubaneswar. She has been doing it since 2004.
"My husband, Prakash Chandra Mishra, who was a newspaper hawker met with a near fatal accident and was bedridden for two years. At that time my two daughters were very small and I had no choice but to distribute the papers for our bread and butter," said Subharani.
"After they grew up a little, my daughters also joined this work to help me," she further said.
"My husband is now completely fine. But as we have started loving this work, all four of us are now involved in this work," she said. The mother and daughters also do tuitions for additional income.
Auto Driver Santoshi Deo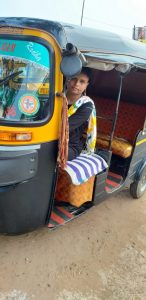 Santoshi's story is one of sheer grit. She has been driving an auto since 2015 in Keonjhar's Bada Amuni village. But now she lives in Kargil Basti in Bhubaneswar. "I had to face a lot of jibes in Keonjar, so I shifted here," says Santoshi.
"My husband left for dowry and for giving birth to a daughter. She is six years old now. I had to ensure her future, so I did not think about the nature of the job and started driving an auto-rickshaw," says 28-year-old Santoshi.
"Initially I faced a lot of problems here at the auto stand. Later, other auto-rickshaw drivers accepted me. Now they treat me with respect," says Santoshi.
"Now, I drive an auto rickshaw for OLA. Neglected women should not feel weak and face the challenges, instead of going and committing suicide," says Santoshi in her message on International Women's Day.
Bullet Rani Champa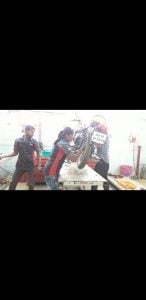 Champa Maharana, 25, is famously known as 'Bullet Rani' in Bhubaneswar.
She works as a motorbike mechanic in a Royal Enfield workshop at Patrapada in the Odisha capital.
Champa had an inherent interest in bikes, so repairing them came very easily to her. She is very confident about her job.
Champa belongs to Jatani in Khurda district. She came to Bhubaneswar to work as a sweeper. Before that, she had worked as a peon in a workshop for three years. Since she showed a keen interest, the head mechanic taught her how to handle bikes. Champa proved to be a fast learner and does her job quite efficiently.
She aspires to become a police constable.
Apart from this, she loves playing football and trains herself in the game for around three hours every day.