[Watch] Mamita Meher Case: Congress' 'Halla Bol' In Bhubaneswar, Police Accused Of Excesses
Bhubaneswar: A day after Lower PMG witnessed violence and vandalism during BJP rally, the Sachivalaya Marg here on Friday turned into a battleground with Odisha Congress' student wing workers attempting to barge into the State Assembly premises after breaking through the security cordon while demanding justice for Kalahandi schoolteacher Mamita Meher.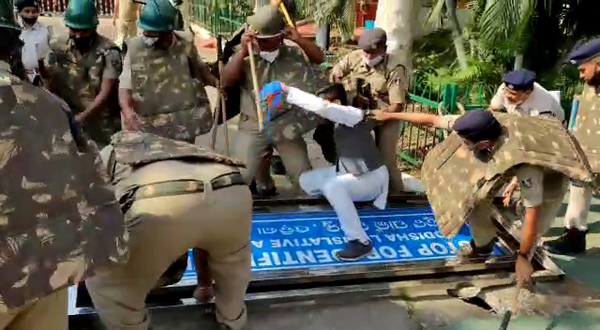 The peaceful agitation turned violent when police intercepted the Congress workers midday, leading to a scuffle. The agitators also pelted the cops with eggs and tomatoes during the face-off. Police then resorted to lathi-large to disperse them and several agitators were also taken into preventive custody.
Police also chased them into nearby Congress Bhawan and lathi-charged them. An agitator, who was bleeding from the head, was also seen being carried to safety by policemen. A few other Congress workers also sustained injuries in the face-off.
Alleging police brutality, several Congress workers later sat on a dharna near Master Canteen Square and demanded stringent action against the erring cops.
Also Read: [Watch] Vandalism & Violence During BJP Rally In Bhubaneswar; 15 Cops Injured
Congress MLA Tara Bahinipati condemned the attack and termed it 'police excesses at the behest of Chief Minister Naveen Patnaik'.
Odisha president of Congress' student wing Yashir Nawaz said that they will the agitation and again gherao the Assembly, seeking an answer from the government over the deteriorating law and order situation in the state.
The party has demanded a judicial inquiry into the matter and an apology from Police Commissioner.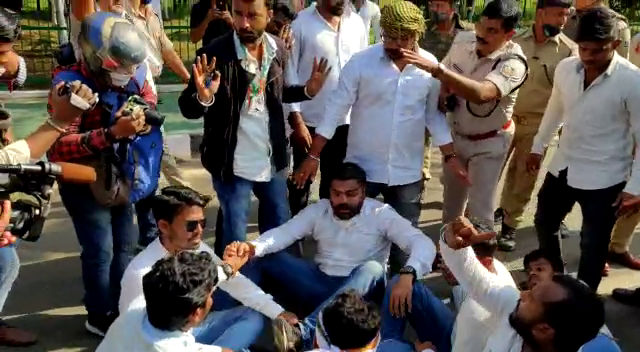 Justifying the police action, Bhubaneswar DCP Umaskankar Das said that some agitators tried to set ablaze police vehicles and fire services personnel intervened in due time to prevent any untoward incident. "Safety of the House is our first priority," he said, adding that 500-1,000 youth threw eggs and tomatoes on police personnel.
While the Opposition legislators have paralysed the Assembly by beating gongs since the winter session began on December 1, activists of the parties have been conducting rallies, demanding the ouster of Minister of State for Home Dibya Shankar Mishra for his alleged complicity in the case.
Watch the video here: