[Watch] Meet The Human Parent Of Abandoned Lion Cub In Odisha's Nandankanan
Bhubaneswar: Prashant Gouda hasn't been to any educational institute after matriculation. The 26-year-old native of Odisha's Ganjam district couldn't afford to get educated further. He is no expert in zoology or veterinary science. But, perhaps instincts and compassion can also help in acquiring knowledge that books don't impart—an insight into animal behaviour and their care. Thus, it's a matter of split-second for Gouda to assess what his 'dear baby'—a six-month-old lion cub, 'Barsha'—needs to comfort itself in an enclosure of Bhubaneswar's Nandankanan Zoo.  And, that's also because Gouda—setting a rare instance—had been hand-rearing the cub since its birth.
"Hand-rearing of cubs isn't an uncommon affair. But, what's interesting in Barsha's case is that she has been hand-reared from the very first day. Prashant has been playing the role of a single parent effortlessly," said the deputy director of the zoo, Dr Sanjeet Kumar.
Amid the pandemic, lioness Bijli had given birth to two cubs and a stillborn on July 21. Heartbroken, Bijli didn't pay attention to her cubs because of the stillborn.  To keep Barsha alive, the Zoo officials collected colostrum and brought feline milk from Kolkata. They tranquilised Bijli to collect the colostrum.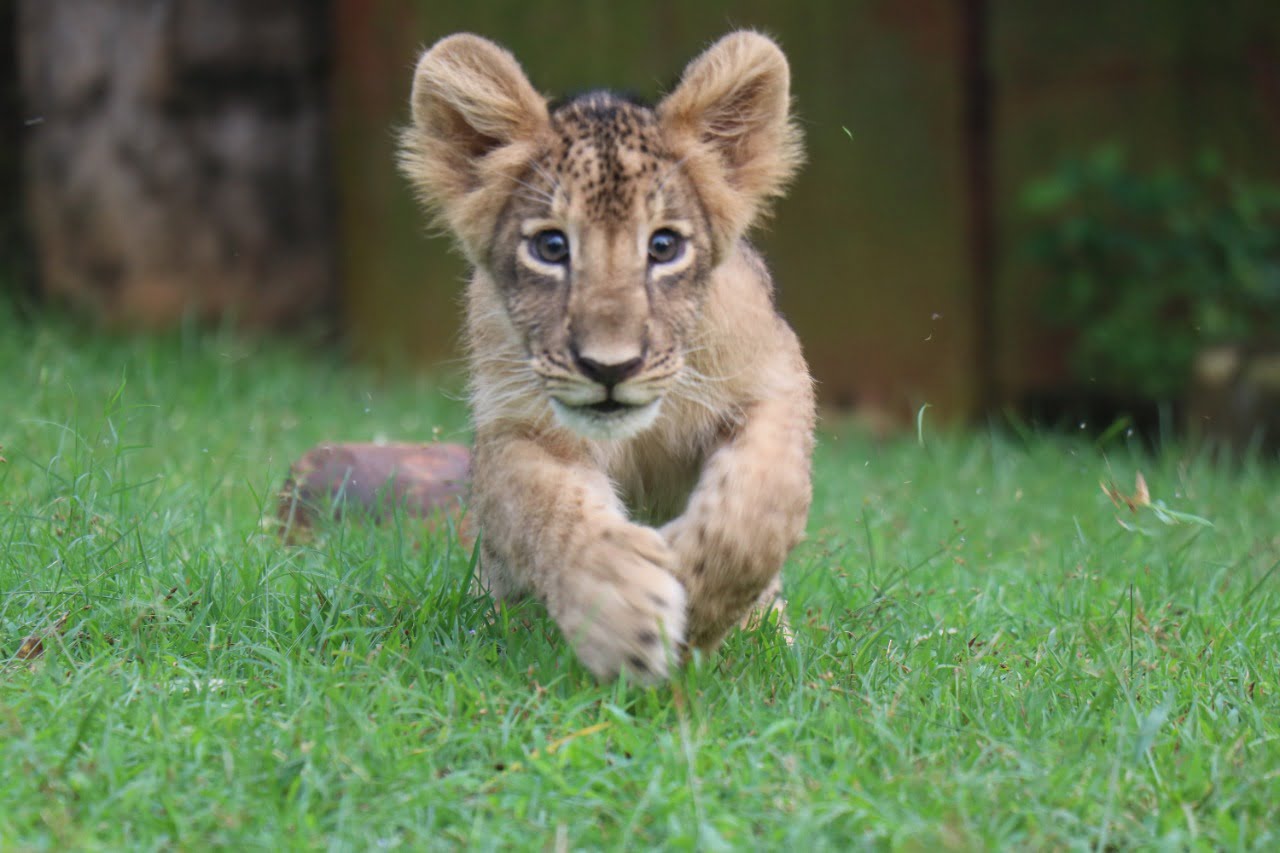 But, who would feed her with the kind of perfection innate only to a mother? That's when Prashant's eight years of experience of hand-rearing animals fetched success. In the past, Prashant had hand-reared a tiger and a lion cub. "The one-day-old cub had to be fed with the milk 12 times a day at an interval of two hours. Its bodyweight was 1,240 grams at the time of birth. Each time I fed it with 30 ml of reconstituted milk," recalled Gouda.
Feeding colostrum to the cub was certainly one of the most challenging steps. "After tranquilising Bijli, we could collect only 10 ml of colostrum from the lioness. It was equally divided into two halves for both the cubs. It wasn't sufficient as the cubs were starving for long. The male cub succumbed. But, Barsha was destined to survive. I held Barsha tenderly in my arms. For the very first time, I held the bottle—containing 5ml of colostrum—to her mouth. Like an innocent newborn—unaware of the worldly ways—she refused to latch. It didn't know what the bottle nipple was! I moved my fingers on its delicate body, assuring it of motherly love. In about two to three minutes, Barsha started nibbling and sucked the milk for the first time. It was her first baby step towards embracing life," said Gouda, as his eyes sparkled with joy. Thereafter, Barsha was given reconstituted canine milk for about a week.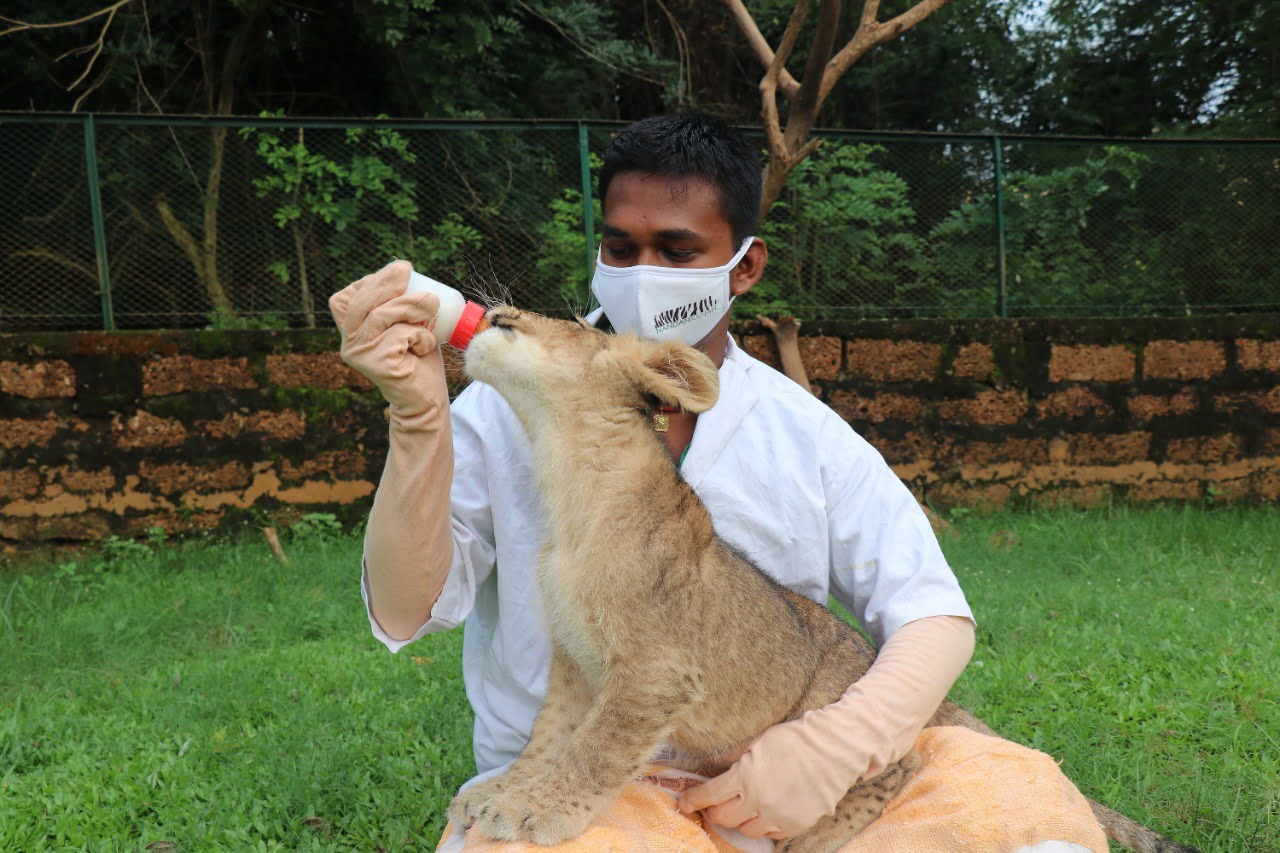 Later, the Zoo authorities managed to convince the Odisha Forest Department to grant them a special order for procurement of feline milk—which was four to five times costlier than canine milk—from Kolkata. Next, Gouda was given the charge of feeding 'Barsha'—a name that he had christened himself—with the feline milk for about 3 months at a stretch.
"The veterinary doctors can prescribe the amount of milk to be given to the cubs as overfeeding is dangerous for them. But, the efficiency of the hand-rearer matters the most. Ultimately, it is the hand-rearer, who has to measure the milk and feed the cub. Prashant had to stay awake at night so that Barsha doesn't go hungry," said Kumar, who monitors the hand-rearing process at Nandankanan Zoo himself.
After three to four months, Barsha was shifted to an enclosure. This transfer was inevitable and at the same time, tough for both Barsha and its 'mother', Prashant. "I had to distance Barsha from myself. Because she needs to mingle with other cubs. Otherwise, it wouldn't accept her true identity later. Ultimately, it will be transferred to the lion safari," said Gouda, who feels stoicism is also a part of his job. A hand-rearer must know how to treat joys and sorrows alike.
But, Barsha—who now weighs around 20kg and feeds on minced meat— sometimes longs for Gouda's touch and sight. "Barsha often stares at the temperature-controlled room where she used to stay with me. Whenever I call her, she will come running and hold my leg, trying to reach for my chest—which was her happy place once!" Gouda shared.
Watch the video here: