Bhubaneswar: Three parks in Odisha capital – Buddha Jayanti Park, Indira Gandhi Park and Kharavela Park – will reverberate with tales from far and near during the International Storytelling Festival – BhuFeSto, beginning Thursday.
The parks have been decked up on Panchatantra, Grimm's Fairy Tales and Arabian Nights themes.
A day before the fest, some web portals went into overdrive, mentioning filmmaker and actor Nandita Das and journalist-radio raconteur Neelesh Mishra as the national storytellers for the event.
Sujit Mahapatra of Bakul Foundation, the curator of the festival, had denied the news.
The actor also took to Twitter to express surprise and said she had declined the invite due to prior commitments.
I had regretted this invite due to prior commitments. Not sure why my name is in the list! – Nandita Das, Neelesh Misra among storytellers in Odisha fest https://t.co/pws5TQMBLR

— Nandita Das (@nanditadas) December 6, 2018
'BhuFeSto' will be held from December 6 to 10 simultaneously at the three parks from 2.30 pm to 7.30 pm. It is part of the larger .FEST, Bhubaneshwar's 16-day festival of food, entertainment, stories and city trails, being organised by Bhubaneswar Development Authority and Odisha Tourism.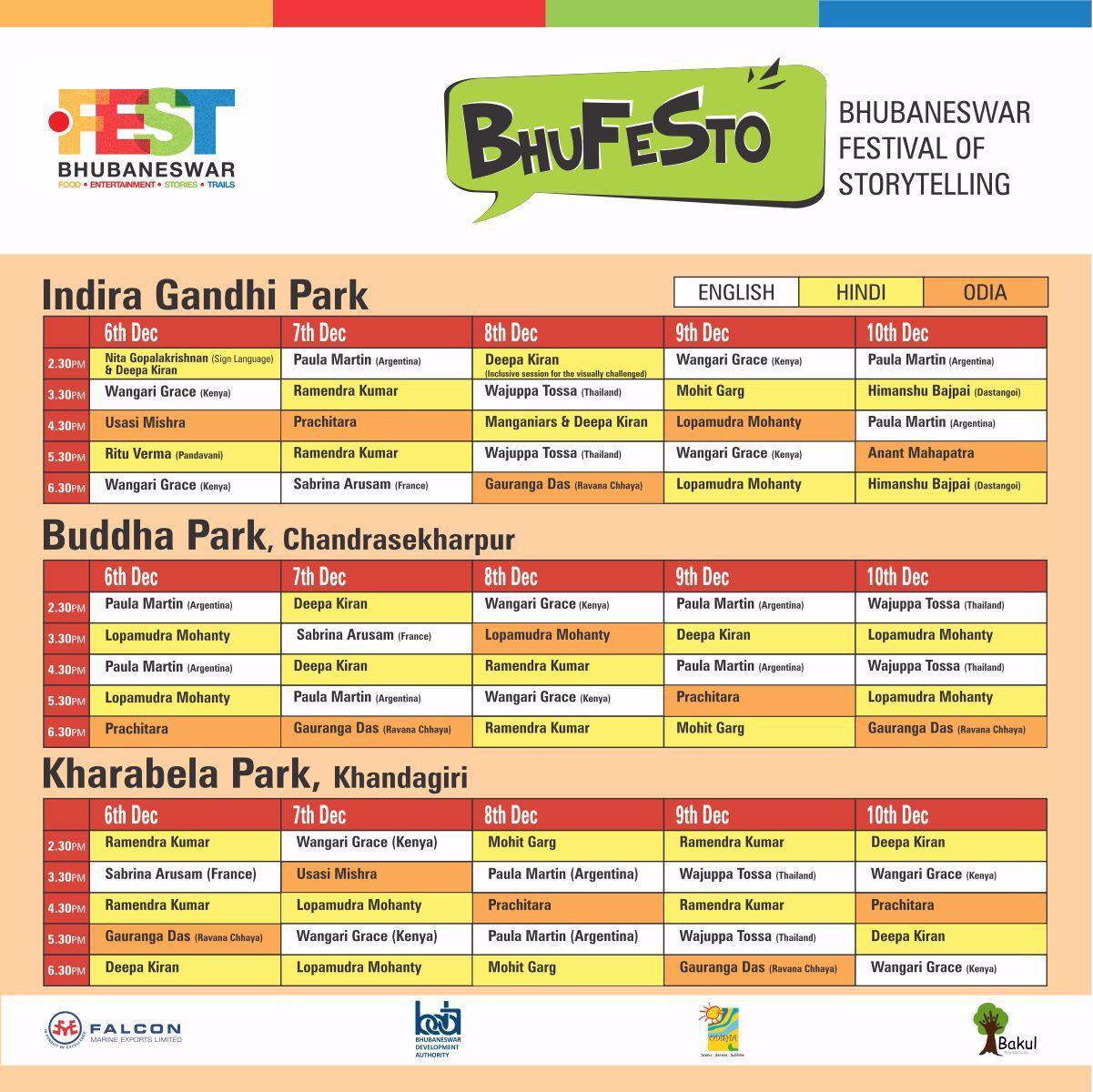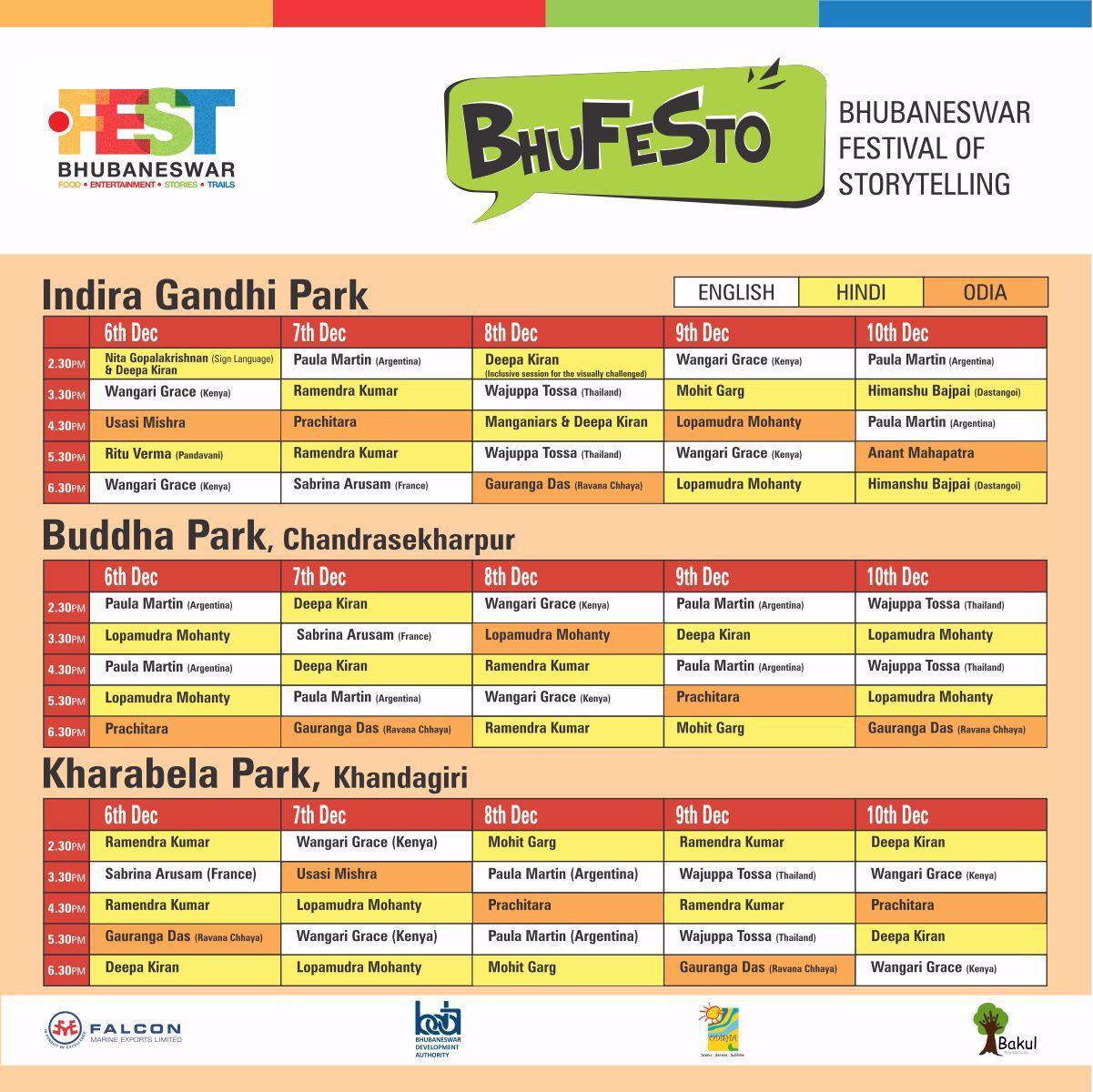 Indian representative at international storytelling festivals and curator of BhuFesTo, Deepa Kiran said, "It is rare when a government supports a storytelling initiative in India. Hence, Bhubaneswar Development Authority's support to BhuFesTo is great. As a storyteller, I am looking forward to sharing my stories with the people of Bhubaneswar. And the exchange that I am going to have with the people is another thing I am looking forward to."
The festival is being organized in parks to ensure that most people and particularly children will find it convenient to attend without much fear of long-distance travel.
The event boasts of some of the best storytellers in the world such as Paula Martin from Argentina, Wangari Grace from Kenya, Dr. Wajuppa Tossa from Thailand, Dongjoo Bang from Korea and Sabrina Anastasia from France.
"Storytelling is not only a great way to learn about the history of the city but also teaches us important life lessons and builds a sense of togetherness. Bhubaneswar is also host to Odisha Hockey Men's World Cup 2018 where the dates run parallel to .FEST. As a result, the city is home to a large number of visitors from India and the world for the next two weeks. BhuFeSto is a good medium for people to get to know more about the city through our local storytellers as well as learn about other countries and cultures through our international and national storytellers," BDA Vice-Chairman Dr. Krishan Kumar said.
There will be performances on the rich storytelling traditions of India such as the 13th century Urdu oral storytelling form of Dastangoi represented by its most famous practitioner Himanshu Bajpai, the folk Pandavani tradition from Chhattisgarh represented by its most eminent contemporary performer, Ritu Verma. The famous Manganiyar tribe of folk musicians from Rajasthan, who have given Hindi cinema many popular songs such as Nimbuda Nimbuda, will also be performing for the first time in a collaboration with Deepa Kiran where stories will be interwoven with songs.
The rich storytelling tradition of Ravana Chhaya (shadow puppetry) from Odisha will be presented by Gauranga Das and other storytellers in Odia include the cine star, Usasi Mishra, the doyen of theatre, Anant Mahapatra and popular storyteller, Prachitara Mishra.
The highlight of the festival is that it is an inclusive festival with special storytelling sessions in sign language for children with hearing disabilities by Nita Gopalakrishnan, the only such specialist in the country and a special storytelling for children with visual disabilities by Deepa Kiran.