Bhubaneswar: The 4th edition of Odisha Biennale held at Kalabhoomi in the city began at 12 noon with a workshop on Editorial Design by three Japanese artists on Monday.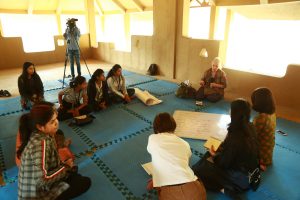 The team comprised Chiaki Aizawa, who is an art director and designer specializing in branding, advertising, logo mark design, graphics design and package design, Nanako Koyama, who works in the fields of design, art and music, and Rie Goto, who is a calligrapher, poet and editorial director.
Attendees from various fields came to the orientation class. The workshop will continue to be held on December 25, 27, 29 and 31.
The workshop began on a happy and open minded note with the participants being asked to interview an artist and make a layout of pictures for a magazine during the orientation session. Everyone had fun while working in groups.
The participants also learnt about font types, layouts, borders and colours that convey various messages to the readers.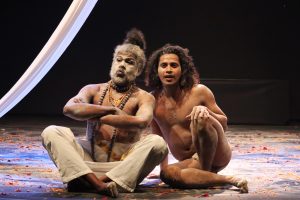 At 7 pm, a performance titled "VAST" was performed by Surya Performance Lab. It was a theatre piece on a story about a boy from Nepal who was snatched from his family and home in the Himalayas. Kidnapped and abused, he now lives in a slum in a big city in India. He is all alone in the world, living in his small room. Beyond confinement and misery, he tries, day after day, to find in his body a door that opens to the Vast, a path to his Himalaya, Nature, and his own unlimited nature. An encounter with a strange character helps him on his journey. This character is Lord Hanuman, who is heroic, wise and full of humour.
Surya Performance Lab is an Aurovilian dance theatre company that is dedicated to research for new dramaturgy in performing arts. It is based in Auroville near Pondicherry, and run in in partnership with Ritam and Barbara Paschinger. The dancers in the company are directed by Philippe Pelen Baldini and Thierry Moucazambo, and assisted by Gopal Dalami.