A Relook At Atal Bihari Vajpayee's Odisha Connect On His Birth Anniversary
Bhubaneswar: Born on December 25, 1924, former Prime Minister Atal Bihari Vajpayee had an innate passion for Odisha.
Here's a look at the late PM's connection with the state: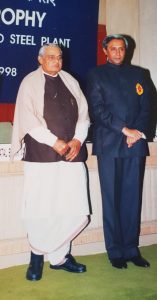 – After the Super Cyclone that devastated coastal Odisha on October 29, 1999, Vajpayee had rushed to the state to assess the calamity. He had also announced Rs 250-crore central assistance for the relief, rescue and rehabilitation of the affected families.
– The former PM had laid the foundation stone of an oil refinery of Indian Oil Corporation Ltd (IOCL) in Paradip on May 25, 2000.
– On July 15, 2002, he had laid the foundation stone of AIIMS at Sijua in Bhubaneswar.
– Vajpayee was also instrumental in the operationalisation of the East Coast Railway (ECoR) on April 1, 2003.
– While in the Opposition, the late leader had proposed special assistance for KBK (Kalahandi-Balangir-Koraput), one of the most backward and underdeveloped regions in the country, in Parliament.
– Vajpayee was very close to the former Chief Minister Biju Patnaik and had visited Odisha to pay last respect after the latter's demise.
­ – It is said that Vajpayee had played the role of an advisor during the formation of Biju Janata Dal (BJD) after the death of Biju Patnaik. Besides, he played a key role in the induction of BJD in the National Democratic Alliance (NDA).
– During his tenure as Prime Minister, Vajpayee had given the Steel and Mines portfolio to Naveen Patnaik in his cabinet. He was one of the top leaders who had shaped his political career. "He was a great leader and it was always a very good experience to have worked under him," Naveen said.
– Senior BJD leader and Rajya Sabha member Prasanna Acharya said "During the formation of BJD, both Atal ji and Advani ji had given us the mental courage. Whenever Naveen Babu had sought advice, Atal ji was used to give him constructive advice."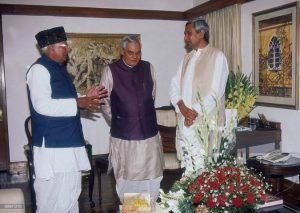 – To strengthen the party base of BJP, Vajpayee had visited Odisha a number of times. In 1981, he had visited Rourkela to review the organizational activity of the party.
– After forming the government at the Centre in 1999, Vajpayee had created the Union Tribal Affairs Ministry and entrusted the portfolio to Jual Oram.
"For the tribals, Dalits, backward communities, poor and downtrodden, he was like a God. While giving me the portfolio, he had inspired me to work with diligence and without any fear," Oram said.
"His ideals were so inspiring that it had given me the strength to discharge my duty with full vigour," said Debendra Pradhan, another Odisha leader, who was also a Union minister in the Vajpayee's cabinet.
– Apart from Naveen Patnaik, Jual Oram and Debendra Pradhan, Vajpayee had also inducted Arjun Sethi, Braja Kishore Tripathy and Dilip Ray from Odisha as Union Ministers in his cabinet.
– Senior Congress leader and president of Odisha Pradesh Congress Committee (OPCC) Niranjan Patnaik said he had met Vajpayee when in the Opposition. "He was a man of very impressive personality. I like his speech. What I have felt that despite being in the BJP, Vajpayee was a secular leader," he pointed out.