CM flags off Jana Sampark Padayatra
Bhubaneswar: Odisha has emerged as a pioneering state in reducing poverty and bringing about greater women empowerment, said Chief Minister and BJD president Naveen Patnaik while flagging off Jana Sampark Padayatra from Mahisakhal slum here on Monday.
The Chief Minister said his government has been providing good governance and working consistently to make Odisha the number one state.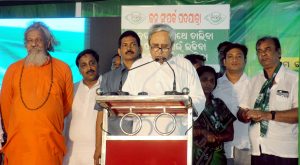 Among others, Tourism and Culture Minister Ashok Chandra Panda, MP Prasanna Patsani, MLAs Priyadarshi Mishra and Bijay Mohanty were present.
During the statewide padayatra, senior party leaders and activists will highlight the achievements of BJD-led government and the Centre's neglect, particularly on the Polavaram and special category status issues, in all the districts of the state.
The padayatra will conclude on October 11 on the occasion of Jaya Prakash Narayan Jayanti.