Balangir: Chief Minister Naveen Patnaik on Friday inaugurated the newly-constructed Bhima Bhoi Medical College and Hospital here.
Speaking on the occasion, he said this medical college is another stepping stone towards the government of Odisha's resolve to ensure equitable and sustainable development of the state. With the establishment of this college, the long-awaited dream of the people of this region, as well as the aspirations of the thousands of students, has been fulfilled.
Congratulating the maiden batch of the Bhima Bhoi Medical College and Hospital, Naveen said he has full faith that this medical college and its students and faculty will follow the great ideals of Santh Bhima Bhoi and serve the people with dedication and commitment.
He also said that Biju Swasthya Kalyan Yojana, launched by the state government on August 15 this year, will benefit about 70 lakh families. The scheme provides annual cashless health coverage of Rs 5 lakh for each beneficiary family, he added.
Speaking about the efforts of the state government to provide better healthcare in remote and tribals areas of the state, the Chief Minister said while the total number of MBBS seats in Odisha was 321 in 2000, the number has gone up to 950 with the opening of MBBS seats at Saheed Laxman Nath Medical College and Hospital in Koraput, Pandit Raghunath Murmu Medical College & Hospital, Medical facility at Baripada in Mayurbhanj district and Bhima Bhoi Medical College and Hospital in Balangir. The number will further go up to 1050 with the inauguration of Fakir Mohan Medical College and Hospital in Balasore next month.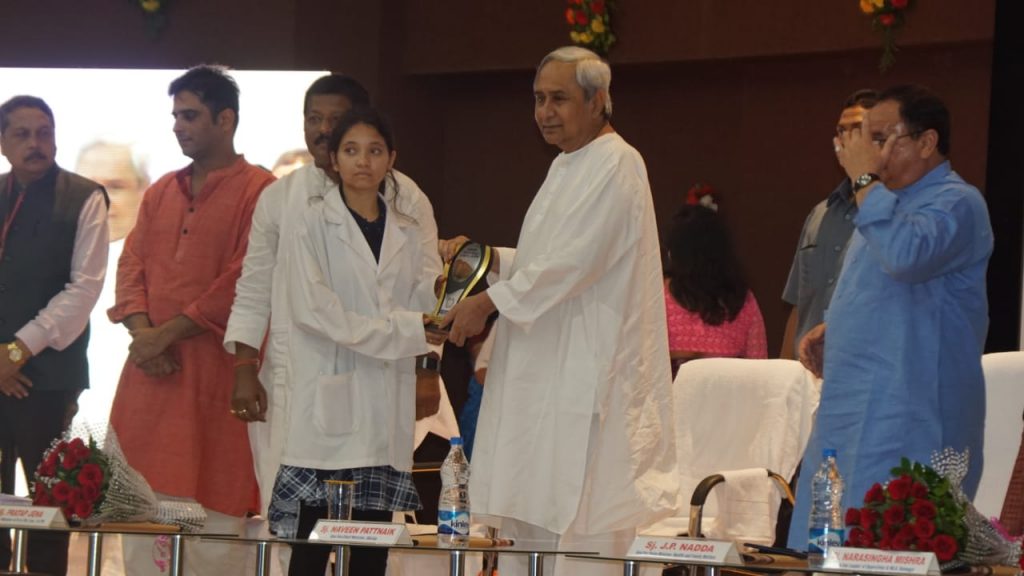 A total of 100 students of the Bhima Bhoi Medical College have taken admission in 2018-19 academic session.
The proposal for setting up of the Bhima Bhoi Medical College and Hospital was passed  by the Western Odisha Development Council (WODC) in 1999. While the foundation stone was laid by the Chief Minister in 2004, at least four MoUs signed by the state government with different private companies for the establishment of the hospital were cancelled on different occasions.
The hospital has been constructed at a cost of Rs 187 crore of which the state government and the Centre have provided Rs 122 crore and Rs 65 crore respectively.
Apart from providing 25 acres of land, the state government will bear all expenses towards the salary of the teaching staff, doctors and the management of the medical college.