Eminent Odia Litterateur Binapani Mohanty Passes Away
Cuttack: Eminent Odia litterateur and academic Binapani Mohanty breathed her last at her residence on Sunday evening due to age-related complications. She was 85.
Serving as an Economic professor at the time of her retirement, Mohanty has more than 100 books to her credit. Her literary creations encompassed various fields including novels, short stories, a one-act play and biography.
Her literary career began with the publication of 'Gotie Ratira Kahani' in 1960. Some of her best-known stories are 'Pata Dei', 'Khela Ghara', 'Naiku Rasta', 'Bastraharana', 'Andhakarara', 'Kasturi Murga O Sabuja Aranya' and 'Michhi Michhika'.
She was conferred Padma Shri in 2020 in Literature and Education category and Atibadi Jagannatha Das Sammana by Odisha Sahitya Akademi. She won the Sahitya Akademi Award for 'Pata Dei and other Stories' in 1990 and Sarala Award. She served as chairperson of Odisha Lekhika Sansad.
'Pata Dei' was published as Lata in Femina in 1986 and its Hindi dramatisation was telecast in Doordarshan as a series called 'Kashmakash' in 1987.
Many of her short stories have been translated into English, Hindi, Kannada, Malayalam, Marathi and Bengali, among others. A film was also made on her story 'Andhakarara Chhai'.She has also penned three novels – 'Sitara Sonita', 'Manaswini' and 'Kunti, Kuntala, Shakuntala' and a one-act play 'Kranti'. She has translated Russian folk tales from English to Odia, among other translations.
She was the younger sister of eminent doctor Nirupama Rath and advocate Sachinadanda Mohanty, both of whom have passed away.
Prime Minister Narendra Modi, Governor Ganeshi Lal and Chief Minister Naveen Patnaik have expressed grief over her death.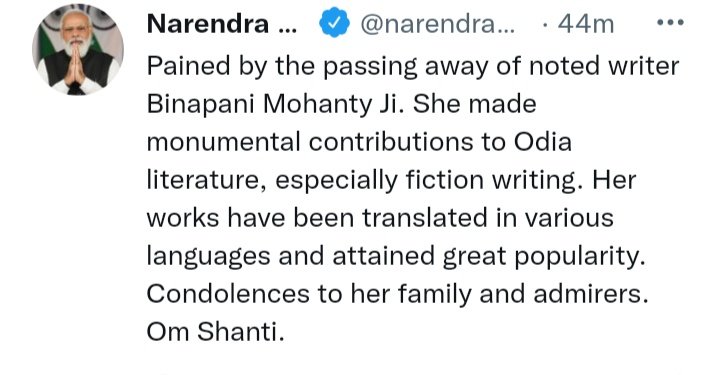 Mourning her death, Chief Minister Naveen Patnaik said that she successfully explored the struggle of women in her short stories and novels. Her death has created a wide vacuum in the literary world that will be difficult to fill, he added.