Robotics is helping heal young minds of the trauma suffered in areas affected by Cyclone Fani. Such trauma often goes unnoticed.
The Forum for Integrated Development & Research (FIDR), a leading think tank of India, is working among Fani-ravaged minds in Konark. It has set up Citizen School in Konark to equip young people with the skills, access and beliefs they need to thrive as students and succeed as adults in a modern economy.
Rishav Singh, a school student in Amador Valley High School, Pleasanton, California, US, is helping students mostly his age who are from low-income families. These students have no exposure to DIY (do-it-yourself) technology models to help them understand Robotics in simple ways. But with the help of the Citizen School, they are carrying out many experiments, meeting the curiosity of their minds. Such creative engagement is helping pull them out of the trauma in the aftermath of destruction..
Young minds need to dream big and pursue their dreams to be able to build their characters. Climate emergency brings with it the debilitating after-effects of inter-generational sense of loss and deprivation.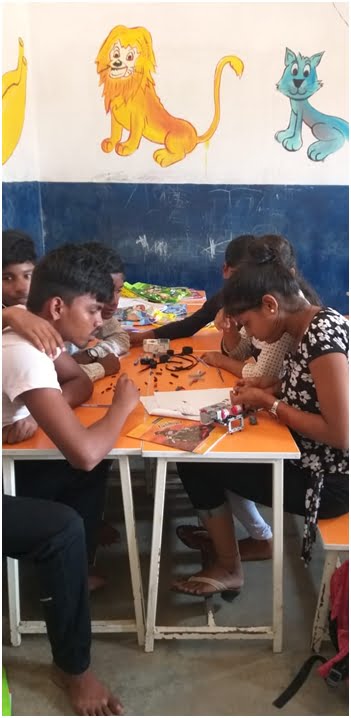 Natural disasters leave their mark on children who live through them. As these weather events increase, implementation of preparation strategies is key. These traumatic events impact everyone, but what is still unknown are the long-term effects on the children. Though the schools have support programmes, lack of understanding of long-term effects of disasters on children significantly reduces their effectiveness. The importance of extended support cannot be emphasized enough. FIDR, with support from Rishav and other members of his school Amador Valley, is working to forge a partnership to make this initiative continuous.
The students are very passionate about Rishav's "course". If they can see Robots doing the impossible to help mankind in sci-fi films, why can't they create one to help them in their own communities? What can stop them from creating their own superhero to fire their own imagination and unique creation?
The pilot programme, Introduction to Robotics, will take place at Venkateswar School in Konark, Puri and will have a batch of 20 students, who will work together in a workshop environment to build and programme a basic robot. Through this experience, they will learn the basics of mechanics and building, as well as how to programme the robot to do simple tasks. The programme will teach basic building techniques, coding tasks such as simple movement, creating sound and using sensors to accomplish tasks by sensing colors or distance.
FIDR, with the help of Rishav is planning for a pre- and post-training assessment and to document the changes in the students.