'Gulaab Se Zyada, Titli Se Kam': Know The Intensity Of Jawad; Heavy Coastal Inundation Due To New Moon Tide & Heavy Rain
Bhubaneswar: "Gulaab se zyada, Titli se kam" (more than Gulaab but less than Titli), is how Director-General of India Meteorological Department (IMD) Mrutyunjay Mahapatra on Friday described the intensity of Cyclone Jawad, which is expected to make landfall along Odisha coast near Puri with a sustained wind speed of 90-100kmph gusting to 110kmph.
"The cyclone is not expected to be as severe as Fani, Phailin, Bulbul or Titli," he told a presser.
The maximum sustained speed of Gulab was 75 to 85 kmph gusting to 95 kmph during landfall 20km north of Kalingapatnam on September 27 this year, while that of Titli was 150 kmph when it struck Andhra Pradesh coast near Palasa on October 11, 2018.
"The current wind speed of the cyclone Jawad is about 60-70 kmph and it's now 470 km south-southeast of Gopalpur, 530 km south-southwest of Puri and 600 km south-southwest of Paradip," Mohapatra said.
The system is likely to move north-northwestwards, intensify further and reach west-central Bay of Bengal off north Andhra Pradesh-south Odisha coasts by Saturday morning. Thereafter, it is likely to recurve north-northeastwards and move along Odisha coast reaching Puri around Sunday noon. It is then likely to continue to move north-northeastwards along coastal Odisha towards West Bengal, he added.
The cyclone will weaken and the wind speed would be 60-70 kmph when it reaches West Bengal coast, which had bear the burnt of Cyclone Bulbul with wind speeds of 120 kmph two years ago. 
Since December 4 is a new moon day, the height of tidal waves are expected to be around four to five metres. This, in addition to the heavy rainfall that Jawad will bring, is likely to cause heavy coastal inundation, and the IMD has issued a warning to clear the coast of those living in kuchcha structures.
The Odisha government has asked district administrations to evacuate people living in kutcha houses and low lying areas of Ganjam, Khurda (Chilika area), Puri, Jagatsinghpur, Kendrapara and Niali area of Cuttack district from Friday evening.
However, there will be no blanket evacuation as the expected wind speed is 90-100kmhp gusting 100 kmph. "Maximum people will be evacuated from the villages located close to the coast," Special Relief Commissioner Pradeep Jena said.
The fishermen have also been advised to stay off the sea till December 5.
Squally wind speed reaching 45-55 kmph gusting to 65 kmph likely to commence along and off North Andhra Pradesh-Odisha coasts from the midnight of Friday and increase gradually becoming 80-90 kmph gusting to 100 kmph from Saturday evening, for the subsequent 12 hours.
The ports have been asked to hoist local warning Signal No. 4.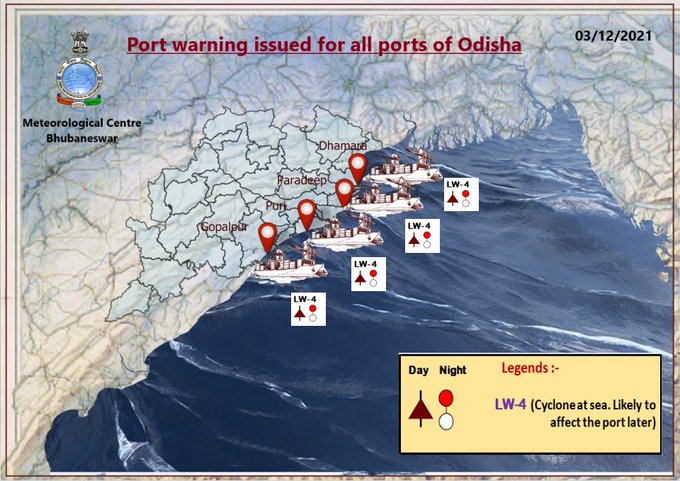 RAIN FORECAST