Height Of Misery: Cuttack's 'Jari Medha' Artisans Suffer Due To Idol Restriction
Cuttack: It's festive season, yet 'jari medha' artisans of Cuttack are mostly sitting idle.
With the Odisha government instructing all puja committees to restrict the height of Durga idol to within four feet, due to the COVID-19 pandemic situation, about 300 jari medha artisans have not been getting puja pandal work.
Pre-pandemic, these artisans used to be hired for decorative work in the pandals. Be it Ganesh puja, Biswakarma puja, Durga puja, Lakshmi and Kartikaswara puja, jari medha craftsmanship would enhance the beauty of pandals.
They need bamboo to give a shape and frame, then use various decorative items like ribbons, mirrors, beads and thermocol to decorate the pandals. The artisans used to get some of those items from Kolkata also.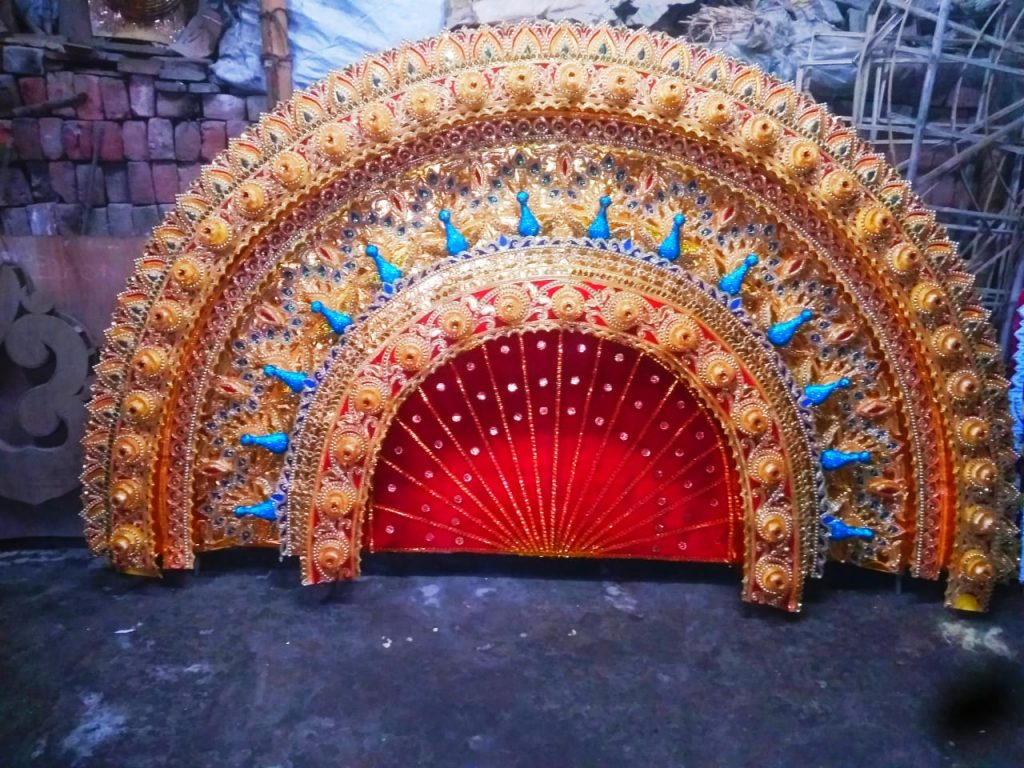 They would work day and night to design the frames and complete the work on time. It's their creative decorations that would attract visitors to the pandals.
Because of the restriction on the height of Durga idols, the artisans have not been getting orders like before.
"My family has been doing this work since my grandfather's time. My father Rama Chandra Parida was famous in the city for this work. I learnt the work from my father who died of heart attack a few months back," said Surya Narayan Parida, an artisan of Shilpi Kumbhara Sahi in Cuttack.
"We are facing financial problems during the pandemic. We used to get Rs 40,000 to Rs 45,000 for one order previously. Now, due to the reduction of idol height to four feet, we are getting about Rs 12,000 per order. Earlier, we got work from 25 to 30 Puja pandals but now, we are getting orders from five to seven pandals," lamented Parida.
They have to shell out a high price to buy raw materials from Cuttack market whereas earlier, the artisans used to get them from Kolkata at a cheaper rate, Parida added.
They would work for about six months to sustain family needs for the entire year, but now that's not possible.
The artisans have requested the district administration and state government to help them out.
"For our survival, the government should help us in anyway. If we survive, this art can be alive," Parida stressed.
"We have got very little work in the last two years. There are many restrictions due to the coronavirus pandemic," said artisan Saida Bibi, of Cuttack's Jagannath Ballava area.
Jari medhas made by Saida using polythene used to be in great demand in the city. Her backdrop is a regular feature of Durga Badi mandap at Alam Chand Bazaar.
"There was a demand for this work throughout the year. I used to get orders during Rath Yatra, Durga puja and marriages. More orders pour in during Durga puja. People outside Cuttack also approach me for creating medhas for them. Due to COVID pandemic, everything has changed and we are in trouble now. The government should take some action to help us," said Saida.