Cuttack: 'I am differently abled, not disabled.' This is the life motto of Kunilata Barik of Pahanga village in Niali of Cuttack district and this is how she has overcome all the obstacles in her life to become a successful person.
Kunilata, 25, recently won a wheelchair race in Visakhapatnam organised by Indian Navy.
Kunilata crossed 21 km on wheelchair in three hours 10 min and seven seconds, winning the contest. There were 21 participants in the contest.
After completing her schooling in her village, Kunilata did her diploma from a government college. "Then I took admission in an engineering college for B Tech but could not complete it due to financial problems," said Kunilata.
"I had keen interest both in studies and sports since my childhood but I could not walk till Class-VII. I used to study at home with my mother," she added.
"Then from Class-VIII to X, I went to school and tuition with the help of a childhood friend. She used to take me on her cycle daily," said Kunilata
"I have a medical condition called Spina bifida since birth. I also have a tumor in my spinal cord," she said.
"I had gone to a rehabilitation centre in Chandigarh, which enable me to gain self confidence and I even worked in a call centre in Bhubaneswar for some months," said Kunilata.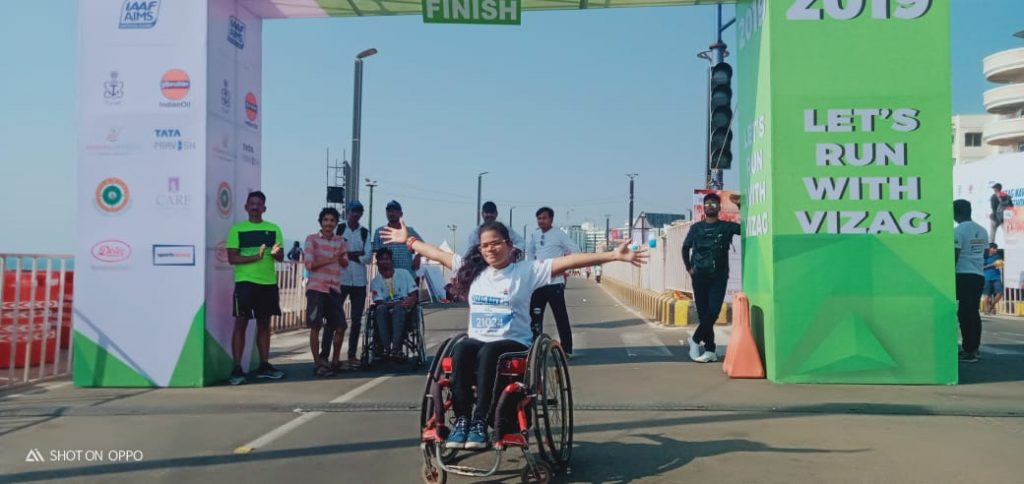 "Once there was a cultural programme in our office. Many differently-abled persons had come to the programme. One of my friends in the office suggested that I too, should participate. He told me about wheelchair games," she said.
"I took my friend's suggestion seriously and started training at Nirtar in Olatpur in Basketball on a wheelchair. Then I formed a team. We went to Chandigarh to participate in a national-level contest. We were representing Odisha there. We were in the fourth position there," she added.
"Then I met my friend Kamal Kant, who trained me extensively. Now I can do many things on a wheelchair. I can also cook sitting on a wheelchair," said Kunilata.
"I want to participate in a marathon on a wheelchair and represent my country and also be a part of the Olympics," she said.
"I am also practicing wheelchair basketball game. But it is difficult to compete with others in this normal wheelchair. I need a racing wheelchair but I cannot afford it," she added.
Kunilata is also preparing for competitive exams.
"My family and friends have helped me since childhood but I do not like anyone's sympathy," said Kunilata.