Jajpur: For ages, climbing mountains has drawn adventure lovers across the world. And the craze has been 'peaking' in the quaint district of Jajpur in Odisha in recent times.
Such is the interest that a group of 12 mountaineers have come together to form the Kalinganagar Mountaineering Group. The group hosts expeditions to nearby hills in the district.
It all started in 2009 when Tata Steel approached the youth in Jajpur to take up mountaineering as an activity.
The idea took off. Over 800 youngsters from the district have been trained in mountaineering courses since then. Also youths from diverse backgrounds have successfully completed a number of mountaineering expeditions held by Tata Steel Adventure Foundation (TSAF). These include the Biju Patnaik Himalayan Expedition for the Odisha government, which TSAF has been organizing since 2016.
Group leader Dhaneswar Jena of Ranagundi did a one-month advanced course in mountaineering from the Himalayan Mountaineering Institute (HMI) in Darjeeling in 2014. Prior to that, he had taken part in other basic training courses as well. "These courses also help to build our confidence and develop our personalities," said Dheneswar.
Besides, local youths have also benefitted from mountaineering. "I had no idea that the activity was so popular across the world. Earlier our world was so limited. But after getting into mountaineering, so many avenues have opened up for me and a number of local youths here," he added.
"The areas of focus included response to challenges, risk assessment, responsibility bearing, behaviour, communication skills and team management. We have evolved so much as human beings," added Das.
Nalinikanta Mohanta, another youngster from Kalinganagar, got into mountaineering by chance. "My friends told me about a free training course in mountaineering. I gave it a try and my life has changed since my first expedition. Today, I encourage every youngster in my village to take the course at least once in their lifetime," said Nalinikanta.
The young mountaineers have started the process to register the group and also increase its members to host professional expeditions. Interestingly, a large part of the climbers also include girls. A testimony to the fact is Swarnala Dalai, a 20-year-old tribal girl from Kalinganagar. Swarnala summited Mt. Everest in 2018.
Hailing from the nondescript village of Jagadiha near Kalinganagar, she has now turned a role model for other girls in the district. "Mountaineering requires tremendous physical activities. It is therefore a motivator for staying fit. There is a lot of scope for mountaineering in our state and it is high time we start exploring them," said Swarnalata.
Apart from the adventurous treks, the team also creates awareness on keeping the environment clean for the benefit of future generation.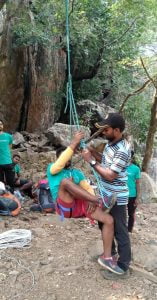 At present, the group has temporarily paused mountain climbing. "We plan to start the trips again from September once the monsoon season recedes," explained Satyabrata Das, another group member.