Bhubaneswar: Molina Singh, an Odissi dancer, has created a stir by sharing a Facebook post in which she can be seen posing on a niche of Rajarani Temple in the Odisha capital.
INTACH member and historian Anil Dhir said this is in violation of rules laid down by the Archaeological Survey of India (ASI). "The ASI office is only 400 metres from this protected structure and there is a full-time guard. Still, she could climb a height of 12 feet and pose for a picture," he said.
He said the ASI should lodge a police complaint against the dancer or the state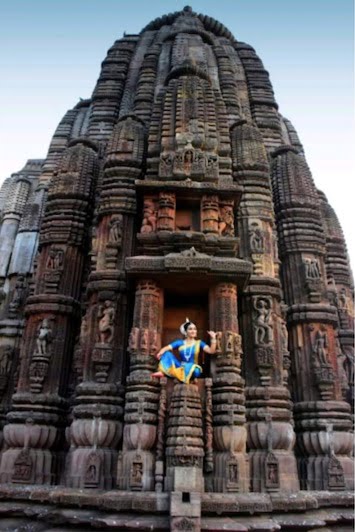 authorities should take suo-moto cognizance of the matter.
Speaking to Odisha Bytes, superintending archaeologist (Bhubaneswar circle) Arun Malik said this is not a recent picture since the monument is closed due to the COVID pandemic. "People can click pictures as souvenirs while visiting such structures, but they have to seek permission for any kind of shoot," he said.
Since the event took place in 2018 before he assumed office, Malik said he will check on Monday whether the dancer had sought the required permission for the shoot from the ASI. "Even if she had got the permission, shooting pictures by climbing onto the monument is wrong. Action will be taken if any wrongdoings are found by following the due official procedure," he added.
This apart, Dhir also objected to the holding of dance and music festivals at such ASI protected sites. Classical dance festivals are held at Konark's Sun Temple, a world heritage site, and Mukteshwar Temple, Bhubaneswar. Rajarani Temple witnesses soulful renditions by musicians every year.
In 2019, an upcoming book reading session by historian and author William Dalrymple at Mukteswar Temple here was cancelled after Dhir filed a police complaint claiming that it is "illegal".
Explaining the charge of illegality, Dhir had said, "Mukteshwar Temple, being an ASI protected monument, cannot be used to publicise his (Dalrymple's) latest book 'Nine Lives', a purely private affair with commercial interests."