Cuttack: The ongoing 25th edition of Theatre Olympiad, which began on September 1, has a lot to offer to theatre lovers of the twin cities.
More than 100 cultural groups with 2,000 performing artistes from 20 states of India and 12 countries like Russia, Serbia, Croatia, Georgia, Argentina, Mexico, Brazil, South Africa, Morroco, Iran, Bangladesh and Nepal are here to enthral audience with their musical presentations.
According to the programme schedule, artistes from Argentina will present a Spanish play 'Raised by My Moon' on Tuesday while Wednesday will see English play 'Lord Of Flies' from Bangladesh and Thursday English play 'Soul of Time' from Iran. Bosnian play 'Cheers to Sarajevo' from South Africa, Nepali play 'Kumari Ko Ghar' and Iranian dance will be staged over the weekend.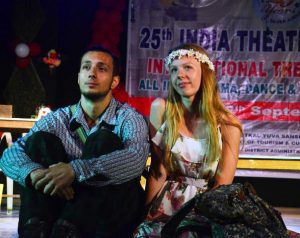 Brazilian dance drama 'Muryakitan' will bring the curtains down on the festival on Tuesday (September 12)
The festival is being organised by Utkal Yuva Sanskrutik Sangh, Cuttack, in association with Culture and Tourism Department and Cuttack district administration.
"In last 24 years, more than 2,200 dramas written by more than 2,000 playwrights have been staged at Theatre Olympiad. The objective of the festival is to promote unity, peace and friendship through performing arts," said Sangha secretary and dramatist Kartik Chandra Rath.