Bhubaneswar: Heptathlete ace Purnima Hembram and renowned former footballer Debendra Prasad Singh have been nominated to receive the OSJA Annual Awards 2017-18 in the 'Outstanding Sportsperson of the Year' and 'Lifetime Achievements and Contributions' categories respectively.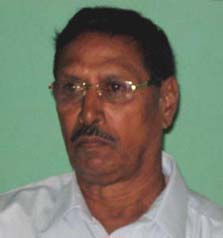 Instituted for the first time, the coveted awards will be conferred at the Foundation Day Function of Odisha Sports Journalists' Association (OSJA) at hotel here on March 21. Both the awards will carry a cheque of Rs 25,000 each along with citation and memento, said a press release.
The year 2017-18 was a glorious one for 24-year-old Mayurbhanj woman athlete Purnima, who bagged the pentathlon gold at the 5th Asian Indoor and Martial Arts Games at Ashgabat, Turkmenistan, in June, 2017, and the heptathlon bronze at the 22nd Asian Athletics Championship at Kalinga Stadium, Bhubaneswar, in July, 2017.
Asserting her dominance in national competitions, Purnima garnered around 10 medals, including six gold, during the 12-month period. The Railway employee capped the year, capturing the heptathlon gold at the 22nd Federation Cup Senior National Athletics Championship at Patiala earlier this month.
Septuagenarian Deba Singh led Odisha in Santosh Trophy Senior National Football Championship for many years. A towering defender, he also represented India in an international friendly match against Burma (now Myanmar). The Cuttack-based retired policeman also played an instrumental role in his son Rajendra Prasad Singh becoming the most-capped international footballer of Odisha.