Swelling Subarnarekha, Heavy Rain Forecast Spell Fresh Trouble For Flood-Ravaged Odisha
Bhubaneswar: Amid a significant rise in the water level since last evening, the flood in the Subarnarekha is likely to peak around 12 noon on Monday with 6 lakh cusec water being released into the river from Galudihi Barrage in Jharkhand.
At 9 am, the river was flowing at Rajghat in the district at 11.90 metres against the danger level of 10.36 metres, the Central Water Commission (CWC) said, adding that the water level may go down to 11.50 meters aroun 9 pm. Though it is flowing above the danger mark at Jamsola too, the trend is decreasing.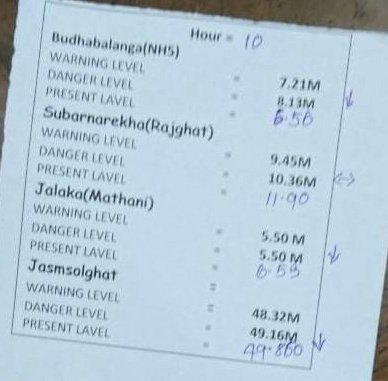 The swelling Subarnarekha along with Jalka, which was flowing at 6.55 metres at Mathani in the district against the danger level of 5.50 metres, are likely to worsen the flood situation in Balasore and Mayurbhanj.
Saraskana and Rasagobindapur blocks of Mayurbhanj district and Baliapal, Bhogarai, Jaleswar and Basta blocks of Balasore districts are expected to bear the maximum brunt of the flood.
Around 25 villages in Baliapal block have been marooned by the flood, while road communication between Baliapal and Kamarda has been cut off with floodwaters flowing 3 feet above the road near Gadapola. "Most of the areas of Mayurbhanj and Balasore districts are going to be inundated due to heavy flood in the Subarnarekha. Water had entered the entered low-lying areas in Bhogarai and Baliapa, marooning many villages, by Sunday night. The situation may escalate by Monday morning as the water is rising overnight," Engineer-In-Chief Bijay Mishra said on Sunday.
While Balasore administration has decided to evacuate at least 1.2 lakh people by Monday noon, five NDRF, four ODRAF and 12 fire services teams have been deployed in vulnerable areas of the district for rescue and relief operations. Chief Minister Naveen Patnaik has also delegated the powers of a special relief commissioner to Balasore Collector so that the local administration could be more effective. A helicopter was also placed at his disposal to deal with any emergency.
On the other hand, heavy rainfall forecast for these two districts on Tuesday could spell fresh trouble for the flood-ravaged state.
Bhadrak and Jajpur districts have been put on alert because of the rising water level of the Baitarani river, which was flowing Baitarani at 18.04 metres against the danger mark of 17.83 metres near Akhuapada.
Meanwhile, the water level at Hirakud dam stood at 621.97ft this morning with excess water being discharged through four sluice gates. The current inflow is 1.66 lakh cusec against the outflow of 1.03 lakh cusec.