Temp Likely To Rise By 3-4°C In Next 2 Days, Touch 40°C In Bhubaneswar; Check Heatwave Alert
Bhubaneswar: Balangir, Sonepur, Boudh, Angul, Nayagarh and Khurda have been put on alert over possible heatwave sweeping Odisha for two days from March 16.
The temperature in Bhubaneswar and Cuttack may touch 39 and 38°C respectively during the period, the Bhubaneswar Meteorological Centre here said.
ସାବଧାନ ….ଆସୁଛି #HeatWaves (ଗ୍ରୀଷ୍ମ ପ୍ରବାହ) !!!

ଆଗାମୀ ୨ ଦିନ ପରେ ରାଜ୍ୟକୁ ପଶ୍ଚିମ -ଉତ୍ତର ପଶ୍ଚିମ ଦିଗରୁ ଶୁଷ୍କ-ଉତ୍ତପ୍ତ ବାୟୁ ପ୍ରବାହ ଶକ୍ତିଶାଳୀ ହେବା ସହ ଦିନ ତାପମାତ୍ରା ରେ ୩ ରୁ #୪ଡ଼ିଗ୍ରୀ ଯାଏଁ ବୃଦ୍ଧି ସହ ଓଡ଼ିଶାର କିଛି ଜିଲ୍ଲା ରେ ଗ୍ରୀଷ୍ମ ପ୍ରବାହ ସମ୍ଭାବନା | pic.twitter.com/UhMt3DTSVr

— Meteorological Centre, Bhubaneswar (@mcbbsr) March 13, 2022
Notably, the Odisha capital had breached the highest temperature recorded in the month of March since 1948 with the mercury soaring to 44.2°C on March 31 in 2021. This surely was a blazing end of March with severe heatwave conditions and temperature soaring 8°C above the normal.
In February that year, Bhubaneswar's maximum temperature had also broken its last 58 years record and soared past the 40-degree Celsius mark.
"Dry and hot winds blowing from the west and north-west directions are likely to push up the day temperature by 3 to 4°C in some interior pockets of the state," Umashankar Das, a scientist at the regional IMD centre here said.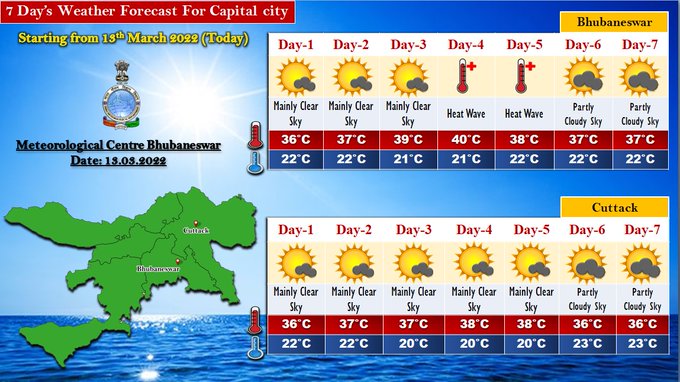 However, the overall outlook for the months of March to May indicate less than normal heatwave days in Odisha, he added.
According to Skymet, heatwave conditions are possible over parts of interior Odisha and western parts of Rajasthan between March 15 and 17 due to an increase in temperature.
The Centre for Environment and Climate (CEC) of SOA had earlier forecast a rise in temperature from March 13 with an existing upper air trough moving eastwards obstructing the moisture flow to eastern India.
Some places in the state are expected to register temperatures between 37 and 39 degrees Celsius, a CEC bulletin here said.