Two Years Of Demonetization – Impact Untoward Or Positive?
Bhubaneswar: As the country sees two years of 'Demonetisation', or 'Notebandi', social media is abuzz with posts, agitated messages and support, too. While Finance Minister Arun Jaitley said 'DeMo' targeted black money outside India and was a step towards cashless economy, former Prime Minister Manmohan Singh said it was an "ill-fated" and "ill-thought" exercise.
Meanwhile, the Congress called for a nationwide protest on Friday and the Trinamool said a 'Black Day' would be observed to mark two years of 'Notebandi'.
Odisha Bytes spoke to economists and experts, who shared an insight on the impact of demonetisation on India's economy.
Santosh Mohapatra, Economist
It was a political step taken by the Prime Minister Narendra Modi in view of the upcoming UP elections at that time. He wished to project the government as a crusader against black money and said it was an effort to curb fake notes, terror funding and to make India corruption free. We have all witnessed how none of these objectives were realised. A month or so later, Arun Jaitley came stated that curbing black money was never the intention, rather, it was a step towards cashless economy and digital India.
The statistics, however, reveal that 'Gross National Disposable Income' (GNDI) in cash/currency, in the year 2016 was -2% and increased by 3% – 4% in 2017-18. (GNDI is the sum of the disposable incomes of all resident institutional units/sectors. It measures the income available to the nation for final consumption).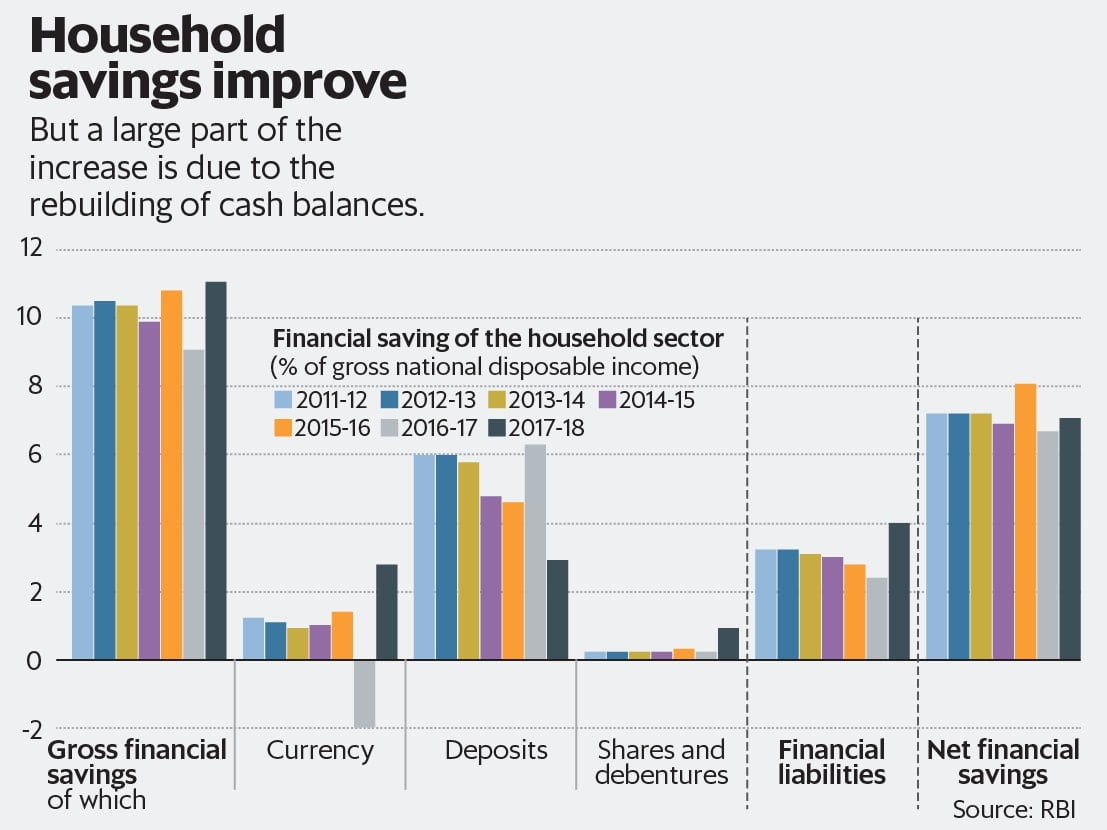 Even though the households' holdings of shares and debentures have increased in 2017-18, the financial liabilities have made a sharp jump as well, as a proportion of disposable income. The net household financial savings is at 7.1%, which is higher compared to the same in demo-hit 2016-17. However, the rise is substantially lower than the 8.1% of GNDI notched up in 2015-16 and even lower than what it was in 2012-13 when GDP rate was very low.
There is a sharp decline, not only in unemployment but in investment as well. (The table below is India's overall Balance of Payments, which also mentions the Foreign Direct Investments as a ratio to GDP. The stats show a decline in the FDI from 3.6 in 2015-15 to 1.5 in 2015-16. However, it has increased from 1.9 in 2016-17 to 2.0 in 2017-18.)
The saddest of all impacts is that about a hundred people lost their lives due to government's careless decision.
Panchanan Kanungo, Former State Finance Minister 
On November 8, 2016, Narendra Modi gave a long speech describing demonetization and the objectives. He mentioned rich people will cry while the poor will cheer. None of what he said in his speech came out to be true. Rather, there was news of him not having consulted even the finance minister before taking that step.
After the Rs 2000 currency came out, the fake currency circulation has only increased. Of Rs 15.44 lakh crore old currecny, 99% percent returned to the RBI. Either the government wanted to convert black money to white, or had very little knowledge and made this baseless decision just to appear good to the shallow-minded people.
The worst sufferers were small-scale industries, who have not recovered even after two years. About 21,000 crore was spent when the new currency came into the market. The peole at RBI are worried about the economy even now because market economy is destroyed. India was progressing in 2014-15 with its GDP more than 8%, but since 2016, it has been declining. The GDP now is less than 7%. 

Their idea of a cashless economy was not bad, but more than 50% of India's population is poor, which the government must understand. I do not expect the government to apologize, but they can at least realize their mistake and accept it. This was a careless and a very irresponsible step by the government in 2016 is all I can say.
Sudhakar Panda, Economist 
Intial impacts were definitely adverse. The fear of economy going down, materialized to some extent. However, the economy is recovering.
(The RBI report for 2017-18 also showed an optimistic turn for India's economy revealing recovery from demonetization. "The year 2017-18 turned out to be a year of inflexions in the growth path of the Indian economy, despite the lingering after-effects of demonetization and the GST implementation. Green shoots of recovery sprung up from Q2, finding expression in a sequential rise in real GDP growth from a 13-quarter low of 5.6 percent in Q1 to 7.7 percent in Q4. A significant accelerator was gross fixed capital formation (GFCF) which snapped out of a four-quarter soft patch and posted expansion right through Q2 and until Q4," it read.)
Even though the purpose was not entirely fulfilled, as the money came back to the bank, I think India is on the right track of development. People talking about unemployment and lesser investments, they must know that it is a cumulative effect of many things, our poor export being one. The scenario has been so since 2007-08.