[Watch] Eyewitness, Tourists Recount The Late Night Accident Which Claimed 6 Lives In Odisha
Bhubaneswar: Prime Minister Narendra Modi on Wednesday mourned the loss of lives in the Kalinga Ghat accident in Odisha the previous night.
"I am deeply pained by the loss of lives due to a tragic accident that took place in Odisha's Ganjam district. In this tragic hour, my thoughts are with the bereaved families. I pray that those injured recover at the very earliest," he tweeted.
At least six persons, including four women from West Bengal, died and over 40 others sustained injuries when a tourist bus rolled down in Kalinga Ghat, near Durgaprasad village in Ganjam district around 12.30 am.
In a series of tweets, West Bengal Chief Minister Mamata Banerjee expressed grief over the incident and assured "speedy post-mortem of the dead, treatment for the injured, and their return."
"Rushing a high-level team led by Disaster Management Principal Secretary and MLA Udaynarayanpur to Odisha," she added.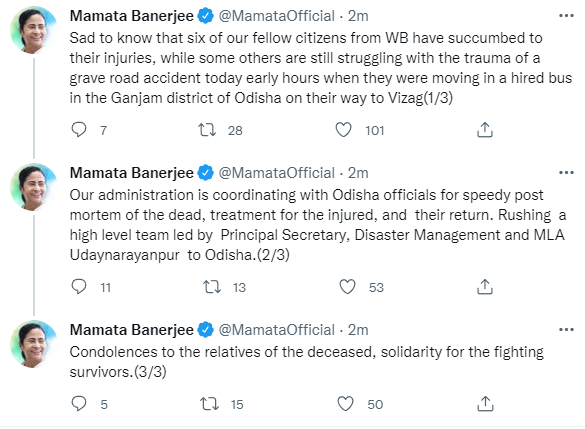 The deceased have been identified as Supiya Denre (33), Sanjeet Patra (33), Rima Denre (22), her mother Mausumi Denre, Barnali Manna (34) and Swapan Gushait (44). The bodies were recovered after breaking the window panes of the ill-fated vehicle, police said.
Chief Minister Naveen Patnaik had also expressed his condolence on the deaths of six tourists and wished a speedy recovery to those injured.
According to sources, the tourists from West Bengal reached Daringbadi on Tuesday. After spending the entire day in the hill town of Kandhamal district, they boarded the bus for Visakhapatnam around 11.30 pm after dinner. It is being suspected that the accident took place after the driver failed to negotiate a sharp turn and hit an electric pole following a brake failure.
The injured were immediately admitted to Bhanjanagar hospital and 14 among them were shifted to MKCG Medical College and hospital in Berhampur due to their deteriorating health condition.
WATCH