[Watch] Versatile Actor Mihir Das' Last Journey; Odisha Mourns Loss Of An Acting Icon
Bhubaneswar: Odisha lost an acting icon with the demise of versatile actor, Mihir Das. He had been ailing for some time and breathed his last while undergoing treatment at a private hospital in Cuttack on Tuesday, a month short of celebrating his 64th birthday.
His death has left the Ollywood fraternity in a state of shock. Soon, actors directors and others from the fraternity reached the hospital to pay their last respect. His mortal remains were then taken to his residence at CDA. Das' son Amlan and daughter-in-law Bhumika were present.
The veteran actor, who had won awards for his leading, supporting and comic roles, excelled with his intense performance in every movie.
He was born on February 11, 1959, in Cuttack. In his career spanning over three decades, Das won the Best Actor award from the state government for his performance in Laxmi Protima in 1998 and Pheria Mo Suna Bhauni in 2005. However, it was Pua Mora Bholashankar, which propelled him to stardom.
He also received the Best Comedian award for Mu Tate Love Karuchi in 2007 and Best Supporting Actor award for Prema Adhei Akhyara in 2010. He played the antagonist in 2009 Abhimanyu.
Notably, his wife Sangeeta Das, a singer, had predeceased him in 2010
Governor Ganeshi Lal and Chief Minister Naveen Patnaik have also expressed grief over the demise of the veteran actor.
ବର୍ଷୀୟାନ ଅଭିନେତା ମିହିର ଦାସଙ୍କ ଦେହାନ୍ତ ବିଷୟରେ ଜାଣି ମୁଁ ଦୁଃଖିତ। ଓଡ଼ିଆ କଳା ଜଗତରେ ସେ ଛାଡିଯାଇଥିବା ଅଭିନୟର ଛାପ ତାଙ୍କୁ ସର୍ବଦା ଅମର କରି ରଖିବ। ତାଙ୍କ ବିୟୋଗ ଓଡ଼ିଆ କଳାଜଗତ ପାଇଁ ଏକ ଅପୂରଣୀୟ କ୍ଷତି। ତାଙ୍କ ଅମର ଆତ୍ମାର ସଦଗତି କାମନା କରିବା ସହ ଶୋକସନ୍ତପ୍ତ ପରିବାରବର୍ଗଙ୍କ ପ୍ରତି ମୋର ସମବେଦନା ଜଣାଉଛି।

— Naveen Patnaik (@Naveen_Odisha) January 11, 2022
ବର୍ଷୀୟାନ ଅଭିନେତା ମିହିର ଦାସଙ୍କ ଦେହାନ୍ତ ବିଷୟରେ ଜାଣି ମୁଁ ଦୁଃଖିତ। ଓଡ଼ିଆ କଳା ଜଗତରେ ସେ ଛାଡିଯାଇଥିବା ଅଭିନୟର ଛାପ ତାଙ୍କୁ ସର୍ବଦା ଅମର କରି ରଖିବ। ତାଙ୍କ ବିୟୋଗ ଓଡ଼ିଆ କଳାଜଗତ ପାଇଁ ଏକ ଅପୂରଣୀୟ କ୍ଷତି। ତାଙ୍କ ଅମର ଆତ୍ମାର ସଦଗତି କାମନା କରିବା ସହ ଶୋକସନ୍ତପ୍ତ ପରିବାରବର୍ଗଙ୍କ ପ୍ରତି ମୋର ସମବେଦନା ଜଣାଉଛି।

— Naveen Patnaik (@Naveen_Odisha) January 11, 2022
CONDOLENCES: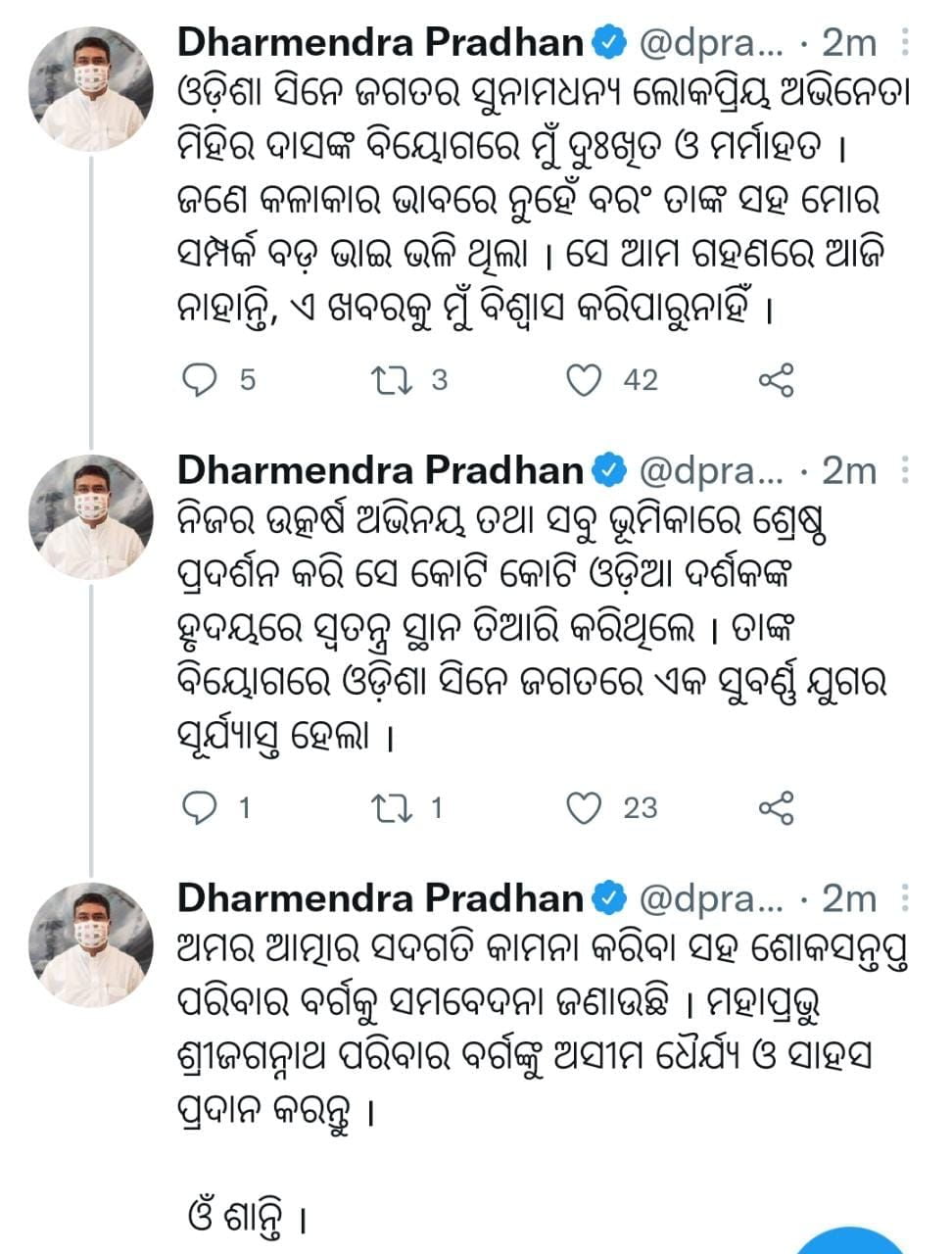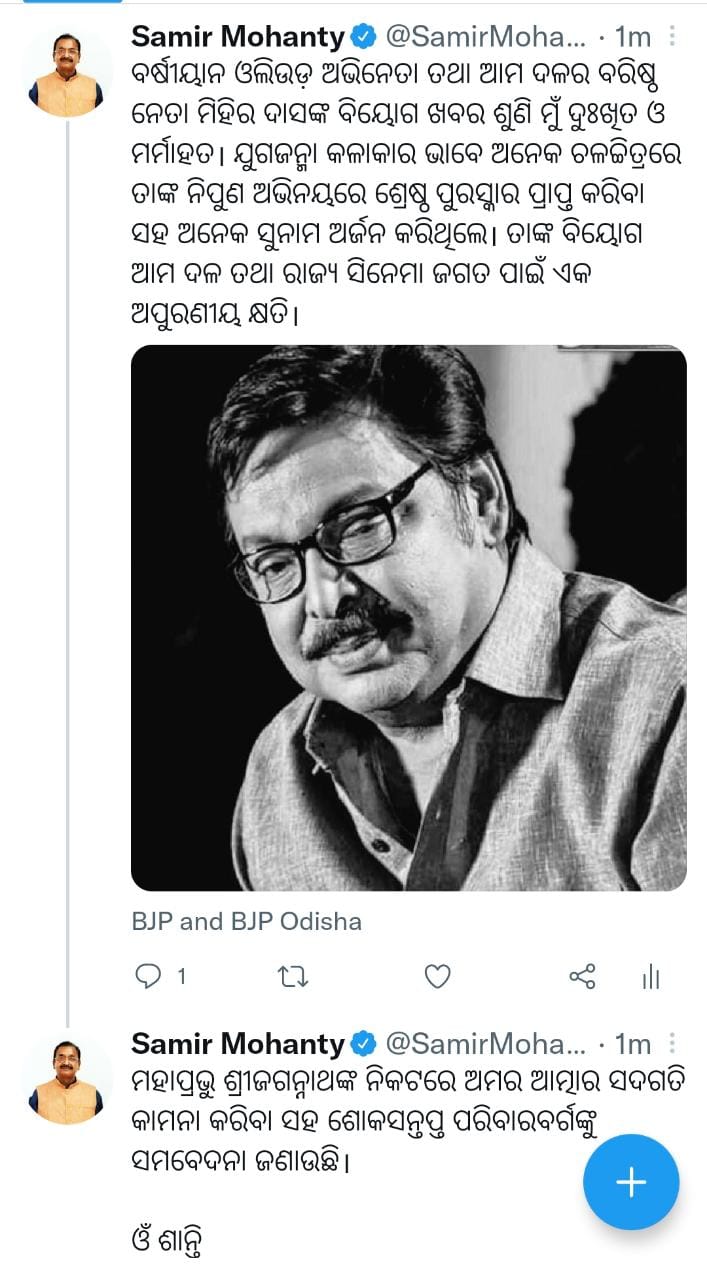 Just heard the sad news about the demise of legendary Odia actor,
Shri #MihirDas. It's a huge setback for Odisha film industry. He was a versatile actor with a huge fan following across generations. My heartfelt condolences to his family, friends and fans.? pic.twitter.com/9IIpUqLcnY

— Niranjan Patnaik (@NPatnaikOdisha) January 11, 2022
The charismatic Odia actor, Shri Mihir Das had an endearing screen presence, which enthralled audiences for decades. Farewell #MihirDas, and thank you for the countless memories you have given us. Odisha will miss you dearly. Om Shanti ?? pic.twitter.com/lYR4H7eLTF

— Navajyoti Patnaik (@NavjyotiPatnaik) January 11, 2022
Rest in peace legend Shri #MihirDas. He will be alive in the hearts of his fans.

No matter how unusual, he always went the extra mile and did something extraordinary through his performance. pic.twitter.com/GsV1cxPAEe

— Arkesh Narayan Singh Deo (@ArkeshOfficial) January 11, 2022
My heartfelt condolences to the family and friends. Odia cinema has lost a gem! #MihirDas ?? pic.twitter.com/bTNPfjqVN4

— Pragyan Ojha (@pragyanojha) January 11, 2022
Extremely shocked & saddened by the death of veteran Odia actor #MihirDas -Tulubhai to all of us since childhood. It is the death of a dear brother,a legendary actor & end of an era in Odia cinematic culture. Will miss you always Tulubhai !
????? pic.twitter.com/PFOe5CYcXH

— ѕαtчα prαdhαnसत्य नारायण प्रधान ସତ୍ୟ ପ୍ରଧାନ (@satyaprad1) January 11, 2022