When Caste Politics Transcends Humanity
Puri: Nature does not discriminate, nor does its fury. The severe cyclonic storm Fani, which hit Odisha hard with copious rain and super strong winds, twisted and turned everything that came its way. Power lines, trees and boundary walls fell flat everywhere. Mud houses with thatched roofs collapsed and asbestos and tin roofs were blown away. As calmness returned, humanity too was found buried deep under the rubble at Baligordia in Patali gram panchayat of Puri district.
There was an alleged ugly display of caste atrocity even in such a difficult time. Seventeen Dalit families of the village stood on an open verandah as the storm raged and rain lashed the region on May 3. They held on to each other and their children tight as strong winds blew away roofs and uprooted trees all around them. Soon, the area was flooded with rainwater and it rose till the waist level.
"We had small children with us. It was frightening four hours as rain whipped us across the face. We kept chanting Lord Jagannath's name to protect us from the onslaught," said Kuni Mallick.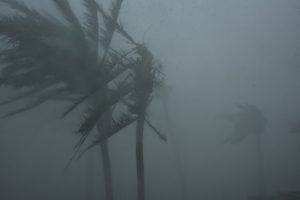 This village cluster does not have a separate cyclone shelter. So, the entire village had to seek shelter in public buildings. The Odisha government has built 879 cyclone shelters and identified around 4,000 buildings as temporary shelters within 3-km radius of the 480-kilometre coastline.
These families first approached a small two-room school in Biripadia hamlet. But they were allegedly turned away by upper caste people ostensibly because it was full. There was also no space in the second shelter, which was a tin-roofed house. Finally, they found one, around 4 km away, at Patali. However, the storm ripped through the fibre roof of the house, leaving them exposed to the elements.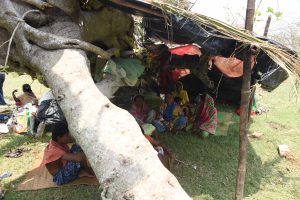 "We asked them to open the adjacent rooms but they did not have the keys," said Mina Mallick. The verandah was all they had against the brute force of the storm.
These 17 families have been residing here for the past three generations and eke out a living by making bamboo articles. Considered lowly in the caste hierarchy, they also play the drum during weddings in the village.
"We then knocked the door of another room. People inside initially denied us entry but relented when we persisted and kept knocking on the door," said Kuni.
Completely drenched, they then stayed put in that shelter till the storm subsided. The ordeal did not end there. As they walked back home, there was nothing to call their own. Fani had wiped out their huts, forcing them to take shelter near a banyan tree that had been felled by the strong winds with only a polythene to protect them from the scorching sun.

The 17 families have no land titles and no caste certificates that would qualify them for government benefits such as housing. Post Fani, they met Puri collector Balwant Singh and apprised him of their ordeal. "He assured us that the government would consider giving us land pattas for building houses," said Mina.
Puri Collector was not available for comments.
This could just be one of several such cases which some victims of Fani possibly experienced in the rural parts of Odisha, where regressive and inhuman caste practices continue to be in vogue. It's so firmly entrenched in the psyche of some people that even a calamitous situation does not make them rise above the caste divide. Nature surely cannot be blamed for this!
Pictures Courtesy: Arabinda Mahapatra