Controversy, Thy Name Is Basant Rath; Know All About This Odisha-Born IPS Officer
Bhubaneswar: Odisha-born IPS officer Basant Rath and controversy go hand-in-hand. The 2000-bath officer has earned both praises and brickbats for his style of functioning and enjoys a huge fan base in Jammu and Kashmir, from where he, in his Twitter post on Sunday, hinted that he would contest the election having resigned from service.
As Traffic Inspector General of Jammu, he earned a name for being Jammu's 'Singham', a moniker inspired by Ajay Devgn's tough cop character from the movie of the same name, thanks to his uncompromising attitude towards traffic violations, no matter who the violator is.  His "flamboyant" style of issuing appeals and warnings to everyone, ranging from police officials and "politically well-connected individuals", however, ruffled a few feathers.
He seized a car of an Army official, who happens to be the son and son-in-law of two senior serving IPS officers. Both, Rath and the Army official applied to register FIRs against one other. Congress MLA Usman Majeed also alleged that the IGP Traffic was "acting like a goon" and raised questions over his condom-helmet analogy. Rath was also accused of abusing Chief Minister Mehbooba Mufti's media analyst Javed Trali.
Former IPS officer Danesh Rana, however, posted on Facebook: "Cyclones often hit Orissa. J&K has been hit by a cyclone called Basant Rath. Cyclones uproot trees. Basant Rath is planting the seeds of traffic management and discipline and fear of law. I have handled traffic as SSP and DIG, but could not bring a revolution. (Doff my hat to Basant Rath. Kudos!) Love you tiger."
Notably, his promotion to the rank of IGP in 2018 by Mehbooba Mufti government amid the Centre's call for "action" against him for alleged violation of the service conduct rules had raised eyebrows.
According to media reports, Union Home Ministry had initially ordered a "discreet inquiry" by the Intelligence Bureau against Rath in 2016-17 as it had found some of his articles appearing in The Wire and the Indian Express to be supposedly in violation of the service rules.
Also Read: Odisha-Born IPS Officer Resigns From Service, Hints At Joining Politics; Check His Posts
The IB reportedly termed Rath's articles as "seditious" and said they can have "serious consequences" on the morale and discipline of the police and security forces in Jammu and Kashmir. Even the state government's Home Department had sought a detailed report about his activities from then outgoing DGP, K Rajendra Kumar.
Even after the IB's inquiry against him, Rath wrote over a dozen articles for The Wire without seeking the government's permission
In July 2020, Rath was suspended for alleged instances of "gross misconduct and misbehaviour". This came a fortnight after he lodged a complaint against Director General of Police (DGP) Dilbag Singh, expressing apprehension about his safety due to "certain activities" of the Jammu and Kashmir Police chief.
This controversy had its roots in a social media tiff in which Rath had reportedly referred to Singh, a 1987-batch IPS officer, as "Dilloo" and accused him of land grabbing.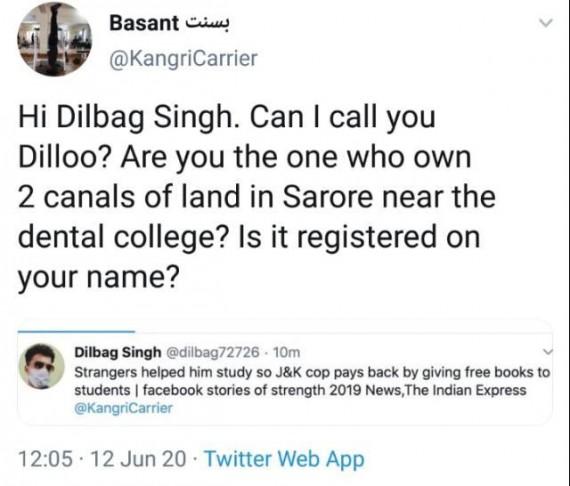 This was reportedly a reaction to a Twitter user, called Dilbagh Singh, who had criticised Rath's initiative to distribute free books to needy students across Jammu and Kashmir. Soon after his suspension, "#WeStandWithBasantRath" started trending on Twitter.
When JNU students were labelled as anti-national, Rath wrote an open letter to an anchor of a national news channel, saying, "Nationalism Is Not A Marketing Tool and trust me I am not anti-national. People are suffering in Kashmir, Arnab. They are suffering in the Northeast. Does the very act of highlighting the issues of J&K and the Northeast make the students and their leaders' anti-national?"
Rath himself has been dubbed as "anti-national", "pro-Azaadi", "pro-Kashmiri", "rebellious" and even "traitor" for writing on a number of contentious political issues of the Valley.
On June 17, 2002, filmmaker Mahesh Bhatt tweeted that someday he wishes to make a film on the life of the enigmatic poet- police officer. An alumnus of Jawaharlal Nehru University (JNU), Rath compiled his first collection of English poetry, titled Own me, Srinagar in 2012.
Earlier that month, he posted a picture with Pooja Bhatt on the banks of Dal Lake taken in July 2019 and tweeted: "Direct a movie for me once I'm done with the script. In the name of Zakhm, Tamanna and Dal Lake."