Soon after unveiling Model Y in Los Angeles on Friday, Elon Musk, the co-founder of Tesla, tweeted, "Love to be in India this year, in not, then definitely by next!"
This is not the first time that Tesla has expressed its intent to enter the country. The company had reached out to the Indian government for a mid-2017 launch and Musk had first tweeted stating a summer 2017 launch but withdrew it saying that he was "misinformed" about mandatory 30 per cent local parts sourcing and that the supply chain wasn't available in the country then.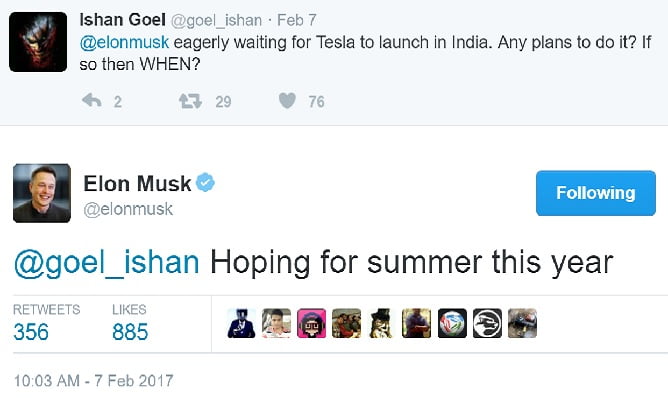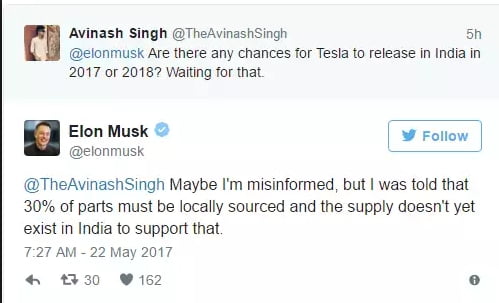 Tesla had taken bookings from India for the Model 3 way back in 2016. The car itself received phenomenal pre-booking globally with 325000 units booked in a week of the launch.
In order to curb increasing pollution levels, the Indian government had set up a target of achieving 100 per cent electrification (for new cars only) by 2030, which was revised to 30 per cent later. Automobile companies such as Mercedes, Ford, Nissan, Hyundai and others have reportedly raised concerns over the Electric Vehicle (EV) policy in India. Currently, only Mahindra sells electric vehicles in the country in limited numbers.
Some cities such as Delhi, Kolkata and Bengaluru have added fleets of electric buses to their network to reduce air pollution levels. Ride sharing app, Ola recently raised $56M for its EV unit, Ola Electric.
Experts believe that the road to electrification of vehicles will be challenging as charging infrastructure is also currently weak.