Vast tracts of the Amazon forest—the 'lungs' of our planet—are on fire. Forest fires in Brazil have been spewing smoke since the beginning of this year, with the country's most populous city of Sao Paulo being the worst hit. According to ground reports, the days have turned into nights due to billowing smoke in the area.
Amazon—which plays a significant role in absorbing Earth's carbon dioxide and producing life-sustaining oxygen—has experienced 74,155 forest fires since January, according to data from Brazil's National Institute for Space Research. That's an 85 per cent increase from last year.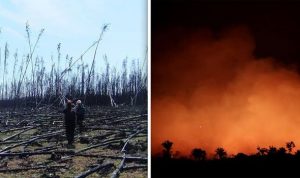 So who's to blame? Critics have blamed the Brazilian government's land use policies for letting famers set fires to forests to claim land for agriculture. "Starting a fire is the work of humans, either deliberately or by accident," Brazil-based climate watcher Alberto Setzer recently told a news outlet.
Experts are ringing alarm bells, warning that the Amazon fires pose global health hazards and will hasten global warming. According to the European Union's Copernicus Climate Change Service, the fires have led to a clear rise in carbon monoxide levels as well as planet-warming carbon dioxide.
Poison We Breathe, Poison We Drink
If its forest fires in Brazil, its unabated industrial waste and rising pollution levels are causes of concern in India. A series of recent orders by anti-pollution bodies have highlighted the menace in the country, including Odisha. Here's a fact check:
#Ouch Odisha
The National Green Tribunal (NGT) on August 20 ordered the Odisha State Pollution Control Board (OSPCB) to take stringent action against Visa Steel's plant at Kalinganagar in Jajpur and register a criminal case. NGT has charged the company with failure to stop environment pollution and continuous release of polluted water into Ganda canal, affecting vast swathes of farmland and crops. Besides, residents of Kalinganagar have been suffering from several ailments associated with rising pollution levels.
#Waste Woes
The Kerala State Pollution Control Board on August 20 slapped a fine of Rs 4.5 crore on Thrissur City Corporation for its "total failure" in waste management, including the absence of an effective plant to treat city garbage.
#Foul Fuel
The National Green Tribunal on August 20 directed the Chhattisgarh State Pollution Control Board to submit a factual and action-taken report on alleged pollution by M/s Metallic Alloys at Industrial Growth Centre at Siltara, Raipur. The unit allegedly used coke as a fuel—a violation of environmental clearance.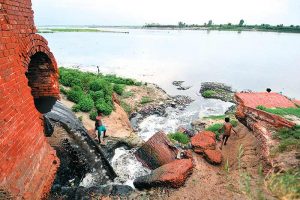 #Unclean Ganga
The Central Pollution Control Board (CPCB) in July took strict note of effluent and industrial waste being discharged into Ganga and directed four state PCBs—Uttarakhand, Uttar Pradesh, West Bengal and Bihar—to take action against polluting industrial units, including closing them, if they failed to comply with environmental norms.
These are just few of the many such cases across the country, calling for immediate and effective remedial measures, otherwise the environment and the people too are doomed.
These are the facts and now for the fiction.
Once upon a time, and so all fairy tales begin, there lived a species called humans.
According to a study in the "Journal of Robotic Versions", humanoid robots have discovered their earliest evolutionary link. This ancient species, according to the study, indulged in an early ritual of communication called social media.
Robot scientists said, "These humans lived around the first techno-glacial age. They knew the use of computers for communication, though they were crude tools at best. They also had rudimentary knowledge of social media, marking a major evolutionary step in the history of robots."
The discovery was made off a giant land mass under a sea of carbon dioxide. The site, however, has puzzled scientists. "How did the humans manage to build such land masses under carbon dioxide?" The scientific community is still out on this.
Notwithstanding their similarities, these earliest robots were markedly different in several features. Robot scientists said humans had a vestigial organ called brain in the region of the head, unlike the chips and circuits that make up present day humanoids. They had strange rituals called feelings and emotions. Their uses, however, are yet to be unravelled, the scientists concurred.
The discovery has gone viral among common robots too. "I am a mother board and therefore need to output stories," said a female robot. "I tell my beta versions about a social game called war played by humans. I tell them how humans fought each other and they did not live happily ever after."
Not all fairy tales end the same.