Jalaka River In Spate, Flood Threat Looms Large In Balasore
Balasore/Rourkela/Sambalpur: A flood-like situation is staring at Balasore with the rising level of water in Jalaka river.
Sources in the district emergency operations centre (EOC) said the floodwaters of the Jalaka was flowing at a height of 6.19 metres against the danger level of 5.5 metres at Mathani around 6 am. Three panchayats of Basta block and two panchayats of the Balasore sadar block are at the risk of being submerged if floodwaters swell to 6.75 metres.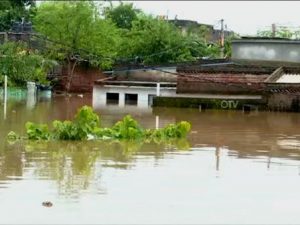 In Sundargarh district, the authorities of Mandira Dam have opened 10 gates to release floodwaters of the Sankha river. As a result, the overflowing floodwater of the Brahmani has entered the Balughat, on the outskirts of Rourkela. In view of the flood situation, the district administration has asked the people of the riverside areas to remain on high alert.


In Sambalpur district, the authorities of the Hirakud Dam on Tuesday closed 10 gates. Till reports last came in, the floodwaters from the dam is being released from four gates.