Is Kanji Traditionally The Only Pan-Odisha Dish ?
If you think the iconic Dalma or the popular Santula is something you will find in every Odia kitchen, then you could be wrong. Traditionally, these two dishes aren't even cooked in western Odisha and many houses are still unfamiliar with how they taste! However, one dish that really connects Odisha is Kanji aka Ambil. Cooked in various ways, each region has its own and Odias can never have enough of it.
Odias often undermine their food and are shy talking about some of their most versatile and nourishing dishes. Case in point is Kanji aka Ambil. The Odia Kanji should not be confused with its popular north Indian namesake, the fermented black carrot cold soup, enjoyed during the winters. Even the southern state of Kerala has a dish by the same name. Their Pazha Kanji is perhaps akin to Odia fermented rice Pakhala. People have drawn parallels between kanji and north Indian Kadhi, Sindhi Kadhi and even Sambar and Rassam. However, Kanji is an entirely different experience and an elaborate dish.
The Odia Kanji is the go to dish when you want to tingle your taste buds after a bout of flu or just want to enjoy the winters, while sipping something warm and comforting or just merrily want to slurp up. People enjoy it as a coolant during the hot summer months. Kanji can be a conversation starter, mood changer dish and needs to be talked about outside of Odia kitchens.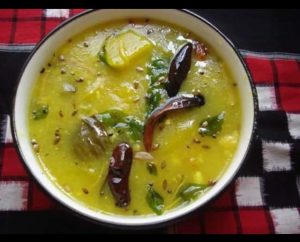 There is Torani Kanji (made from sour fermented rice water and people either love it or just run away from it), Pani Kanji (Kanji cooked with water first and then thickening agents are added), Ambil (The western Odisha version, cooked with a mixture of dahi+ rice paste/gram flour and bamboo shoots), Letha (when Kanji is cooked like Ambil, but instead of dahi, tomatoes are used), Surjya Kanji (the least known among all versions is made by the widows who observe the Kartik Vrat. It is very minimalistic and made with bare minimum ingredients sans any vegetables). There are seasonal specialities like Amba Kanji where ripe local mangoes are cooked with broken rice aka Khudaw. There are also non-vegetarian versions of Kanji like Machha Kanji (fish) and Kankada Kanji (crab) too, but Kanji is largely a vegetarian or a vegan dish.
Vegetables cooked in a tantalisingly aromatic soup, Kanji can be sour or sour with a sweet note. Some take it as a digestive. Local vegetables like pumpkin, radish, lady finger, green papaya, cucumber, colacassia etc. goes into this dish. There are seasonal variations too. While, during monsoons, people love to add the sweet amaranth stalks, during the winters, people add broad beans, tomatoes etc. And it is surprising how an ingredient or two could change the taste of the dish in a beautiful way.
While, the basic idea of Kanji as a soupy vegetable dish remains same across Odisha, the sheer regional variety of it is amusing. In the districts like Cuttack, Puri, Baleswar, Keonjhar, Ganjam, etc., the fermented sour rice water aka Torani is used as a base. Some people like to add a little sweetener like sugar or jaggery. In western Odisha, Kanji is known as Ambil and vegetables are boiled with water and later thickening agents like rice paste or besan is used. People don't use any sweetener in this part.
To make Torani Kanji, one needs to carefully store the cooked rice water, preferably in an earthen pot for fermentation. Every day, fresh cooked rice water is added to the pot till the pot of rice water becomes perfectly sour and aromatic. People either love this version and just stay away from it as the fermented rice water is an acquired taste. In some areas, people add some mashed rice to the dish and often use fresh rice gruel, along with the vegetables. Says, Ritu Patnaik, blogger and connoisseur of traditional Odia cuisine, "Earlier, people used to eat a bowl of fermented rice aka Pakhala on a daily basis and hence people always had a stock of fermented rice water. Now, with changing life style, people aren't making it as often as they used to. However, the winters are a time, we long to have a bowl of Torani Kanji."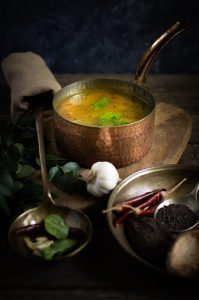 In the western Odisha districts of undivided Sambalpur, Bolangir, Kalahandi, Sundargarh, Kanji is known as Ambil. Mention Ambil to somebody from western Odisha and you will see his cheeks broaden with glee.  The region's foremost festival 'Nuakhai' centres on food. And if you take thousand food samples on this day, almost one item that would feature on a Nuakhai thali is the ambil apart from the customary Kheeri, the desert offered during the ritual. There is always a beeline to devour this dish and everybody wants to slurp some to their heart's content. The sour and soupy dish, with chunky vegetables gets an altogether different dimension with the addition of finely shredded bamboo shoots. It changes the flavour of the dish, adding some amount of tanginess to the dish too.
In the western districts, however, fermented rice water is not used. Instead, they use water, rice paste/besan as a thickener. Vegetables are added to boiling water batch wise depending upon their softness. Vegetables like pumpkin, radish, Lady finger, brinjal, overripe cucumber etc. are integral to any version of kanji. The real game changer here is the use of bamboo shoots, locally known as Kardi. Western Odisha people are big time consumers of bamboo shoots. Bamboo shoots are stocked through the year and is invariably added in this dish apart from the other must add condiment ambula (sun dried salted mango strips).
Kanji aka Ambil used to feature even in wedding menus in western Odisha. However, with the advent of caterers, the feast experience has changed tremendously. The rustic Kanji has been replaced by easy to make relishes such as Tomato Khajuri khata, Amba Khata, Dahi-Baigana, Dahi-Nadia pachedi etc. Still nothing beats a ground sitting, eating food from leaf plates aka khali dana and slurp bowls of kanji.
There are pockets like Bonai, Deogarh, Angul, Pallahara, where one gets to experience various versions of Kanji. They make both Pani Kanji and Pej Kanji (Torani Kanji), Mula Kanji etc. They either make it sour or sweet and sour, depending upon one's preference.  Kanji gets a royal treatment here and is made more often than other areas. People would happily slurp kanji out of leaf bowls while enjoying a ground sitting wedding feast. In weddings, people make a vegan version of sweet and sour kanji, with a dash of mustard paste and jaggery. This is beautiful, soulful rustic food, cooked with love and utmost care. I have seen people of my parent's generation going nostalgic over Kanji in wedding feasts. The two dishes that people really talk about is the quantity of mutton they got to eat and how good or bad the kanji was.
There will always be extra stock of Kanji for the women. There would be that one experienced cook who exactly knew how much of which condiment is used. The right ratio of vegetables, water, mustard paste (optional), jaggery (optional), rice paste, yoghurt (optional) and the perfect balance hot and sourness determines how the Kanji will turn out to be.
Rice paste aka pithou is essential as a thickener. Some people do use chickpea flour aka besan-dahi mixture, like they do in north Indian Kadhi.  But, the Kanji and Kadhi consistency is very different. Some people use a little mustard paste to the dish. As one moves to the coastal belt, the same dish is made without the addition of any bamboo shoots. They add broken rice or the thick rice gruel called Peja.
Tempering Makes All the Difference: No matter, which variation of Kanji you are having, one thing that remains unchanged all over Odisha is the tempering with the Pancha Phutana (the whole five spice mix consisting mustard seeds, cumin, aniseed, fenugreek and nigella seeds), dry red chilli, lots of chopped garlic and some garden fresh curry leaves. This tempering while popping in the hot oil is so potent that it can induce incessant sneezing if you are around. Quickly after the tempering is poured over the dish, it is immediately covered with a lid to ensure sealing of the aroma. The aroma of a freshly tempered kanji can make your neighbour salivate.
Did it Belong to the Privileged Class? Most probably so. Legendary Odia composer, singer Akshyay Mohanty aka Khoka Bhai had a knack for composing quirky songs and he has even dedicated one to Kanji. Sung in Palli Gita style, Mohanty sings about Kanji  that goes to the houses of various communities in the month of Kartik, but nobody could value it, till it reached a Brahmin household. No wonder, there is a phrase called "Brahmania Kanji" , although there is no specific way to cook a Brahmania Kanji, the Odia Brahmins are known to rustle up a saliva jerking Kanji. Kanji belonged to the people who had access to vegetables. The Brahmins had access to dahi and the sour liquid extracts called "Mahi' after churning of butter. So, dahi and Mahi differentiated a Brahmania Kanji. Kuilta, an agrarian majority community of western Odisha who are synonymous with 'Letha', a superb regional variation of Kanji however use lot of tomatoes instead of dahi. In short, people who had access to a number of vegetables; ingredients like dahi could only enjoyed Kanji. It is an elaborate dish and needs many ingredients and preparation too. It does give a regular lunch that extra special touch.