Bhubaneswar: Seema Misra, a self-taught Odia artist and blogger is based in the IT hub of India Bengaluru. Whenever she writes her blog, (www.lonelycanopy.com), she also makes a sketch to go with it to make it more effective. Seema was in the Odisha capital to participate in the Ekamra Walks to learn about the cultural roots of the ancient city and its magnificent monuments. Creative, dedicated, forever travel-ready, unique and focused, Seema is perhaps the only writer from Odisha with a penchant for illustrating her own narrations/stories. She spoke to Bibhuti Barik about her work, Odisha and how to promote the state. Excerpts:
Q. We have come across bloggers who write and click photos for their stories, but rarely one who sketches, paints and ornaments her works with her own art. How you are motivated? What inspired you to be different from other writers/bloggers?
A. I have always been close to the art of sketching, drawing and painting. I started with writing blogs on films and food and it slowly grew to travel writing. My sketches started finding a way in the blogs and became an extension of my online identity.
I feel the blogging world is very exciting. There are painters, writers, poets of all kinds expressing themselves through blogs. It is not tough to find inspiration but at the same time it is important to find your unique voice and evolve your style.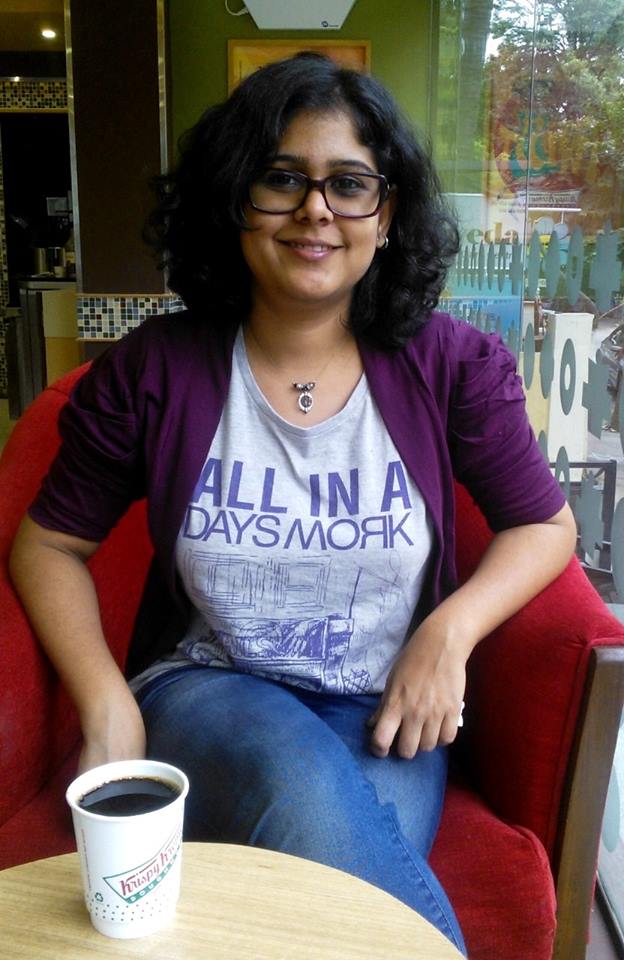 Q. You love to travel a lot and also aspire to write a pan-Indian travel experience with your own sketching and drawings. Have you started working on it?
A. Travel is something that you can't always plan for. Sometimes, even when you roam in your city, it can be like travel, observing people and places. Having said that, I keep making travel plans whenever and wherever possible. India has many nooks and corners to explore despite the obvious issues of population, traffic etc. Another thing I have been doing is going back to my travel writings and works over the years and compiling them, as it is always refreshing to relive those memories.
Q. Creative art and drawing never come easily to someone's nerve. How have you mastered the art and create such beautiful images?
A. I guess I have never really tried to consciously make any work "look pretty", but instead focus on enjoying the experience of a sketch or a drawing. Sometimes, if you enjoy the experience and are true to the process, the result on paper comes out nice and feels rewarding.
Q. Any specific plan to put Odisha majorly on your travel writing plan?
A. Yes, definitely. It is such a fulfilling experience to trace my roots and rediscover Odisha. There are myriad avenues to explore in this state, be it culture heritage, nature or arts.
Q. Odisha is a storehouse of travel opportunities, but very less has been done to promote it. Do you think the social media revolution will help in promoting the state's potential to a certain extent?
A. Yes and no. Social media can be a double-edged sword. I have seen a vast improvement and increased presence of content on the state on platforms like Twitter, which helps to increase awareness and spread the word around things in Odisha that people may have never heard of before. On the other hand, I am also cautious about it becoming a case of generalisation and over-exposure if not done in an aesthetic manner, something the state is characteristic at.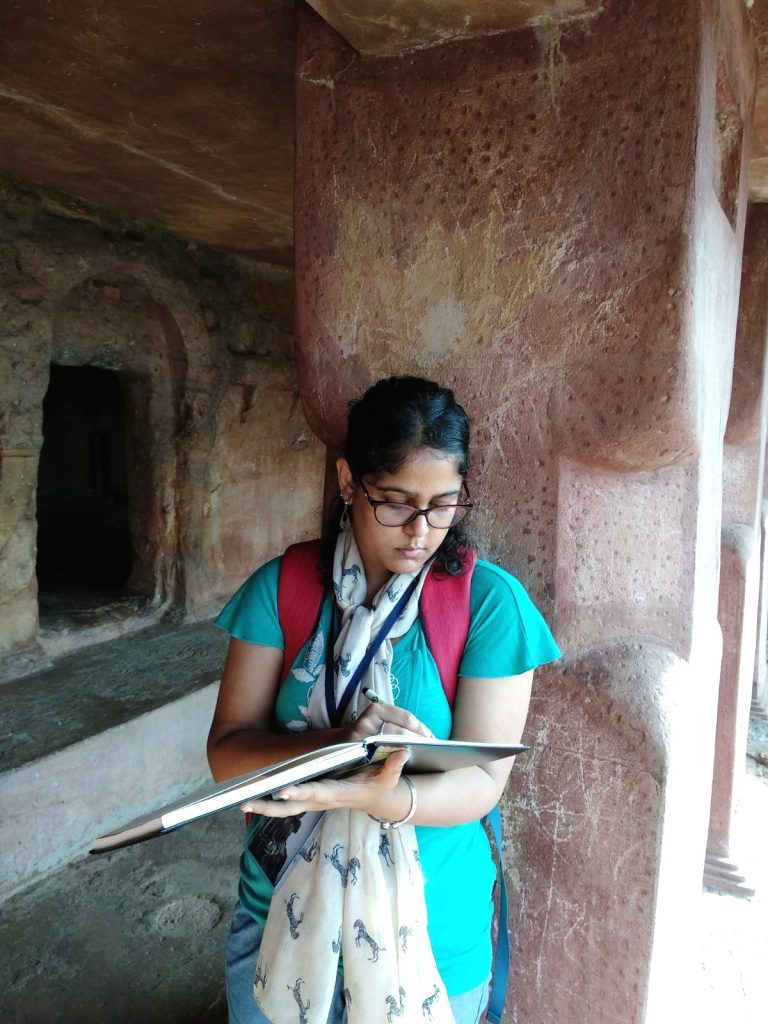 Q. You are from Bhubaneswar, but currently staying in Bengaluru for your professional career. How do you balance between your life at work and life as a creative person?
A. I try to devote some time every day to my creative pursuits, which keeps me connected to my passion along with the routine of everyday work life.
Q. Have you ever nurtured a plan to become a creative entrepreneur of a greater scale?
A. Not really. I have always been lazy at planning too much and have generally followed my instinct. Being an introvert, I find it a little challenging to work on the business planning aspect and instead focus on my art.
Q. You have been to the Ekamra Walks on two occasions (Old Town and Udayagiri and Khandagiri). What have you gathered for your blog from the experience?
A. I have grown up in Bhubaneswar. My Aja(maternal grandfather) lived in Palashpalli. As a child, I would walk to Old Town with him. I remember the food and conversations and temples in general.
But, it was through the Ekamra Walks that I really understood and appreciated the rich cultural heritage of the Ekamra Kshetra. Also, travel sketching has made me slow down, observe things around me and really take in the feel of a place. These are experiences I hope to convey through my blog.
Q. Have you visited the Crafts Museum and the Museum Walk at Kala Bhoomi? If yes, tell us your experience briefly.
A. Yes, I have visited the Crafts Museum at Kala Bhoomi a couple of times. A beautiful place, which turns ethereal when it rains. I enjoyed the stroll through the museum, many of the exhibits were new to me. I especially enjoyed the handloom section and the tribal art section. Some of the staff in the museum were craft students themselves, which I felt was a nice thing. The Museum Walk with the performances was a lot of fun. It was an information packed walk as every inch of the place has a story behind it. And, I fell in love with the animal tiled roof.
I look forward to more curated walks, improved written information about the items and maybe guided recordings that visitors can hear at their own pace as they walk through the place.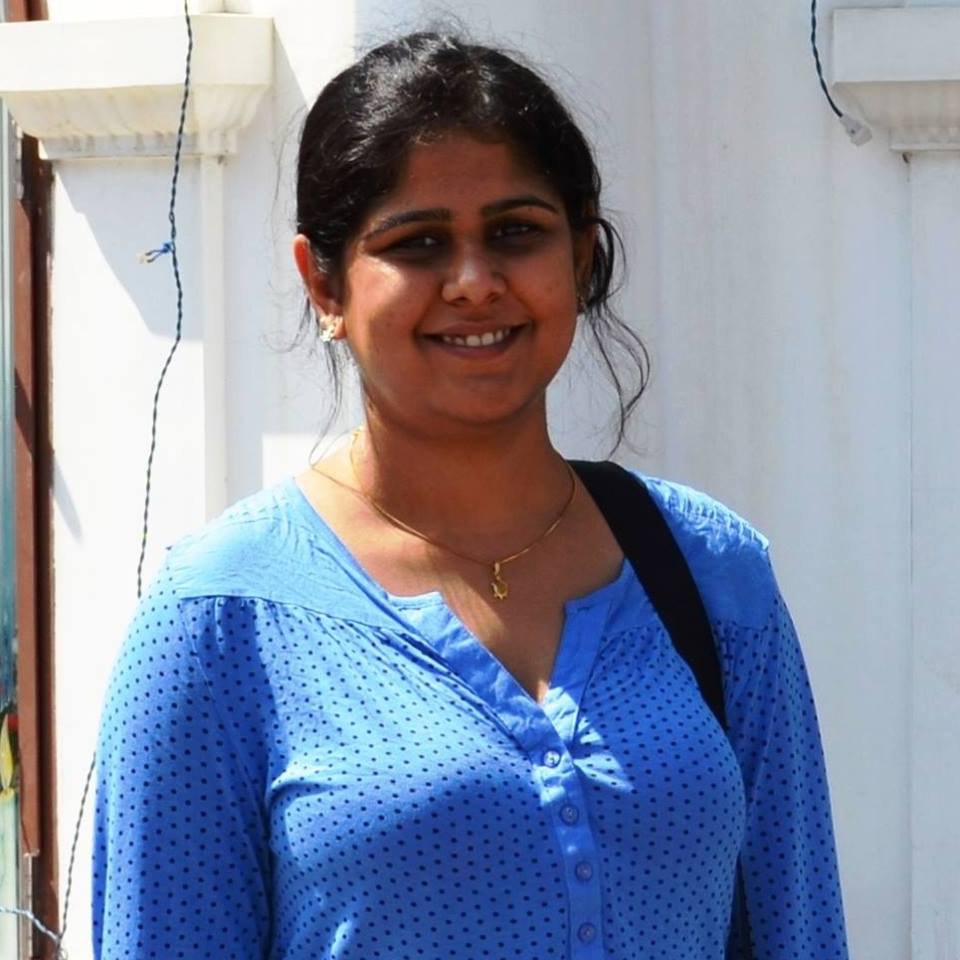 Q. Bhubaneswar as a city has got every possibility to become a World Heritage City. What do you feel about its proposal to achieve the tag?
A. I think it's a great time for Bhubaneswar to come out of the shadows and establish its prominence in the Indian cultural heritage circle.
Q. How long do you plan to stay in the city for now? How are you going to project modern Bhubaneswar in your blog?
A. I was in the city for a month. It is where I was born and spent my childhood, so I have a special connection with it and look forward to travelling back. I would love to spend a winter in Bhubaneswar and document the cultural festivals on my website.
Q. Blogging is inspiring many people to write their own stories. What is the future of blogging in India according to you?
A. As I mentioned earlier, the blogging world can be overwhelming at times. And as is the case with online content, there can be all kinds of contributions, as there are no filters. It depends on how one looks at the substance in a sea of content and builds upon what one seeks to achieve in any particular field.
Q. Can a writer sustain himself/herself solely on writing in India or must he/she have a vocation?
A. I think freelance writers are really picking up. And if one is able to maintain a healthy balance between the commercial aspect of sustenance and the creative aspect, it is possible to earn a living from your passion and love your work.
Q. What is your opinion on the blogging scenario? Do you think more and more blogging work on travel and tourism can change Odisha's fate in attracting tourists?
A. I think bloggers should network and collaborate more and try to pursue the common goal of pushing the agenda of keeping Odisha at the centre, while being conscious that it doesn't turn into a commercial/aggressive campaign.
Q. What are your tips for an aspiring blogger/writer?
A. Try to write whatever little you can, each day as ideas come at any time