While Congress MPs in Lok Sabha staged a walkout led by Sonia Gandhi outside the Parliament, a few members of the party came in support of the government citing it as their personal views.
Former MP Jyotiraditya M Scindia took to Twitter and said that he supports the move but would have preferred if "constitutional process had been followed" and that "no questions could have been raised then". 
I support the move on #JammuAndKashmir & #Ladakh and its full integration into union of India.

Would have been better if constitutional process had been followed. No questions could have been raised then. Nevertheless, this is in our country's interest and I support this.

— Jyotiraditya M. Scindia (@JM_Scindia) August 6, 2019
Milind Deora, Mumbai's Congress leader, also took the middle path and tweeted, "Very unfortunate that Article 370 is being converted into a liberal vs conservative debate. Parties should put aside ideological fixations and debate what's best for India's sovereignty and federalism, peace in J and K, jobs for Kashmiri youth and justice for Kashmiri Pandits."
Deepender Hooda, former MP from Rohtak, also expressed that "there isn't a need to have Article 370 in the 21st century. The move is not only in the interest of the country but also for the benefit of Jammu and Kashmir, which is an integral part of India." He referred to this as "personal view".
Congress veteran Janardhan Dwivedi also said that a historic blunder had been remedied. "My mentor Ram Manohar Lohia was against Article 370 from the start…. My personal view is that this is a matter of national satisfaction. A mistake made during independence has been corrected, even if belatedly," Dwivedi told news agency ANI.
Congress's chief whip and former MP from Assam Bhubaneswar Kalita quit the party on Monday calling the party's stand on Kashmir "suicide" and "against the mood and emotions of the nation". "The Congress has asked me to issue a whip on the Kashmir issue. But the truth is that the mood of the nation has completely changed and this whip is against the public sentiment across the country….It seems the Congress is committing suicide with this ideology and I don't want to be part of this," stated Bhubaneswar.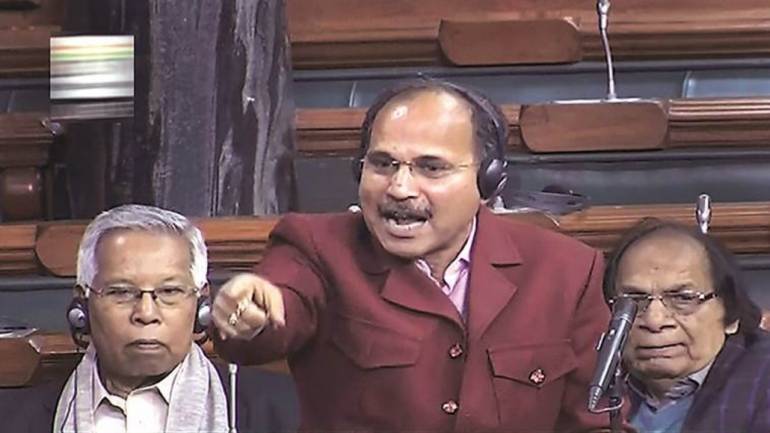 In a royal goof-up, Congress MP Adhir Ranjan Chowdhury embarrassed the party in the Parliament by indicating that Kashmir is not an internal matter of India.
"I have a doubt. Because you say that it is an internal matter. You have bifurcated a state. My point is, from 1948 Kashmir is being monitored by the UN, is that an internal matter? We signed the Shimla Agreement and Lahore Declaration, was that an internal matter or bilateral? (Foreign Minister) S Jaishankar told his US counterpart Mike Pompeo it is a bilateral issue, don't interfere. Can Jammu and Kashmir still be an internal matter after that? You should explain," Chowdhury asked Amit Shah, raising Sonia Gandhi's eyebrows.
"You don't consider Jammu and Kashmir an integral part India? What are you saying? Jammu and Kashmir is an integral part of India. Whenever I say Jammu and Kashmir, PoK (Pakistan Occupied Kashmir) comes under it. I am being aggressive because you didn't think that PoK comes under Jammu and Kashmir. We can die for it," Amit Shah shouted back.
Support was not all lost. MP Shashi Tharoor termed the scrapping of Article 370 in Kashmir the political equivalent of demonetisation and said that by detaining democratic leaders, the government gave rise to undemocratic actors. He called the process an "assault to the constitution". He pointed out that elected members were not consulted in the Parliament and that the government "might as well put up decisions it has made on a notice board."
What is going on in J&K? Why would leaders be arrested overnight while having done no wrong? If Kashmiris are our citizens &their leaders our partners, surely the mainstream ones must be kept on board while we act against terrorists & separatists? If we alienate them, who's left?

— Shashi Tharoor (@ShashiTharoor) August 4, 2019
Rahul Gandhi, however, hasn't made a statement on the Kashmir issue yet.