Coveted Award Infuses More Life Into Madhulita's Odissi
Bengaluru-based Odissi dancer Madhulita Mohapatra is elated at being conferred with the Ustad Bismillah Khan Yuva Puraskar for 2018, which was announced on Tuesday.
Speaking exclusively to Odisha Bytes, she said, "It really feels nice! The announcement took place on an auspicious day like Guru Purnima. This has come as a blessing from my gurus. I am fortunate and blessed to have a guru like Aruna Mohanty, who is my guide, mentor and inspiration."
Present Day
Madhulita is currently busy with the preparation of her upcoming annual dance festival, Naman 2019, which coincides with the 10th anniversary of her dance school, Nrityantar. "I will present our latest offering, a riveting dance ballet adapted from the popular tragic tale of the immortal love of Mirza & Sahiba – Satyam Prema Amaram, a musical dance drama directed by me. The lyrics have been penned by noted Odia poet, Kedar Mishra with valuable inputs by Sanskrit scholar Pandit Nityananda Mishra. Rhythm composition is by Guru Dhaneswar Swain and music by Sukanta Kundu," she said.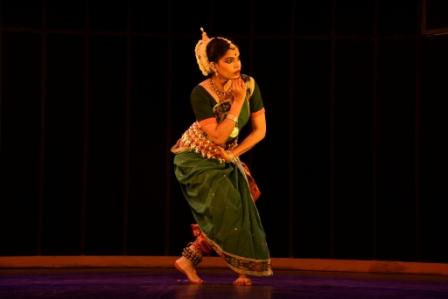 This engaging tale of love, longing and heartbreak is interspersed with captivating moves and powerful imagery, she said, describing the dance drama she would present on August 11.
"I have choreographed another dance drama on the story of Konark Temple and the folklore of little Dharmapa, the chief architect's 12-year old son. This will be performed by our young students. The students will also perform a new Pallavi on raga Malhar," she said.
The Journey
Madhulita has carved a niche for herself in the field of Odissi within a short span of time.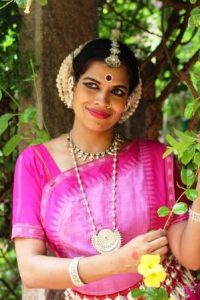 She could enroll for formal training in the dance form only at the age of 18.
A native of Bhawanipatna, she was initially drawn to the lively and colourful tribal and folk dance forms of Kalahandi district. "My friend introduced me to Guru Bhimsen Sahoo who initiated me into Sambalpuri folk dance," she said.
However, her parents were not very supportive of her idea to pursue dance. "I would sneak out of the house in the evenings, jumping off the compound wall, and run to the dance school. I would then make up stories to escape spanking," she said.
But Madhulita continued to feel a pull towards Odissi. She would watch all the performances by legends of Odissi, Guru Kelucharan Mohapatra and his disciple Sanjukta Panigrahi, telecast on television and absorb whatever she could.
Her dream of learning the dance form finally came true when Odissi Guru Krushnachandra Sahoo moved to Bhawanipatna from Bhubaneswar and opened an institution there.
When she moved to Bhubaneswar to pursue higher studies, a floodgate of opportunities opened up for her. She joined Odisha Dance Academy and began training under the guidance of late Gangadhar Pradhan and Aruna Mohanty. "I am continuing my training under Aruna Mohanty. She brings out the best in every student of hers. I owe my identity as a dancer to her," she said.
The Next Stop
About 10 years ago, she move to Bengaluru, where she could completely immerse herself in dance. Her desire to promote and serve Odissi gave shape to Nrityantar. "Initially, I conducted classes on weekends with a few students. The number slowly swelled and my dance school came into being," she said.
Narrating an interesting anecdote during her initial days in Bengaluru, she said, "The children knew only about Bharatanatyam and often addressed me as 'Bharatnatyam Miss'. It took me a while to make them understand the difference between these two classical dance forms and today, they too share my passion for Odissi."
This also sowed the seed for the annual Odissi dance festival, Naman. "It was a tribute to the Guru, the visible embodiment of God. I was fortunate that Guru Gangadhar Pradhan blessed and inaugurated the festival in 2010."
Creative Pursuits
In her choreographic works, Madhulita tries to explore and innovate with movements from expansive classical vocabulary, to the refreshing feel of aesthetic experience strictly within the classical framework, without diluting the purity of the dance form. "The two pallavis on ragas Janasammohini and Malkauns, which I had choreographed in the past, were well received. A thematic piece on the popular story of Savitri and Satyavan, retold in the relevant contemporary context of women empowerment, was equally appreciated," she said.
Her other choreographic pursuits include a dance presentation on a Kannada Devarnama, Hari Smarane Mado in Odissi style and two powerful dance numbers – Shivam Dhimahi (Lord Shiva) & Ishwari (an ode to Devi).
Last year, on the occasion of Karnataka Rajyotsava, a cultural programme to commemorate the state foundation day, she premiered her choreographic presentation based on a Kannada Devarnama, Hari Smarane Mado in Odissi style. "It was so heartening to see the response on the special day.," she said. She has worked on two powerful dance numbers – Shivam Dhimahi (Lord Shiva) & Ishwari (an ode to Devi).
Home Sweet Home
It is Odisha where she enjoys performing the most. "It is a divine feeling to be able to perform before your Gurus and seniors. I owe some of my best days in life to Odisha Dance Academy. There, I got an opportunity to witness and enjoy Odissi performances throughout the year." she said.
Today, she lives and breathes Odissi. And the prestigious award has only strengthened her resolve to work harder to popularise the dance form down south.