How Poor Is Odisha? Check NITI Aayog's Multidimensional Poverty Index
Bhubaneswar: Odisha is among the top 10 states with most people living under the poverty line in India, according to NITI Aayog's Multidimensional Poverty Index (MPI).
According to the index, 29.35 per cent population of the state is poor and placed ninth in the list with Bihar at the top followed by Jharkhand, Uttar Pradesh and Madhya Pradesh.
Nabarangpur and Malkangiri have scored the highest Multidimensional Poverty Index (MPI) score. While 59.32 per cent of the population in Nabarangpur is poor, it is 58.71 per cent in Malkangiri. Koraput has been placed third at 51.14 per cent, followed by Rayagada at 48.14 per cent, Kalahandi (47.28 per cent), Mayurbhanj (44.90 per cent), Kandhamal (44.75 per cent) and Keonjhar (41.78 per cent).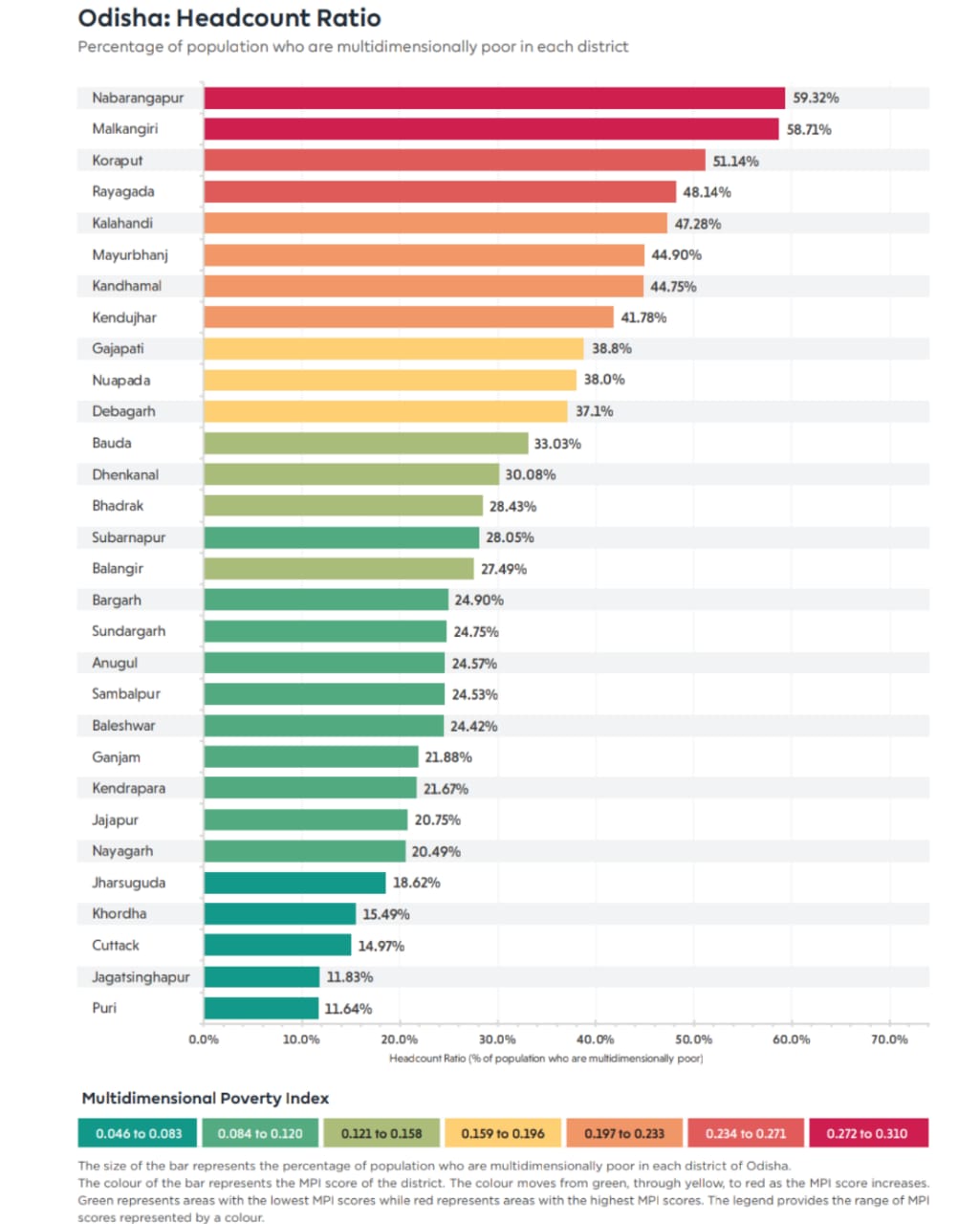 The intensity of poverty is the highest in Malkangiri (52.73 per cent), followed by Koraput (51.77 per cent), Nabarangpur (50.87 per cent), Rayagada (50.80 per cent) and Keonjhar (50.24 per cent).
Notably, the KBK Yojana was launched in 1998-99 and the Centre had released Rs 3,343.95 crore to undertake development programmes in the undivided Koraput, Balangir and Kalahandi (KBK) districts till 2017-18.
When the central government stopped giving funds to the KBK Yojana under the Revised Long Term Action Plan (RLTAP), the Odisha government launched a new scheme, Infrastructure Development Fund, in 2017 and announced to spend Rs 130 crore annually towards projects relating to water, electricity, road and livelihood.
Besides, the Western Odisha Development Council (WODC) has virtually been only a signboard during its 22 years of existence. The council had started in 1999 with a budget of Rs 3 crore which has been increased to Rs 200 crore by Chief Minister Naveen Patnaik for 2020-21.
Puri is at the bottom of the poverty index. Jharsuguda, Khurda, Cuttack and Jagatsinghpur are also in the green zone.
NITI Aayog report has also placed Odisha among the top 5 states with houses having no electricity connection while 37.26 per cent of the population is deprived of nutrition.
It is placed third after Jharkhand and Bihar among states where people are deprived of sanitation. While 4.95 per cent of the population are deprived of attending schools, 19.50 per cent have no access to maternal health.
This despite the launch of Mamata in September 2011, with an aim to reduce maternal and infant mortality by improving the health and nutrition of pregnant and lactating women.