Indian Hockey Team Balanced Keeping In Pace With Time: Dilip Tirkey
It is a dream come true for former Indian hockey captain Dilip Tirkey. The words he uttered 15 years back have taken a beautiful shape at Kalinga Stadium in Bhubaneswar, now touted as the Sports Capital of India. It was 2003 and he was invited to a youth programme, where Chief Minister Naveen Patnaik was also a guest. Mustering courage, a shy and reticent Dilip asked him, "Sir, how about setting up an astro turf in Odisha capital?" The CM asked him to submit a proposal and promised the best turf in India.
And as they say, the rest is history.
Today, he cannot but be happy with the hockey stadium that will have top 16 teams of the world play their best game with the Odisha Hockey Men's World Cup beginning November 28.
Hockey – Gaining Pace With Time
Indians were mostly known for their dribbling skills that gave them an upper hand against opponents. With the introduction of astro turf, the game changed and how!
"The game has changed and so has the rules. There is no off-side, we can self-start and also raise our sticks to stop balls. These proved to be the game-changer. The focus shifted to pace, stamina and fitness. Most goals are scored through penalty. Drag flickers are the
most sought-after," said the former hockey player with 412 international caps, three Olympics, three World Cups and as many Asian Games.
The scoop and flick technique was mastered by Sandeep Singh of India. The success that he tasted early in his career came to a halt when he was accidentally hit by a bullet in 2006. But he made a comeback. Similarly, another promising player Jugraj Singh's career was cut short by a 2003 car accident.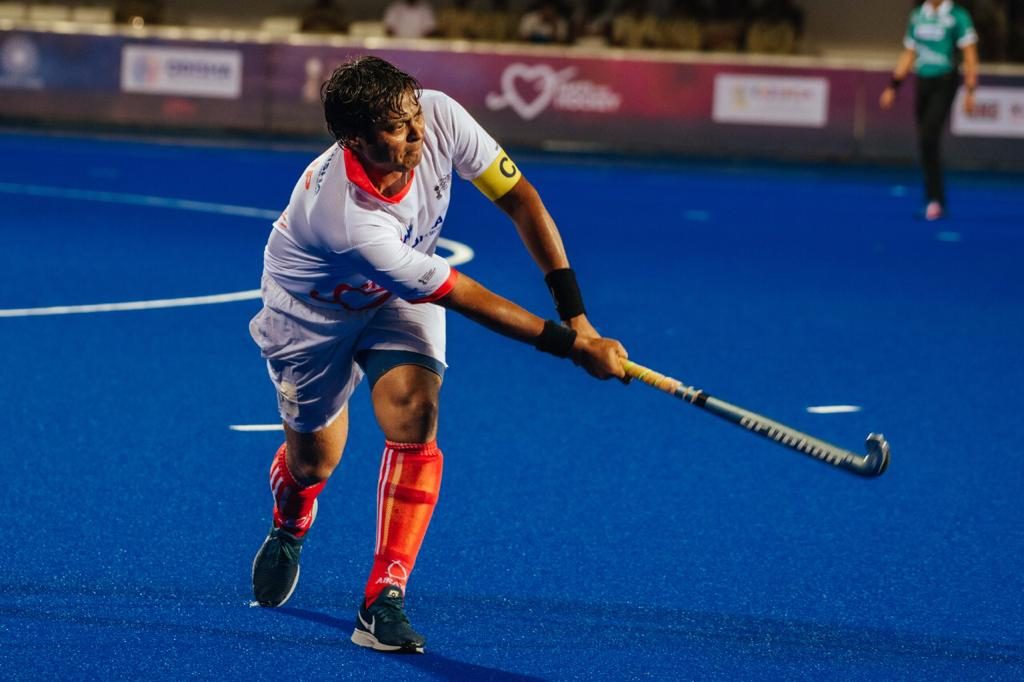 "I was a hitter, where we are required to hit the ball at a certain height. Drag flickers had the liberty to hit the ball anywhere into the goal post. The Indian team missed these two players at a crucial juncture, though we had great attackers like Dhanraj Pillay and Mukesh
Kumar," said Dilip, who captained the Indian team.
Team India For World Cup
The Indian team will be led by midfielder Manpreet Singh with Chinglensana Singh Kangujam as the vice-captain. Hosts India will begin their campaign against the 15th ranked South Africa on the opening day.
"It is a balanced side, a perfect amalgamation of experience and young blood. What I got to hear was that the players were picked on the basis of their fitness and performance in the last few tournaments. They have played a few international games in the recent past and their performance has been impressive. These matches also allowed them the right exposure before the mega sporting event," said Dilip.
The player he bets on is PR Sreejesh. "He has been playing good hockey and adjudged player of the tournament in a few of them.  A team's performance depends on the goal keeper and penalty corner attack. So, he plays a crucial role in the team," he said.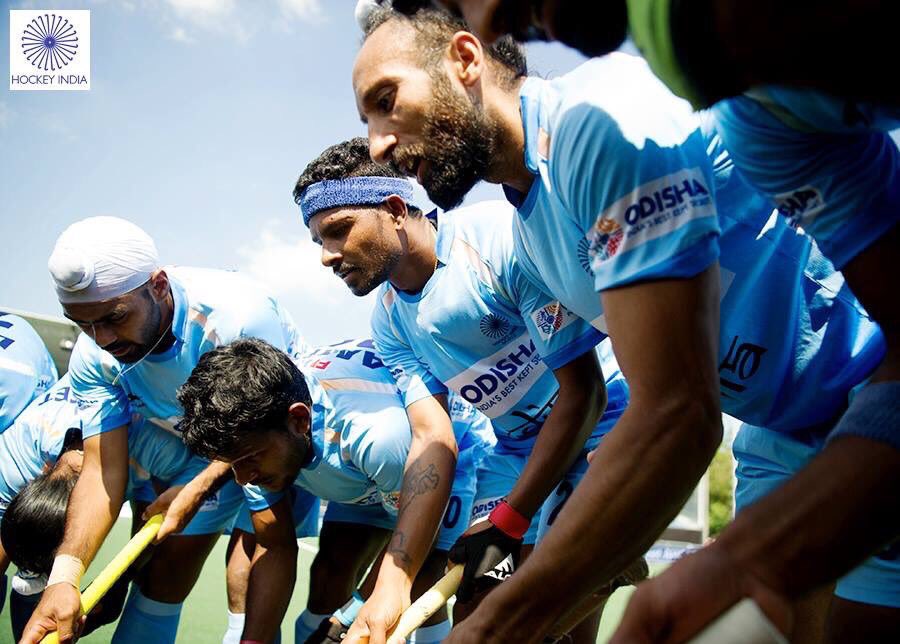 The national team preparations got a jolt in October when veteran striker SV Sunil picked up the knee injury during a national camp in Bhubaneswar, ahead of the Asian Champions Trophy (ACT) in Muscat later that month.
"We have Akashdeep Singh, Dilpreet Singh, Lalit Upadhyay, Mandeep Singh, who are playing good attacking hockey. Birendra Lakra, who had sustained a knee injury, is back in the fold and he along with Kothajit Singh and Mandeep form a good defence for the team. Manpreet Singh and Chinglensana Singh Kangujam are the other two players to look forward to," he said.
Achilles' Heel
According to Dilip, perfection is what the Indian team lacks. "We are on a par with other teams as far as speed and stamina is concerned, but our record of converting penalty corners into goals has been poor. Perfect passes and goals win matches and we have been lagging behind others, especially the European teams, in these areas. Mistakes can
prove costly for a team and to be able to perform under pressure is the other thing that we need to constantly work on," he said.
Pool C Challenge
To get through to the quarter-finals, India will have to top the group, which comprises World No.3 Belgium, Canada and South Africa.
"The game pattern is such that it allows a team the second chance to make it to the quarters. If one game goes against you, there is another to fix things. The teams that come second and third in each pool will play cross-over matches for the quarters. Indian, which ranks fifth, has been pitted against Belgium, Canada and South Africa. All teams must have come well prepared for the world cup. We have had close matches with Belgium, in which some we won and some they. Matches with Canada have been equally exciting. So, Indian has a fair chance of finishing at the top of the pool," he said.
In Odisha Men's Hockey World League Final Bhubaneswar 2017, India had defeated Belgium 3-2 in shootout to enter semis, while India had bowed out of Rio 2016 Olympics medal contention after losing 1-3 loss to Belgium in the quarter-final. The 2018 Men's Hockey Champions Trophy saw the teams draw at 1-1.
Dilip reiterated the need of good goal keeping and drag flickers in a team to do well.
Dwindling Number of Odisha Players In Team India
The Indian team, which Dilip was part of, once played with five players from Odisha. The number has gone down over the years. The 18-member world cup team features two from Odisha – defenders Birendra Lakra and Amit Rohidas.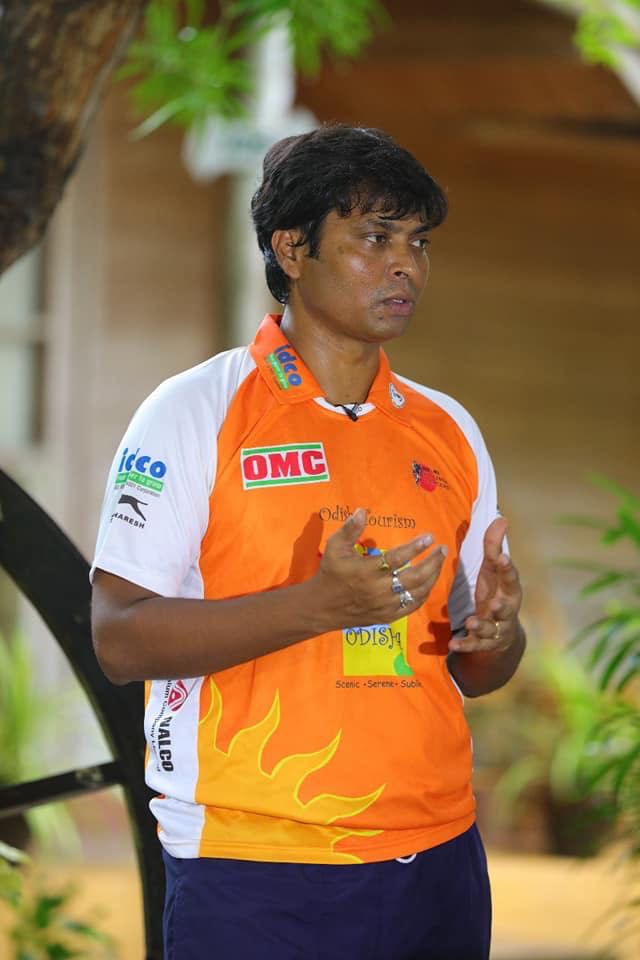 "We have to work on our players, on their fitness and skills. There is a need to change the coaching technique. It has to be scientific and this pattern needs to be incorporated in sports hostels," said Dilip.
The problem does not end here. "Top teams like ONGC, Bharat Petroleum, Air India lack basic facilities like own ground, fitness centre, trainer, physio and astro turf. We have to improve facilities and upgrade the coaches. These facilities should be extended to sports
hostel and academy. Coaches should get more involved in the process. Focus should be on attaining perfection," he said.
With the state government signing pacts with corporate houses to set up 10 high performance centres in various sport disciplines, including hockey, the game is sure to improve, he added.
The Beautiful Kalinga Stadium & The Ever-Enthusiastic Crowd
Hockey India Coach Harinder Singh had described the stadium as phenomenal and the best place to play hockey. "There are two types of spectators – one who simply watch and the other who know about the game and cheer. Odisha falls into the latter category," he had said.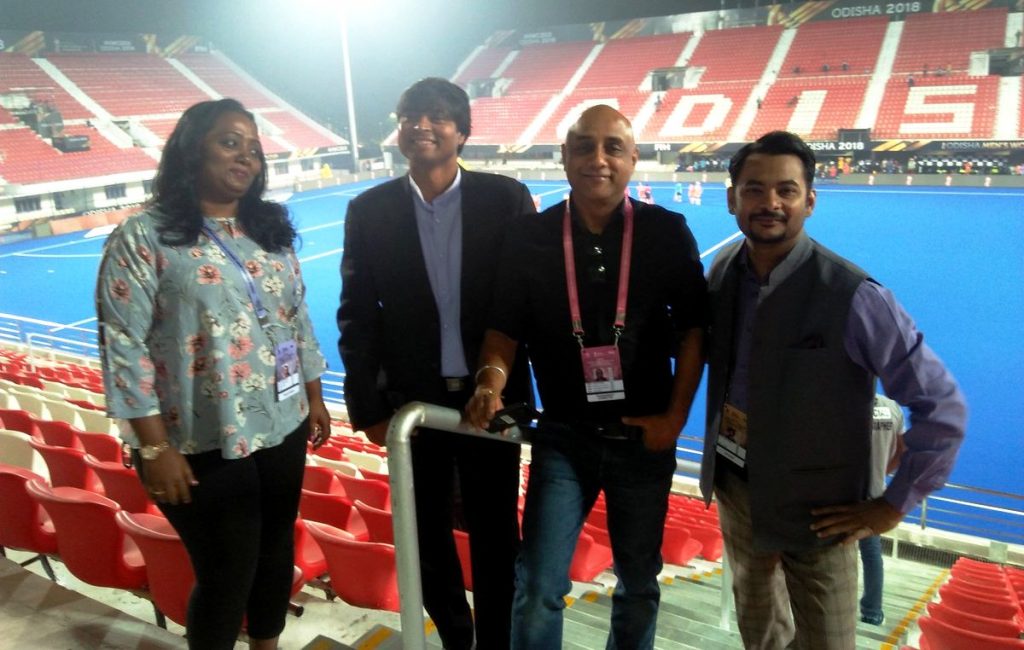 Dilip cannot but agree. "Here, people want to see top hockey players play the game and now, they are getting a chance and are all excited about it," he said.
The Chief Minister's involvement in the entire process has had a huge impact on its popularity in the state. Kalinga Stadium has become a world-class stadium, number one in India, he further said.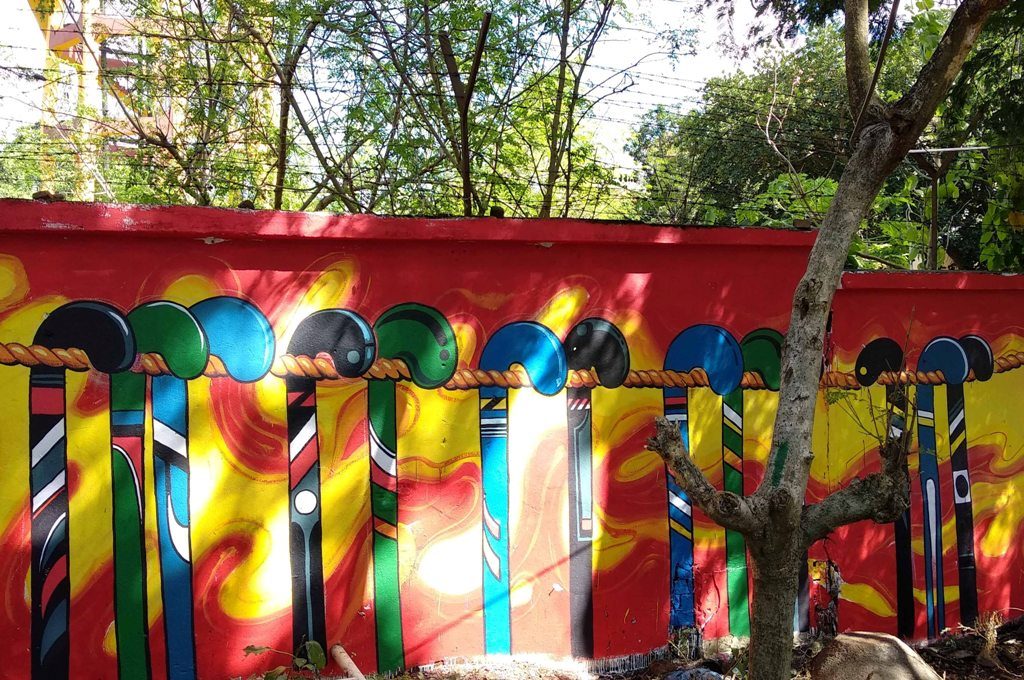 "We have created the right environment for hockey. Every heart beats for hockey here. It is splashed across the walls of the stadium, which now has more galleries, beautifully laid-out turf and floodlights. The dressing rooms also give a world-class feel with photographs of
players. Everything seems so perfect," he said.
The location of the stadium, he said, added to it. "The stadium is well-connected and there are quite a few good hotels nearby," he added.
Promoting Hockey & Odisha
The hockey legend was appointed OTDC Chairman in May this year. His appointment was seen as a step to promote Odisha tourism on national and international platforms ahead of the world cup.
"Things have fallen into place automatically because of work being put in by different departments. Our work involves developing and promoting places of tourist interest and the world cup is an opportunity to show the world what Odisha embodies and its rich
culture and heritage," he said.
Dilip said the 'Odisha By Morning, Hockey By Evening' campaign has been well crafted for promoting the event and state alike. "We want sports enthusiast to explore Odisha and bask in its beauties, while enjoying the matches. Tourist guide charts have been prepared along with the Odia menu, which they can relish to their hearts' content," he
said.
What Hockey World Cup Means To Odisha
The former Rajya Sabha member said that wherever big events are organised, it has a direct impact on its economy. "It will help in the development of the place. There is a shortage of hotels and booking are being done in the Twin Cities and Puri to accommodate officials, players and staff members. The state government has also mooted the
homestay facility to meet the gap. These will definitely impact the economy of the state in a positive way," he said.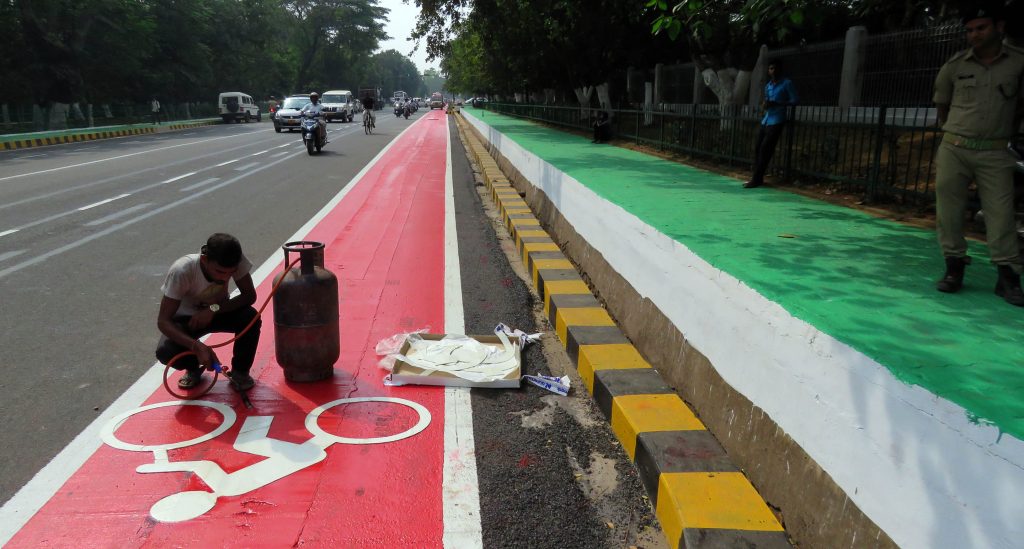 Through sports, people will also get to see the beautiful places in Odisha and thus boost its tourism potential, he added.
Sundargarh & Hockey, Inseparable Twins
Sundargarh has produced some best national players, almost 60 of them with Dilip being one. Lilima Minz, Deepgrace Ekka, Namita Toppo, Sunita Lakra, Anupa Barla, Birendra Lakra, Deepsan Tirkey, Anand Lakra, Nilam Sanjib Khes, Mariana Kuju and Rashmita Minz are among the current lot.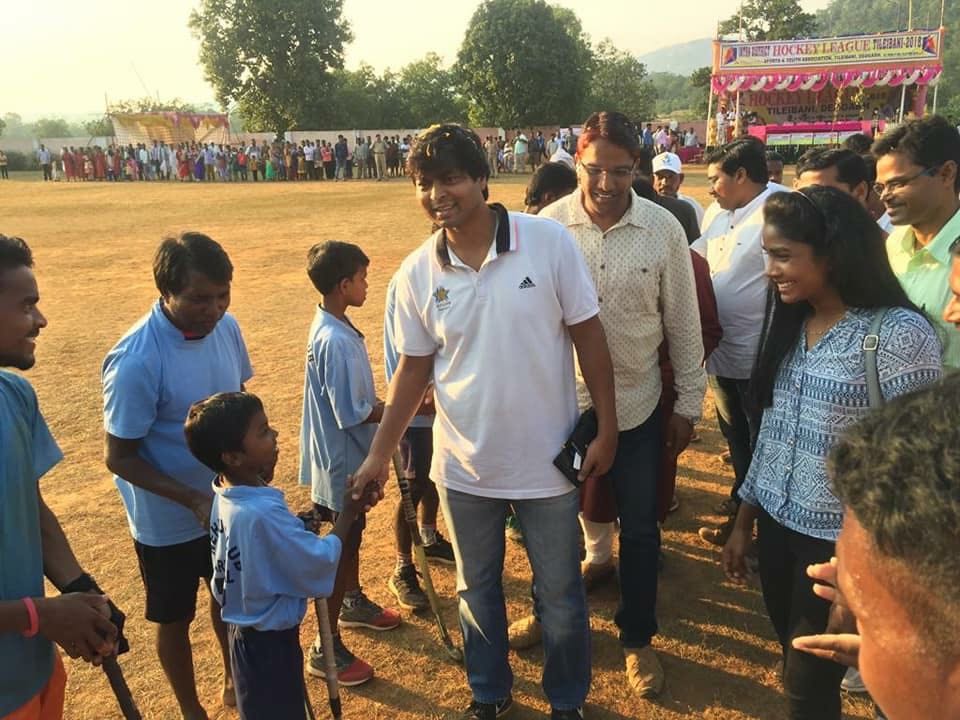 "Hockey is in their blood. You will be surprised to see the passion for hockey among the people there. Every evening, children would go to a nearby field to play hockey. Every 15 km, there will be a tournament, with around 80 teams participating in it," he said.
Dilip said it all about organising the sport by conducting regular matches. "There is no proper ground, still people play with half-torn t-shirts, barefoot and no safety equipment like pads. We have had coaches from Dhenkanal and players from Balangir and Puri in the past. But matches are no longer being organised there," he said.
Academy Dream
Plans for a hockey academy are on. "It has been delayed. Will let you know when it takes shape. The weather in European countries suits the game and helps them build stamina. In Odisha, the weather is mostly humid or dry; it saps players of their energy and does not give them enough time to recover. Keeping this in mind, I have zeroed in on Daringbadi. Hopefully, I will get a permanent sponsor soon to make this dream come true," he said.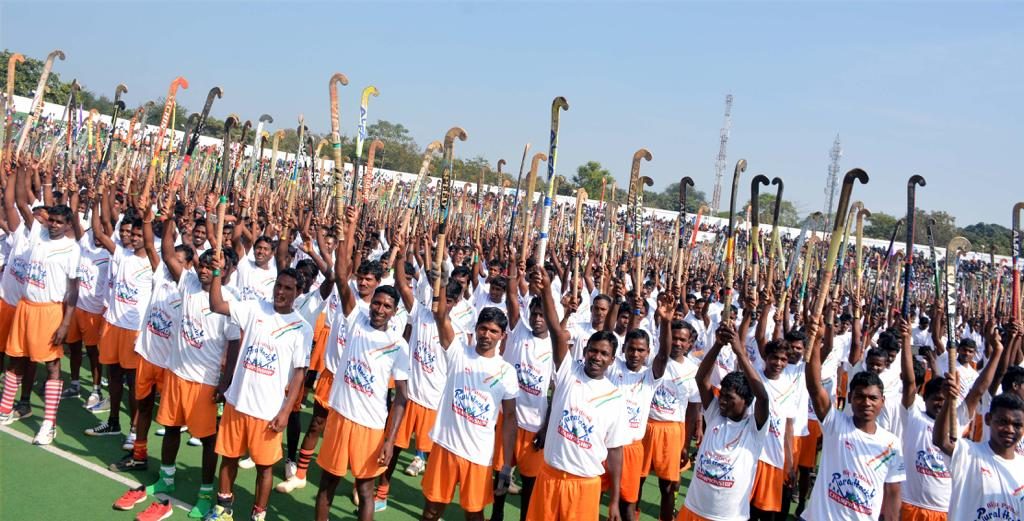 Dilip said his focus has always been on rural hockey to tap latent talents. Hockey Gangpur was one such initiative, but he has not been able to give much time to it due to his off-field assignments. "We had organised a rural hockey tournament with more than 1400 teams. It was a humongous task and stretched a bit too long due to unavoidable circumstances. Despite the hiccups, it went off well and the then Vice President Mohammad Hamid Ansari and the Chief Minister had attended the programme and encouraged the players," he said.

He is planning more such tournaments but on a smaller scale.