Odia adaptation of Macbeth, a laudable and valiant attempt
Yesterday I was privy to Macbeth played by a group from Bhubaneswar at the Natya Parva organised by IPROCH in Delhi. This is arguably the first time Macbeth was on stage in Odia.
The show started late but that's no alibi. Better late than never but from the very first scene, the play drowned me in unnecessary cacophony. The witches were hysteric and in fact convincing. They were not only agile but looked and acted vampish. But the acoustics was appalling for a play like Macbeth, where the words and sentences are heavy and one can ill afford to miss them. I knew the story, scene by scene, so was able to bluff my way to my friend, with whom I was watching it. Otherwise it was jarring. Painfully gibberish.
The props could have been better and looked like a downgraded kingdom or rather a king without a kingdom. Where was the hubris of Duncan or for that matter Macbeth. They were looking sorry and talking in a pitch which had no scent of power. Macbeth is all about power, treachery and turmoil. A tragedy born out of unbridled human avarice. I did not see the hunger for power anywhere. In none of the scenes or the dialogues. Macbeth from scene three was wallowing and whining. This happens if the spirit of the plot is diluted with our own micro proclivities. A Vishal Bharadwaj doing Maqbool was laced with contemporariness, but well-crafted. When craft is missing, an adaptation would look like a poor imitation.
Although Macbeth is told he will become king, he is not told how he should/ought to achieve the position of king. He is left at that. We cannot blame him for becoming king, but we can blame him for the way in which he chooses to get there, which was actually his own free will or induced by his partner. But in the play, yesterday the turning point was hardly anything to remember. There was no effect of that 'big effect'. What changed the course of the kingdom or of the general's discipline? The storyline needs to be completely absorbed. The length of the play can vary, but the content shouldn't vanish in essence.
Macbeth is set in a society in which the notion of honour to one's word and loyalty to one's superiors is unquestionable and absolute. The king is God's representative on Earth. The King's presence on the stage was sans gravitas, even pathetic was his costume. He looked more a preacher and less a "sceptre holding" monarch. There were hardly any voice modulations. A straight jacket, grandfatherly figure, who was happy even in death – it looked like that. Other relationships in the story also depend largely on loyalty: comradeship in warfare, hospitality of host towards guest, and the loyalty between husband and wife.
In this play, all these basic societal relationships are perverted or broken but the weirdness did not pervade. Lady Macbeth's role was the best played. I would rate her more than 8 on a scale of 10. She was energetic, looked vitriolic, was scheming and her body language was free flowing with the role, seamlessly. She was convincing, dominating over her husband, provoking Macbeth's treacherous act of regicide, and literally driving his irreverence of comradely and family bonds. She looked more the fulcrum and the protagonist and not Macbeth.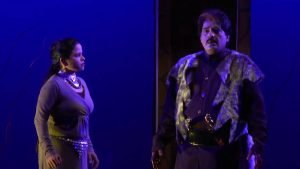 The violent disruptions in nature like tempests, earthquakes, darkness at noon, and so on and even the shocking death of Duncan were poorly represented by the lighting and sound effects. The stage, the sound effect and the lighting arrangements left much to be desired.
The most easily overlooked element common to Shakespeare is diction and sound. In an ambience of image and spectacle, the sound of Shakespeare's language also matters. In the adaptation of Shakespeare in Odia, we need to be careful to write dialogues which should underline the significance and mood the character and the plot but at the same shouldn't sound gobbledygook. Yesterday the Odia (rather the dialogue delivery style) sounded more like our traditional Odia jatra, which is good. But what was not conceivable was the way it was presented. The King of Scotland, with an intercontinental variation and different style would not necessarily speak like the King of Aska. Yesterday, Macbeth was a good stage drama. It was not a play. Macbeth was tragically lost in the woods.
What many might not be aware that in India Shakespeare was first introduced as an entertainer. His plays are known to have been first performed, in English for the recreation of European traders in Calcutta and Bombay around 1775. By the 1850s they were performed in translation in the Indian language(s).
Think Tank's debut Odia adaptation is laudable, remarkable and valiant. I respect his innovations and boldness. He has added Odia flavour to the long history of intercultural engagement. As somebody has said, "This interaction between Shakespeare and India can be charted via five main tendencies: the English language Shakespeare, the localized Shakespeare, the universalized Shakespeare, the indigenised Shakespeare and the post-colonial Shakespeare".
Think Tank and team, has taken out Macbeth from the Odia closet, played it in the national capital and richly deserve the accolades for their sheer grit. When we showcase Odia culture and art we ought to be a bit more prepared and deservingly glamorous. Because we are indomitable Odias, we have a long way to go and we have a rich tradition of international art, culture and exchanges since yore.
I would appeal to all to help us be more nuanced, serious and strategic when it comes to highlighting Odisha and Odia at national and global forums. As I am perennially bullish about Odisha, the future of India.
"Where shall we three meet again in thunder, lightning, or in rain? When the hurlyburly's done, when the battle's lost and won"
― William Shakespeare, Macbeth