Reading Time:
2
minutes
London: The much-awaited 'Times Higher Education World University Rankings 2020' is out.
Overall, 56 Indian universities feature in the table, up from 49 last year. As a result, India holds on to its place as the fifth most-represented nation in the world and the third most-represented in Asia (behind Japan and mainland China). It has eight more universities than Germany, which is sixth in the country ranking, but 25 fewer than China.
Institutes in Odisha and how have they fared in comparison to global counterparts:
IIT Bhubaneswar tops the ranking list in the state but there has been no change in its position as it still continues to be in the 600-800 bracket.
NIT Rourkela has registered a drop in its ranking. It is now placed in the 801-1000 bracket. Last year, it was in the 601-800 bracket.
KIIT University has shown no improvement either as it still continues to remain in the 1001+ bracket. The Institution of Excellence tag could, however, see a change in its fortune as founder Achyuta Samanta has expressed hope that the university would put itself within the top 500 institutes worldwide in the next four to five years.
SOA Deemed to be university has also been ranked in the 1001+ bracket.
Nationwide:
The Indian Institute of Science still ranks highest but now shares this position, after dropping into the 301-350 bracket (from 251-300 cohort), due to a significant fall in its citation impact score offsetting improvement in the research environment, teaching environment and industry income, a statement issued by Times said.
"The best Indian institutions are generally characterised by relatively strong scores for teaching environment and industry income, but perform poorly when it comes to international outlook in comparison to both regional and international counterparts," the statement said.
The top 15 universities worldwide: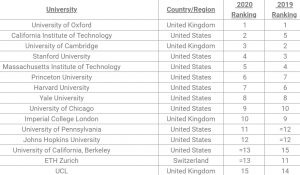 Comments
comments